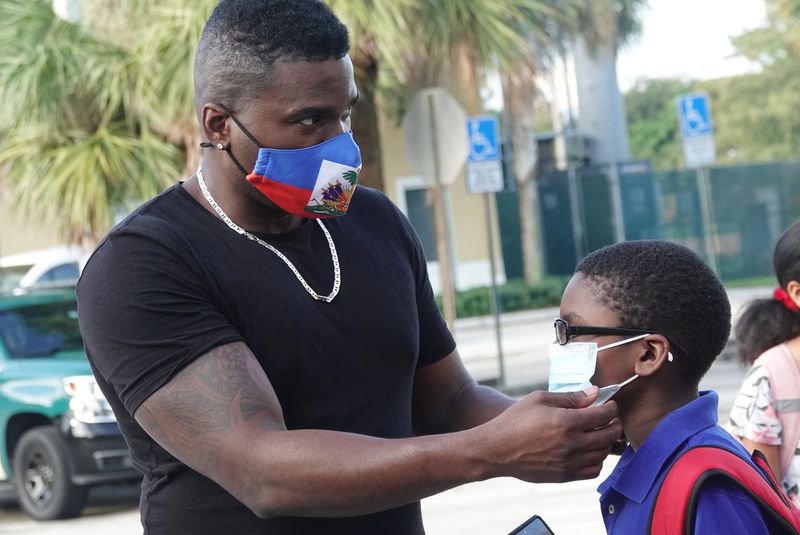 Biden gives Broward schools $421,000 to offset mask mandate penalties
South Florida Sun Sentinel | By Scott Travis | September 28, 2021
The Biden administration has awarded the Broward school district $420,957 to replace state cuts over its decision to maintain a mask mandate in schools.
The funding is part of the Support America's Families and Educators, or SAFE, grant, created in early September to assist school districts who were penalized by their state government after they imposed stricter COVID-19 procedures than allowed by the state.
The school district decided in August to defy an executive order from Gov. Ron DeSantis and an emergency rule by the state Department of Health requiring that parents be given the choice whether their children wear masks at schools.
Broward is one of at least 11 school districts that have defied the orders and imposed mask requirements for all students unless they have a medical exemption. The state's punishment so far has been withholding dollars equivalent to the salaries of School Board members.
Although the state has held the equivalent of two months' salary from Broward, or $70,160, board members are still getting paid. The district just absorbed the cut into its budget. District officials maintain this grant will prevent them from having to make other cuts.
So far, only Broward and Alachua counties have been penalized. Alachua got a SAFE grant last week for $147,719.
"We are grateful for the support of the federal government in helping us continue to protect our students and staff from COVID-19," said Interim Superintendent Vickie Cartwright. "I support our School Board for their focus on doing what is in the best interest of our families to ensure our schools continue to provide safe and healthy learning environments."
The district received praise from U.S. Rep. Debbie Wasserman Schultz of Weston.
"Broward school leaders bravely stood up to the COVID bully in Florida's governor's mansion, and with this funding, Biden confirms he has Broward's back in that fight to protect our children, teachers, staff and community," she said in a statement. "While DeSantis wages a war on educators and prudent health protections, Biden is safeguarding our schools."
The district wrote that it was following guidance from the Centers for Disease Control and other health agencies that recommend the use of masks in schools.
"A face covering by everyone can limit the spread of the virus and the release of infected droplets when breathing, talking, coughing and/or sneezing," the district wrote.