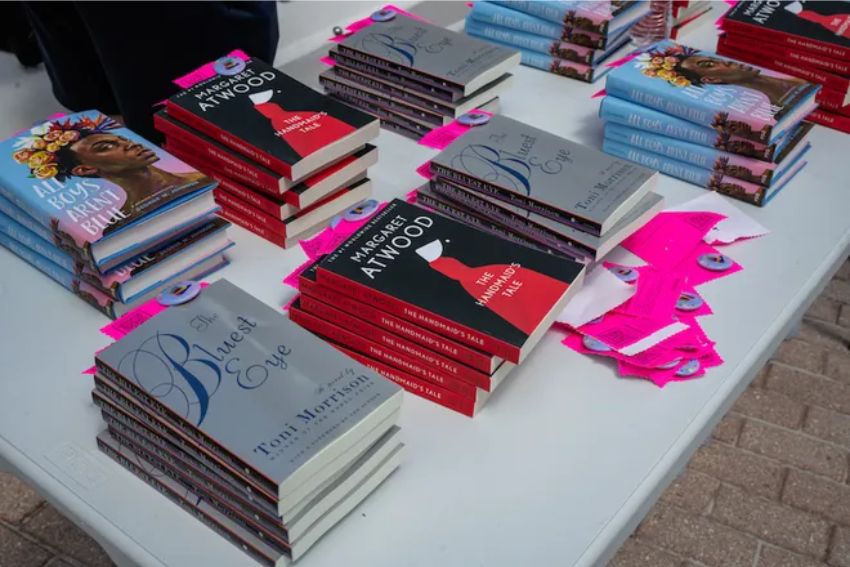 Book Bans: List of books challenged in schools tracked by Florida Freedom to Read Project
Fort Myers News-Press | By Nikki Ross | September 26, 2022
The Florida Freedom to Read project has identified 581 books that have been challenged in Florida's school districts.
Of those challenges, the project identified 215 books that were returned to shelves in at least one district where the challenge occurred, 114 had labels put on the challenged books, 69 of them were restricted to certain age groups or students, and 65 were banned or removed entirely from libraries.
Of the challenges, 19 were led by parents, 313 were led by conservative groups and 303 were led by school leadership, according to the project.
Here is a list of books by county and all of the challenged books listed by the Florida Freedom to Read Project:
Tricks
The Hate U Give
Thirteen Reasons Why
Beloved
The Bluest Eye
Nineteen Minutes
All Boys Aren't Blue
The Kite Runner
The Absolutely True Diary of a Part Time Indian
Drama
The Truth About Alice
This One Summer
Killing Mr. Griffin
Extremely Loud and Incredibly Close
Real Live Boyfriends
Melissa (George)
Looking for Alaska
Fly on the Wall: How One Girl Saw Everything
A Court of Mist and Fury
Forever
Crank
Gender Queer: A Memoir
I am Jazz
Stamped: Racism, Antiracism and You
Being Jazz: My LIfe as a (Transgender) Teen
Anti Racist Baby
Me and Earl and the Dying Girl
Sloppy Firsts
Lucky
More Happy Than Not
Out of Darkness
And Tango Makes Three
Monday's Not Coming
The Perks of Being a Wallflower
Triangles
Two Boys Kissing
L8R G8R
A Court of Silver Flames
The Black Flamingo
The Breakaways
Julian is a Mermaid
When Aidan Became a Brother
The Haters
Almost Perfect
The Infinite Moment of Us
Dear Martin
Unravel Me
Dead Until Dark
Morris Mickelwhite & the Tangerine Dress
Perfect
The God of Small Things
Outlander
Water for Elephants
Sold
Breathless
Push
Jesus Land
This Book is Gay
A Court of Frost and Starlight
A Court of Wings and Ruin
What Girls Are Made Of
Black Girl Unlimited
Odd One Out
It feels good to be yourself: a book about gender identity
The Vincent Boys
Beyond Magenta: Transgender Teens Speak Out
Lawn Boy
Everywhere Babies
Let's Talk About It: A Teen's Guide to Sex
Rick
It's Perfectly Normal
Identical
The You I've Never Known
The Family Fletcher Takes Rock Island
The Nowhere Girls
Deogratias: a Tale of Rwanda
Fun Home
Damsel
Infandous
Red Hood
Tilt
Black Brother, Black Brother
10,000 Dresses
Speak
Wishtree
Blended
My Rainbow
Graceling
Yolk
Rift
The Carnival at Bray
Lush
Dreaming in Cuban
Homegoing
Impulse
Traffick
I Never
This Book is Anti-Racist
Ace of Spades
Tower of Dawn
Heroine
Doin It
ttyl
Neanderthal Opens the Door to the Universe
All American Boys
Ghost Boys
Eleanor & Park
I Am Not Your Perfect Mexican Daughter
The Berlin Boxing Club
A Bad Boy Can Be Good For A Girl
Laura Dean Keeps Breaking Up With Me
Cemetery Boys
The Glass Castle
Doing it! Let's Talk About Sex
Flamer
Call Me Max
Gracefully Grayson
Pride : the story of Harvey Milk and the Rainbow Flag
From the Desk of Zoe Washington
Stamped from the beginning : the definitive history of racist ideas in America
Wide Awake
The Stars and the Blackness Between Them
People Kill People
Last Night at the Telegraph Club
A Court of Thorn and Roses
Empire of Storms
House of Earth and Blood
Fade
ttfn
Beautiful
Living Dead Girl: A Novel
Woke: A Young Poet's Call to Justice
Half of a Yellow Sun
Gone Girl
Grl2grl: Short Fictions
Juliet Takes a Breath
Blankets
Baseball Saved Us
The Poet X
Uncomfortable Conversations with a Black Boy
How I Paid for College:
Leah on the Offbeat
The Upside of Unrequited
Girls Like Us
Beetle & the Hollowbones
The House of the Spirits
Hear These Voices
We Are Not Your Equal: Understanding Our Racial Divide
Twisted
Feed
Go Ask Alice
Alt Ed
The Handmaid's Tale
Sorted: Growing Up, Coming Out, and Finding My Place (a Transgender Memoir)
Boy2Girl
Ready or Not
Ready or Not: An All-American Girl
King and the Dragonflies
Foul is Fair
Draw Me a Star
Hunted: A House of Night
The Rape of Nanking
City of Heavenly Fire
Clockwork Princess
Imbeciles: The Supreme Court, American Eugenics, and the Sterilization of Carrie Buck
The Kingdom of Little Wounds
Little & Lion
The Facts Speak For Themselves
Mexican Whiteboy
The Love Interest
You Against Me
Perfect Chemistry
Who am I without him?…
Dime
Grit
Hunger: A Memoir of my Body
Not That Bad
A Quick & Easy Guide to Queer & Trans Identities
Girl in Pieces
Joshua and the City
Cross My Heart
You Too? 25 Voices Share Their MeToo Stories
The Black Kids
What We Saw
Black Lives Matter: From a Moment to a Movement
Collateral
Fallout
Love Lies Beneath
Rumble
Brave Face A Memoir
We Are the Ants
Brave New World
Allegedly
Grown
Stained
This is My America
Exit, Pursued by a Bear
The Black Friend
They Called Me Red
Ask the Passengers
The Music of What Happens
Trail of Crumbs
My Book of Life by Angel
I'll Be the One
Rape on campus
Thanks A Lot, Universe
Kingdom of Ash
Charmed
Light It Up
Strange Fruit
Did I Mention I Need You?
Blood Water Paint
Black Software: The Internet and Racial Justice
Red, White, and Royal blue
Vampire Academy
Yaqui Delgado Wants to Kick Your Ass
I am Alfonso Jones
Brave Leaders and Activists
Dumplin
Ramona Blue
Monster
Shine
The Magic Fish
The Things They Carried
The Witch Boy
The Girl from the Sea
Sisters=Hermanas
My Sister's Keeper
The Tenth Circle
Gabi: A Girl in Pieces
Scars
Angus, Thongs, and Full Frontal Snogging: Confessions of Georgia Nicholson
Coming Out and Seeking Support
Lucy Peale
Fangirl
Wayward Son
The Midnight Lie
Marvin Redpost: Is He a Girl?
Aristotle and Dante Discover the Secrets of the Universe
Bait
Rainbow Boys
Persepolis
The Lovely Bones
Out of the Easy
Safe
Marriage of a Thousand Lies
Grasshopper Jungle
The Opposite of Innocent
What My Mother Doesn't Know
Maus
Novels for Students: Volume 9
The Art of Racing in the Rain
Of Mice and Men
Bowery Girl
#BlackLivesMatter: protesting racism
Gossip Girl
Spinning
The Color Purple
Empty
The Prince and the Dressmaker
A Certain Slant of Light
What is Black Lives Matter?
Beneath a Meth Moon
Fable
Black Enough
This Place is Not My Home
Sally and the Magical Sneeze
My Name is Maria Isabel
Time to Pray
Thunder Boy Jr.
Neither
Eagle Song
Winter Candle
Lucky Broken Girl
Berenstain Bears and the Big Question
Most Valuable Players
Grandmama's Pride
Ivy Aberdeen's Letter to the World
Marisol McDonald Doesn't Match
When Fred Gets Dressed
Crazy Horse's Vision
First Strawberries
Thirteen Moons on the Turtle's Back
Two Roads
Eagle Feather
Day's Work
One Green Apple
Celebrating Different Beliefs
Gaby, Lost and Found
Celia Cruz, Queen of Salsa
Sam and the Lucky Money
Name Jar
The Pants Project
Extra Credit
Before She Was Harriet
Sadako
Thank You, Jackie Robinson
Mud Pony
Life of Rosa Parks
Malala: A Hero for All
Dream Come True: Coming to America from Vietnam
Unstoppable
Mighty Miss Malone
The Watsons Go To Birmingham
Case of Sense
14 Cows for America
Legend of the Bluebonnet
Islandborn
Ashes to Asheville
Abuela
It Ain't So Awful, Falafel
Memphis, Martin, and the Mountaintop
Dog Named Haku
Drum Dream Girl
Nadia's Hands
Lailah's Lunchbox
Jasmine Toguchi, Flamingo Keeper
Calvin
Frankie & Bug
Diary of a Young Girl
Double Life of Pocahontas
Sam!
Cow on the Town
One Crazy Summer
Lily and Dunkin
Sound of Silence
All Around Us
Great Migration
Make Way for Dyamonde Daniel
Born on the Water
Day of Ahmed's Secret
Night Diary
Hush! A Thai Lullaby
Amazing Grace
Carter Reads the Newspaper
Virgie Goes to School with Us Boys
Big Bob Little Bob
Soccer Star
Brother Eagle, Sister Sky
Sweet Smell of Roses
Shark King
Any Small Goodness
Day of the Dead
Unusual Chickens for the Exceptional Poultry Farmer
My Two Dads and Me
My Two Moms and Me
Color of My Words
Never Say A Mean Word Again
Amina's Voice
Big Red Lollipop
My Princess Boy
Letter from a Birmingham Jail
I See the Sun in Afghanistan
Sonia Sotomayor
Lost and Found Cat
Little Piece of Ground
Dash
Running the Road to ABC
To Kill a Mockingbird
When Spring Comes to the DMZ
Misadventures of the Family Fletcher
Dim Sum for Everyone
Starry River of the Sky
Handful of Stars
Flying the Dragon
Long Pitch Home
Encounter
Too Bright to See
Gift of Ramadan
Going Down Home with Daddy
Sing a Song
And Still the Turtle Watched
It Began with a Page
When Angels Sing
Fry Bread
Gold-Threaded Dress
Knots on a Counting Rope
Rough-Face Girl
Alma and How She Got Her Name
Lubna and Pebble
Juana & Lucas
Swimming With Faith
Early Sunday Morning
Uncle Jed's Barber Shop
Drinking Gourd
Love to Mama
Dreamers
Little Night
Nino Wrestles the World
Barbed Wire Baseball
Proud (Young Reader's Edition)
Zen Shorts
Yang the Third and Her Impossible Family
Yang the Youngest and His Terrible Ear
Daddy, Papa, and Me
Thunder Rose
Flag of Childhood
Turtle of Oman
Sulwe
Family is a Family is a Family
Dear Juno
Nya's Long Walk
Pink is for Boys
Best Man
Between Us and Abuela
Stonewall Riots
Fatty Legs
In Our Mother's House
My Mother's Sari
Wilma's Way Home
Dumpling Soup
Who is the Dalai Lama?
Pink!
Hiawatha and the Peacemaker
Were I Not A Girl
Hero Two Doors Down
Chik Chik Shabbat
Lost Boys
Moon Within
Stonewall: A Building. An Uprising. A Revolution
Ana on the Edge
Stella Brings the Family
Black Frontiers
On Mother's Lap
Festival of Colors
Climbing Lincoln's Steps
The Night Owl, From Dogfish
Boy of the Three-Year Nap
At the Mountain's Base
We Are Grateful: Otsaliheliga
The List of Things That Will Not Change
Radiant Child
Henry Aaron's Dream
Roll of Thunder, Hear My Cry
Grandfather Tang's Story: A Tale Told with Tangrams
Soldier for Equality
Princess and the Warrior
Hachiko
Bracelet
Dad, Jackie and Me
Storm Called Katrina
Fight for Freedom
Totem Tale
Looking for Bongo
Other Words for Home
Yoko
Molly of Denali: Berry Itchy Day
Four Feet, Two Sandals
Indian No More
Roberto Clemente
My Name is Sally Little Song
Coolies
Garden of My Imaan
Jacob's New Dress
Born a Crime
Super Scary Stories
The Boy in the Dress
Clap When You Land
Pet
I Know Why the Caged Bird Sings
Worm Loves Worm
Cinderella is Dead
Queer – The Ultimate LGBT Guide for Teens
Lexicon
The Bad Guys In One
White Privilege
A Phoenix First Must Burn
Felix Ever After
Once and Future
Something Happened in Our Town
Brave
The Miseducation of Cameron Post
Romiette and Julio
Boys Will Be Boys: Power, Patriarchy, and Toxic Masculinity
Ho'onani: Hula Warrior
Full Disclosure
Trans +
Seeing Gender
Prince & Knight
Red: A Crayon's Story
Sex: A Book For Teens
Unpregnant
Ask Me How I Got Here
Let's Talk About Love
Milk and Honey
How to Be An Anti-Racist
YOU: A Novel
Autoboyography
Another Day
Every Day
House of Sky and Breath
Dead End
Exit Here
Dope Sick
Sparkle Boy
All the Bright Places
The Family Book
Being Transgender
Normal People
Birthday
If I was Your Girl
Me and White Supremacy
Embrace
They Both Die at the End
The 57 Bus
Not My Problem
Dress Codes for Small Towns
It's Not Like It's a Secret
Rabbit is Rich
Peanut Goes for Gold
Slaughterhouse-Five
The Art of Being Normal
Amari and the Night Brothers- Book 1
What Beauty There Is
The Curse of the Night Witch
Electric Slide and Kai
The Inheritance Games
Cranky Chicken
The Poison Heart
Invasion of the Unicorns
Pixie Pushes On
Scritch Scratch
Milo Imagines the World
J.D. and the Great Barber Battle
Juliet and the Diamond Enigma
What is White Privilege?
Mad About Meatloaf
Star Fish
Carry Me Home
The Littlest Yak
You'd Be Home Now
Shirley & Jamila Save Their Summer
The Elephant in the Room
Concealed
The Smartest Kid in the Universe
Rivals
Ten Beautiful Things
The Dark Matter of Mona Starr
Ambitious Girl
My Hero Academia Vigilantes vol. 1
Rethinking Normal
The Lion of Mars
Stella
What if Pig?
I'm a Girl
Mystery on Magnolia Circle
Distress Signal
Measuring Up
The Hunger Heroes: Missed Meal Mayhem
Ivy Lost and Found
Dragon Ops
Lola Benko Treasure Hunter
The Beast and the Bethany
Chester Van Chime Who Forgot to Rhyme
A is for Activist
A Cuban Girl's Guide to Tea and Tomorrow
Heather Has Two Mommies
Words on Fire
The Prison Healer
XOXO
BrainPop – Black Lives Matter Protests
Angel of Greenwood
Strange Planet The Sneaking Hiding
33 Snowfish
Quintessence
Girl from Nowhere
The Girls I've Been
Chez Bob
The Million Dollar Race
Leonard (My Life as a Cat)
House of Hollow
Ben Yokoyama and the Cookie of Doom
Mel Fell
Double the Danger and Zero Zucchini
Katie the Catsitter
Hard Wired
The Middle Kid
Someone Builds the Dream
Shadow School Archimancy
Instructions for Dancing
In the Wild Light