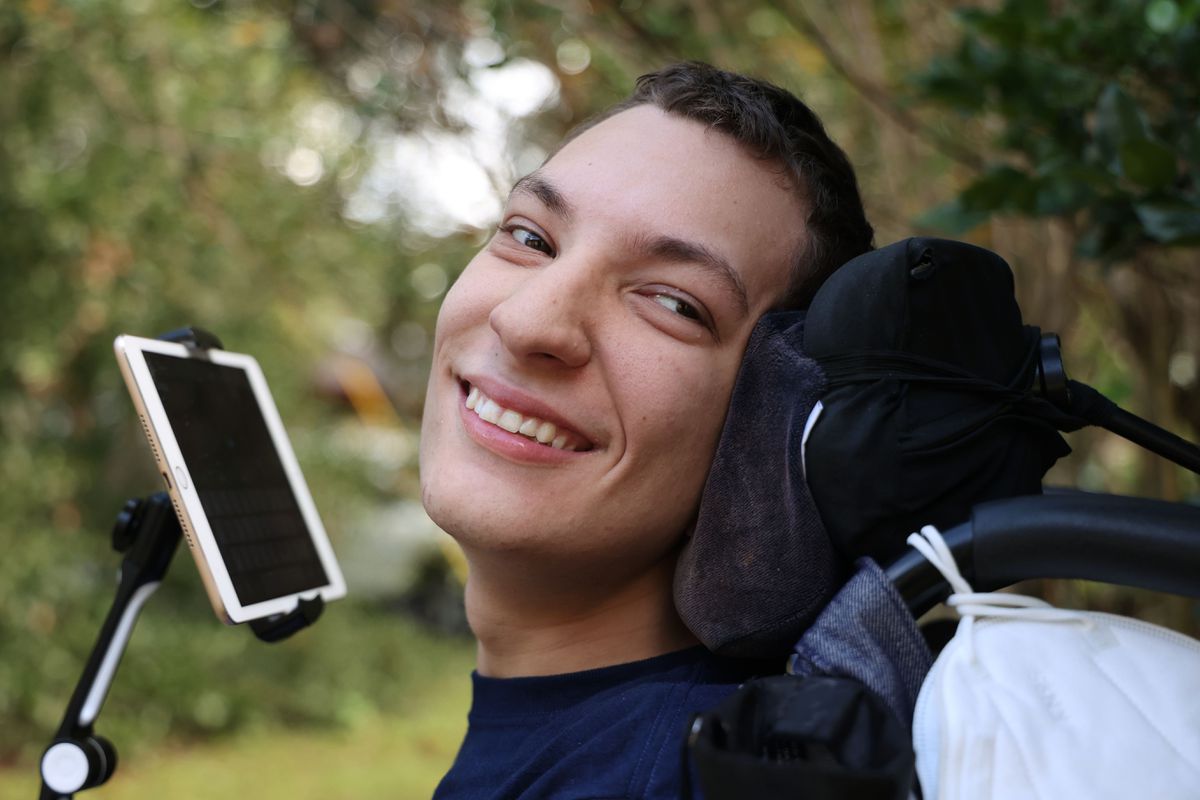 With masks optional at most Florida schools, some students with disabilities feel cast aside
Orlando Sentinel | By Leslie Postal | October 28, 2021
JJ Holmes has plenty to say but getting the words out takes an iPad, a communication app and his nose, which he uses to type out words a computerized voice then reads out loud.
The 17-year-old, who has cerebral palsy, would seem an unlikely regular at the speaker's podium during Seminole County School Board meetings. But he has spoken at four meetings so far and plans to keep going back.
"I hate speaking at these meetings, but what I hate even more is being forced to do virtual school," JJ said at Tuesday's meeting, after his mother pushed his wheelchair to the front of the room and hit play on the comments he'd typed out earlier.
"I absolutely hate virtual school because I feel extremely lonely at home and I'm not learning anything."
JJ cannot wear a face mask and use his communication device. Because COVID-19 poses heightenedrisks to his health, his doctor said everyone around him at school should wear a mask to keep him safe while he uses his iPad in class, according to his mother, Alison Holmes.
But Seminole schools do not require masks, so the 11th grader has not been at Lake Mary High School this year.
"I really want to go back to school," said JJ, who loves civics and debate and plans on attendingcollege after high school.
He and his mother arguethe Seminole school district is violating federal law by refusing to require masks, as some districts did when COVID-19 cases surged in August. They say the board's decision — dictated by Gov. Ron DeSantis' statewide ban on mask mandates in schools — effectively kept JJ and other children with disabilities from campus this semester, despite federal laws guaranteeing them access to public education.
Falling COVID-10 caseloads give his mother hope JJ might be able to return to campus in January and also have prompted school districts that adopted mask mandates to reconsider those rules. But another surge in cases — which experts say is possible — could alter their plans.
Alison Holmes said the school board's position seems to be that "just the able-bodied people, the normal people, can go in," a position she views as both illegal and immoral.
"It's hard enough when you've got a child with disabilities and then when you have to deal with this as well," she said. "I would have hoped that they said everybody matters."
Holmes' views are shared by some other parents of disabled children, including a group that sued the governor in federal court in August, and by officials at the U.S. Department of Education who in September opened an investigation into whether Florida's ban on mask mandates violated federal special education laws.
But the DeSantis administration argues mask mandates hurt some students with disabilities who, because of their conditions, struggle to wear face coverings. At a press conference in Brevard County last week, DeSantis shared the stage with a father angry a school had tied a mask on his 7-year-old with Down Syndrome.
Jeffrey Steel said his daughter, Sofia, is nonverbal. Steel said he and his wife did not know the girl'sBrevard public school, where masks had been mandatory, was tying one around their daughter's head until the child got off the bus one day with one tied on with a nylon rope. The mask was soaking wet with saliva, he said, a sign she was having difficulty breathing.
"This is a major problem," said Steel, who has raised more than $95,000 on a Christian fundraising site for a lawsuit against the school district.
Ann Siegal, legal director of Disability Rights Florida, said the pandemic has proved challenging for many parents whose children have disabilities.
"We've had families come to us from both sides of the argument," Siegel said.
Some shared their children's struggles to wear face masks, she said, though behavioral intervention services sometimes helped those youngsters learn to manage. Many others said their children were essentially forced out of school because their disabilities put them at greater risk should they contract the coronavirus and their school districts did not mandate masks, as most experts advised.
Districts could require masks to help children with disabilities, Siegel said, just as they sometimes create peanut-free areas to help youngsters with severe allergies. Instead, many children are at home, struggling with online or other homeschooling lessons and without needed special education services, she said.
It is a "huge slide" backward, Siegel said. "We've just gone back pre-IDEA and that saddens me."
Congress passed the Individuals with Disabilities Education Act, or IDEA, in 1975. It requires an "appropriate public education" for children with disabilities, mandating they receive needed special education services and are educated in the "least restrictive environment" possible.
Florida is in "very clear violation" of that law, said Judi Hayes, an Orlando mother whose 10-year-old son Will has Down Syndrome and who is the lead plaintiff in the federal case that challenges DeSantis' ban on mask mandates. "Kids with disabilities are completely dropping out of school."
Hayes kept Will, who was too young for a vaccine, at home this semester because when the school year started Orange County Public Schools did not mandate masks, though the district later adopted a 60-day mandate. People with Down Syndrome are at higher risk of "poor outcomes" if they get COVID-19, she noted.
She is homeschooling him but said those efforts are a poor substitute for in-person school.
The parents' lawsuit is pending, though a federal judge denied their request for a temporary halt ofDeSantis' mask mandate ban. The parents have appealed that decision, with the Florida Chapter of the American Academy of Pediatrics filing a brief on their behalf.
The pediatric group, representing more than 2,500 doctors, said a mask mandate would make school safer for all students and there are only "rare cases"in whichchildren need exemptions from masking rules. Orange and other districts with mask mandates allow for medical exemptions.
The DeSantis administration has another view.
"Forced masking is detrimental for some children," wrote Christina Pushaw, DeSantis' press secretary, including those whose disabilities "make it very difficult … to wear masks for eight hours a day while remaining focused on learning. That's why it is important to preserve every parent's right to choose whether their own kids wear masks to school."
The Seminole school board, like many in Florida, declined to mandate masks in part because of DeSantis' order, though when the school year started it did require parents to send in a note if they did not want their children wearing them. About 17% of the district's students were excused.
Holmes urged the board to mandate masks during its day-long Sept. 2 meeting on the subject, noting more than 80% of parents support masks. She and JJ have been regulars at board meetings ever since.
"I feel like I have no other choice," JJ said during a recent interview at his Longwood home.
JJ can wear a face mask — and does during school board meetings with unmasked people in attendance — but it prevents him from typing on the iPad, which sits on a small stand in front of his face. He does not have enough use of his hands to type in the typical way.
The teenager suffered a collapsed lung at birth and almost died. Though he has been vaccinated, his medical condition still makes him more vulnerable to the virus. He is also unable to maneuver his wheelchair on his own, so he could not keep himself away from unmasked classmates while on campus.
Holmes asked the school district, where JJ has been a student since kindergarten, to at least require masks in all of her son's classes but said that request was denied.
School district administrators declined to comment on the issue, spokesperson Michael Lawrence said in an email.
Virtual school lessons are a struggle for JJ as visual impairments make it hard for him to see classwork on a computer, Holmes said, and he misses interacting with classmates, friends and teachers.
The Holmes family views the board's refusal to mandate masks as a political decision.
"This is really about you carrying Ron DeSantis' virus-laden water instead of lifting all the staff and every student in this district. And I mean every student," Alison Holmes said at a board meeting.
"Please, please, please, please stop letting Gov. DeSantis use the students in Florida as pawns and make masks mandatory," JJ told the board.
At his home, JJ said he wasn't nervous about speaking publicly but did wish his comments had some impact.
"They don't listen," he said.