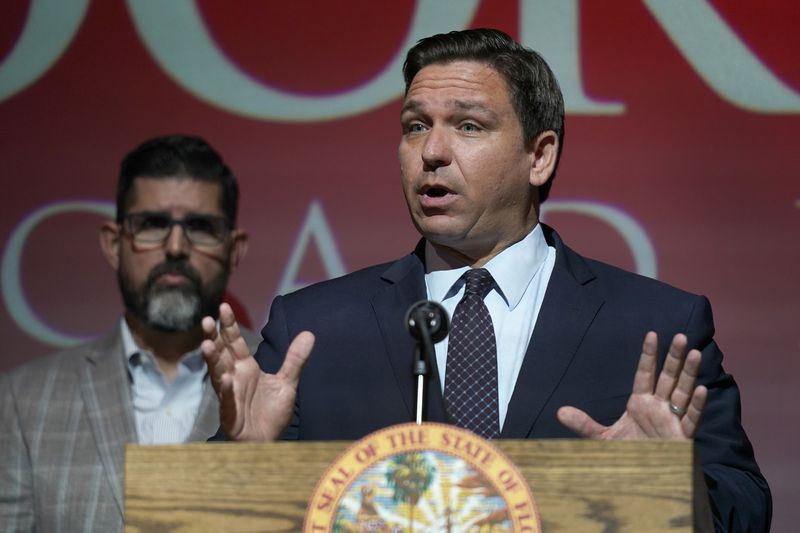 Big, end-of-year tests would remain staple in Florida schools under lawmaker's bill
Orlando Sentinel | By Leslie Postal | December 1, 2021
Despite Gov. Ron DeSantis' "big deal" plans to scrap high-stakes, end-of-the year testing, Florida public school students could still take comprehensive math and reading exams each spring for the next several years, just as they have done for the past two decades.
Sen. Manny Diaz, R-Hialeah, an influential voice in the Florida Legislature on education policy, recently filed a bill that does some of what DeSantis announced — but leaves big, end-of-the-year testing in place at least until 2025.
Diaz's bill (SB 1048) also leaves unaltered Florida law that ties standardized test scores to key academic decisions, such as student promotion to fourth grade and graduation from high school, connections opponents of high-stakes testing had hoped would be severed.
Diaz appeared with DeSantis in September when the governor shared his plans to scrap the Florida Standards Assessment, or FSA, and replace those end-of-the-year exams with progress monitoring, or shorter "check-in" tests. DeSantis made the Sept. 14 announcement at Doral Academy Preparatory School, a South Florida charter school affiliated with the private college where Diaz works.
"This is a big deal," DeSantis said at that press conference.
He called the state's current series of tests "outdated" and said they were given too late in the school year to allow teachers to alter instruction for struggling students or to provide "timely information" to parents. He also complained the testing system takes up too much instructional time as many FSA exams take days to administer.
Those complaints echoed arguments frequently made by teachers, superintendents and teachers unions. Some of them cheered his announcement, hoping it would mean a dramatic shift in state testing policy.
Diaz's bill, however, does not do what DeSantis said he wanted, said Andrew Spar, president of the Florida Education Association, the statewide teachers union.
"This bill does not accomplish Gov. DeSantis' stated goals of reducing testing and moving to progress monitoring," Spar said in an emailed statement. "Instead, it essentially keeps the FSA going. We look forward to working with lawmakers to help craft a bill that meets the needs of Florida's students."
Diaz's bill, filed the day before Thanksgiving, is the only bill filed so far that tackles the testing changes DeSantis pledged to make happen.
Diaz and his staff did not immediately respond to a request for comment Wednesday.
Christina Pushaw, DeSantis' press secretary, said in an email that the governor's testing plan, as expected, will take several years to implement, as FSA is phased out and the new tests are brought online.
"We're appreciative that Senator Diaz is initiating several critical steps to implement this vision," she wrote.
Diaz's proposal would, as DeSantis wanted, require the state to administer progress-monitoring tests in math and reading at the start and middle of the school year. Many districts already give such tests to their students, so they could presumably drop those as students took the state's progress-monitoring tests instead.
Students would take the progress-monitoring tests via computer and the results would be back to teachers within a week and to parents within two weeks, the bill says. Those new tests would be administered starting in the 2022-23 school year.
But the proposal would continue a comprehensive, end-of-the year exam for at least the next three years. Students are to take the FSA for the last time this spring. The FSA tested whether students mastered Florida's Common Core academic standards. Those standards have been replaced by new academic benchmarks, the so-called B.E.S.T. standards.
Florida leaders last year announced plans for new math and reading tests to replace the FSA and assess how well students mastered the new standards.
Under Diaz's bill, by January 2025, the state's education commissioner would have to report on whether the progress monitoring test results correlated with the results on the end-of-the-year test and could be used in lieu of that big exam. That report should also suggest other "innovative ways to streamline testing," the bill says.
Education Commissioner Richard Corcoran spoke at the September press conference, calling DeSantis' administration's new proposal an "amazing initiative."
Soon after, the Florida Department of Education posted on its website that "Florida is becoming the first state in the nation to fully implement progress monitoring instead of end-of-year standardized testing."
Diaz's bill leaves in place the end-of-the-year tests in reading for students in grades 3 to 10 and in math for students in grades 3 to 8, at least until the 2025 study is complete. It also keeps the end-of-the-year science exams Florida students take in fifth and eighth grade and the end-of-course exams, dubbed EOCs, middle and high school students take when enrolled in algebra 1, biology, civics, geometry and U.S. history classes.
Florida's A-to-F school grading system — based on student performance on state tests — would continue, too, under the bill, though there would be a one-year pause as the state switched to the new exams.
"It is great they have the bill out to look at and there will be discussion," said Sue Woltanski, a member of the Monroe County School Board and a long-time critic of Florida's high-stakes accountability system.
Woltanski said the bill could lead to fewer tests, especially if the state's school districts drop their own progress-monitoring efforts. But the proposal likely will not lessen public schools' focus on testing because it leaves untouched current rules that tie so many consequences — from teacher evaluations to school grades —to test results.
"At this point, they're not eliminating the high stakes at all," she said. "As long as the stakes are high, it will feel like testing is eating the classroom."
Diaz also proposed that progress monitoring be used to assess early literacy skills in youngsters in Florida's pre-kindergarten program and in students in kindergarten through second grade, helping to measure readiness for reading lessons and to identify early on children with reading disabilities.