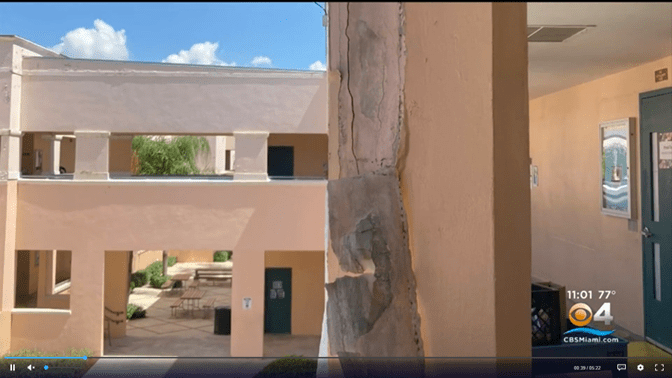 Broken Classrooms: A CBS Miami Investigation
CBS News Miami | By Jim DeFede | February 20, 2023
MIAMI – At a recent Miami Beach Commission meeting a group of parents from North Beach Elementary pleaded with city officials to help them pressure the school district to make critical repairs.
"Since I got involved, I have personally witnessed water pouring into the classrooms," Michelle Lari told commissioners. "A piece of the building literally fell off last week. The issues include exposed rebar, cracks throughout the building, peeling paint, damaged floors that are trip hazards, roofing issues, mold. Our school is in shambles."
Parents argued the school district had been ignoring their concerns for years.
"To our surprise, the district has been aware of these issues since 2017 and allowed them to worsen over the last six years," Lari said.
Jose Bueno, the chief of staff to Superintendent Jose Dotres, attended the commission meeting and admitted there were problems.
"Do we have problems at North Beach, absolutely. I'm not going to say we don't," he said. "Are we working on them? Absolutely. Are we making gains? Absolutely."
But Bueno only made matters worse by repeatedly downplaying or dismissing some of the parents' concerns. He even threatened to leave the meeting if parents were allowed to come up while he was there to challenge or question what he told commissioners.
"I'm going to ask my team and myself to leave," Bueno said at one point.
This prompted Miami Beach Commissioner Ricky Arriola to explode, saying: "You guys really have botched this. This could have been nipped in the bud months ago and you are letting this thing fester. This is not going away. These parents are not leaving. I'm not going away. You're blowing this big time."
One parent even suggested it was time for North Beach Elementary to leave the school system and become a charter school.
"So what we're going to be asking for is for us to go to a charter status and let the school be run by a private company," said parent Fred Carlton.
It seems unlikely that such a move would work. North Beach Elementary is not just an "A School," it is considered one of the best elementary schools in the state with parents moving into the neighborhood so their kids can attend. But the threat has gotten the school district to move even faster on the repairs.
In an interview with CBS News Miami, school superintendent Jose Dotres acknowledged the district should have done better.
"The timeliness of addressing these issues throughout the years could have been much, much better," he said. "And so I have to accept that."
But Superintendent Jose Dotres said becoming a charter school is not the answer.
"North Beach is a highly performing schools, we've had great programs there, incredible parental satisfaction," he added. "And for the city or individuals to consider converting that school into a charter because of maybe facilities concerns, it really isn't the right move."
But a larger question remains – why have repairs at this school dragged on for years, and more importantly how widespread a problem is this throughout the school district?
A CBS Miami investigation found that because of budget cuts and staff reductions, there appears to be a systemic failure in addressing repairs in Miami Dade's nearly 400 public schools.
There are currently 40,800 work orders that are open and awaiting action for necessary repairs in the district schools.
In 2022, the district's facilities department received 83,596 work orders for repairs – and 31,468 of the work orders from last year are still open and have not been fixed.
"Work orders can be anything from a small fix of a doorknob to maybe painting a wall that doesn't look good esthetically or improved fencing," Dotres said. "So it involves from small items to more significant items. That's really important."
Budget cuts have hit the district especially hard when it comes to being able to make repairs.
In 2008, there were 849 tradespeople – including carpenters, electricians and painters – employed by the district to do the work.
In 2016, that number dropped to 612.
In 2023, that number is 589.
"There were reductions," Dotres said. "This was prior to me, there were reductions in the maintenance and facilities teams."
But he said the school board is now considering plans to increase the budget and staffing to speed up repairs across the district.