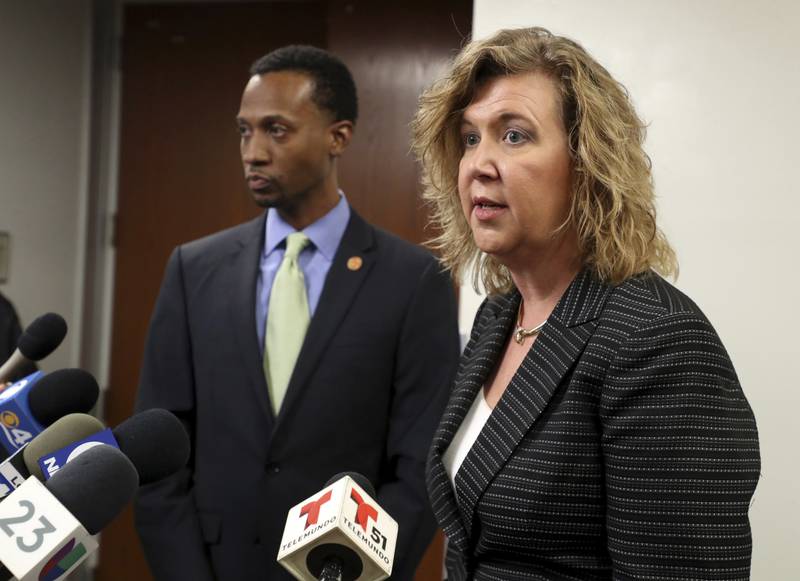 Broward School Board agrees to stop paying legal bills of suspended members
South Florida Sun-Sentinel | By Scott Travis | September 13, 2022 
If four former Broward School Board members want to challenge their suspensions, they may have to pay potentially thousands of dollars in legal costs out of their own pockets.
The current School Board voted unanimously Tuesday to not pay lawyers for Ann Murray, Donna Korn, Patti Good and Laurie Rich Levinson for any services rendered after Aug. 26, when they were suspended by Gov. Ron DeSantis in the wake of a scathing grand jury report. The grand jury urged their removal, accusing them of having "engaged in acts of incompetence and neglect of duty."
Board Chairman Torey Alston, who was recently appointed by DeSantis, requested the action on the legal bills. The move comes after the South Florida Sun Sentinel reported this past weekend that Murray and Korn had racked up grand jury-related legal bills of $120,000 over the past 16 months.
"These Suspended Officers sought to expunge portions of the Grand Jury Report. The School Board provided payment for the legal representation in these actions," the agenda item said. "The School Board has the discretion to cease payment of legal services for the representation of the Suspended Officers."
The district will pay for any services prior to the suspension, even if the district hasn't received the bills yet, officials said. General Counsel Marylin Batista said state law requires legal coverage for School Board members if the actions in question are related to their jobs. But state law doesn't require coverage for suspended board members, she said.
"We should have the back of the people who are here, but once they're not in the position anymore, we don't have unlimited funds to cover those costs," Board member Debbi Hixon said.
Murray's lawyer had billed the district $74,689, while Korn's lawyers had billed $45,391. A bill for Good was combined with services for a former district employee, with the total being $4,141. No bills had been submitted yet for Levinson.
Korn and Murray fought multiple appeals to try to have negative information, including a call for their removal, expunged from the grand jury report. The report was finished in April 2021 but not released until last month due to legal challenges.
Murray was still fighting her suspension. Her lawyer, Peter Patanzo, said he asked to delay the grand jury's release before Korn's final appeal was rejected.
He said there are problems with the grand jury process that need to be resolved. A statewide grand jury is supposed to span multiple jurisdictions, but the report focused almost entirely on Broward, he said. Grand juries are also supposed to keep out the names of witnesses who are not indicted, Patanzo said.
"This is going to set a precedent one way or another and they can't have unlimited executive authority," Patanzo told the Sun Sentinel last weekend.
Reached Tuesday evening, Patanzo said the board's action "isn't going to stop the litigation. These issues are far too serious to let a move like this stop the courts from deciding it."
He wouldn't say who would pay for the litigation.
"The real story is how executive officials have weaponized the grand jury report, and I think the public is recognizing it for what it is," Patanzo said.
None of the four ex-board members could be reached, but LGBTQ activist Michael Rajner spoke out against the action at Tuesday's meeting. He criticized DeSantis's action to remove the four board members as political.
"I think what the board is doing is possibly pushing aside due process," said Rajner, who lives in Wilton Manors. "I also think it's worrisome when you're targeting board members that were removed by the governor, and I believe this item is vindictive in carrying out political theater for the governor."
Former School Board members would have to pay their own fees if they want to appeal their suspension to the state Senate, which would make the final decision on their removal.
The terms of Murray, Korn and Levinson expire in November, so it's unlikely the Senate could hear their case before then. Good's term was scheduled to expire in November 2024.