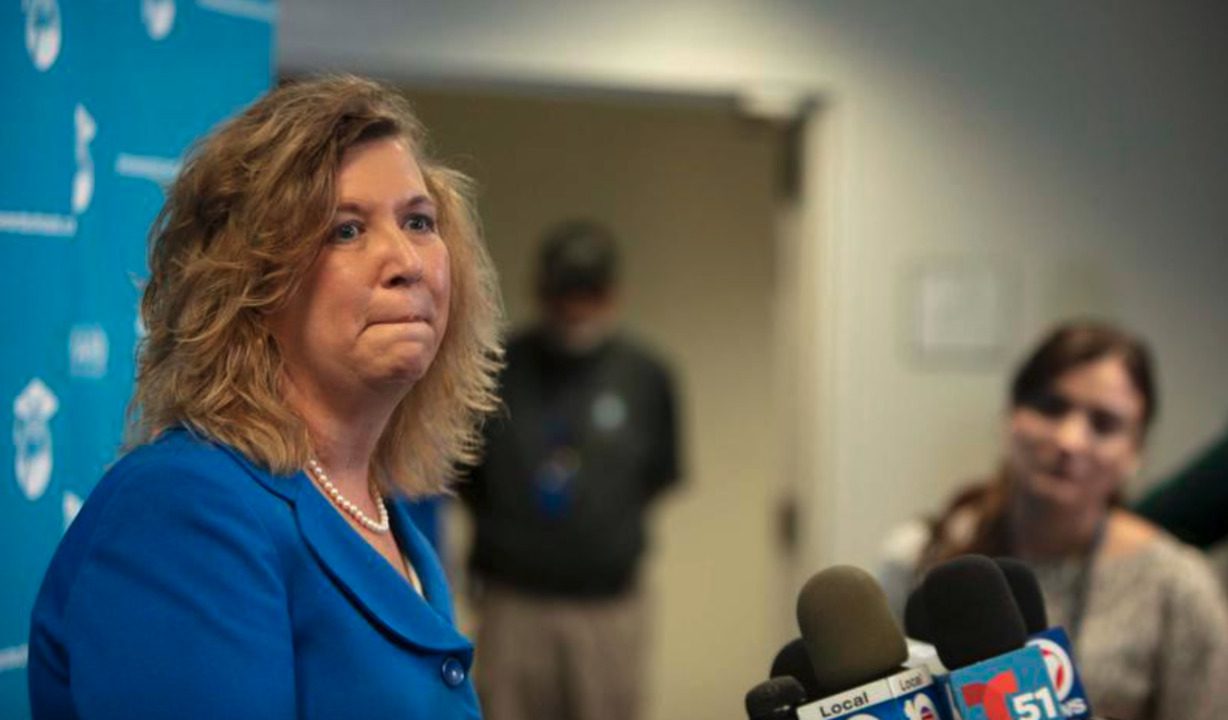 Broward School Board approves superintendent national search; Cartwright stays for 60 days
Miami Herald | By Jimena Tavel | Updated November 16, 2022
After firing Broward Superintendent Vickie Cartwright abruptly Monday night, the Broward School Board unanimously voted Tuesday to launch two searches — one for a new permanent superintendent and another one for an interim superintendent.
Although they approved both searches, the processes likely won't start until Dec. 6, during their next workshop, when they plan to discuss the timeline for each search, the candidate profiles and the salaries, as well as other details.
Board members said Tuesday they envisioned hiring an outside firm for a national search to produce candidates for the permanent superintendent, while relying on the school district's human resources department for the interim superintendent search.
Cartwright's contract mandates that she receive a 60-day notice of termination, so she will stay on for at least two more months, despite getting fired Monday night by the School Board in a 5-4 vote. When she does leave, she's entitled to severance pay totaling 20 weeks of her $350,000 salary, plus any unused sick and vacation days, per her contract.
In February, the board approved her contract, which called for an annual salary of $350,000 set to run until Dec. 31, 2024.
"I will continue to act with integrity and with a students-first mindset," said Cartwright during a press conference Tuesday amid a special board meeting to discuss the firing Monday night. "I act with integrity and respect, and I will continue to do the same."
CHAIR WANTED TO PICK INTERIM SUPERINTENDENT RIGHT AWAY
School Board Chair Torey Alston initially motioned Tuesday morning to name Earlean Smiley, a former principal at Blanche Ely High School in Pompano Beach and former deputy superintendent for Broward Public Schools, as interim superintendent for up to 12 months.
Smiley swore Alston in on Aug. 30, when he officially joined the board after Gov. Ron DeSantis appointed him to replace Vice Chair Patricia Good. Torey Alston, District 2, raises his right hand as Dr. Earline Smiley swears him in to the Broward School Board in Fort Lauderdale, on August 30, 2022. On Tuesday, Nov. 15, Alston had proposed naming Smiley as interim superintendent to replace Vickie Cartwright, whom the board fired abruptly in a 5-4 vote Monday evening. The board rejected Alston's motion and instead voted to conduct a national search. Jose A. Iglesias jiglesias@elnuevoherald.com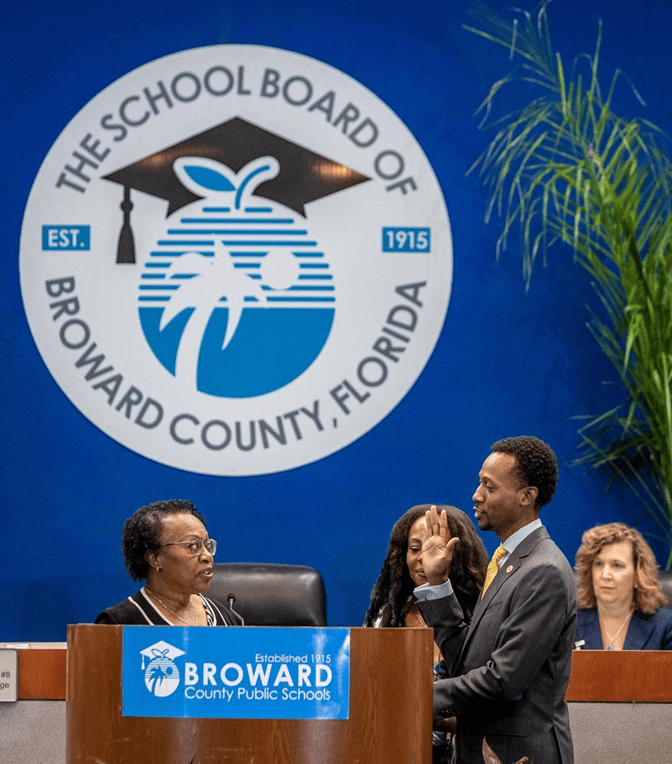 Good was one of four sitting board members DeSantis suspended in August, citing a grand jury report that pointed to the district's ballooning $800 million school bond construction program. The other three whom DeSantis suspended were Board Chair Laurie Rich Levinson and longtime board members Donna Korn and Ann Murray.
The governor replaced the four with Alston, Ryan Reiter, Kevin Tynan and Manuel "Nandy" Serrano. In April, DeSantis had appointed Daniel Foganholi to replace Rosalind Osgood, who successfully ran for State Senate.
The five DeSantis appointees abruptly fired Cartwright in a 5-4 vote late Monday night. The four who supported Cartwright were the elected board members, not the political appointees: Vice Chair Lori Alhadeff, Debra Hixon, Sarah Leonardi and Nora Rupert.
Alston will be the only one of the five appointees who will remain on the board after Tuesday, Nov. 22, as his seat does not come up for election until 2024. The other four seats came up this year, but none of the DeSantis appointees were on the ballot.
Alston's motion had included the start of the national search, the start of the human resources on-boarding process for Smiley and the start of the negotiations for a new employment agreement with Smiley that would include a $300,000 annual salary.
Foganholi seconded Alston's motion, but it failed 6-3, with only Alston, Foganholi and Leonardi advancing it.
The other six members who voted against Alston's motion — Alhadeff, Hixon, Reiter, Rupert, Serrano and Tynan — were concerned the board was not allowing further public input, an issue that came up over the board's abrupt firing of Cartwright.
Hixon then motioned to begin the searches; Tynan seconded it. The measure passed unanimously.