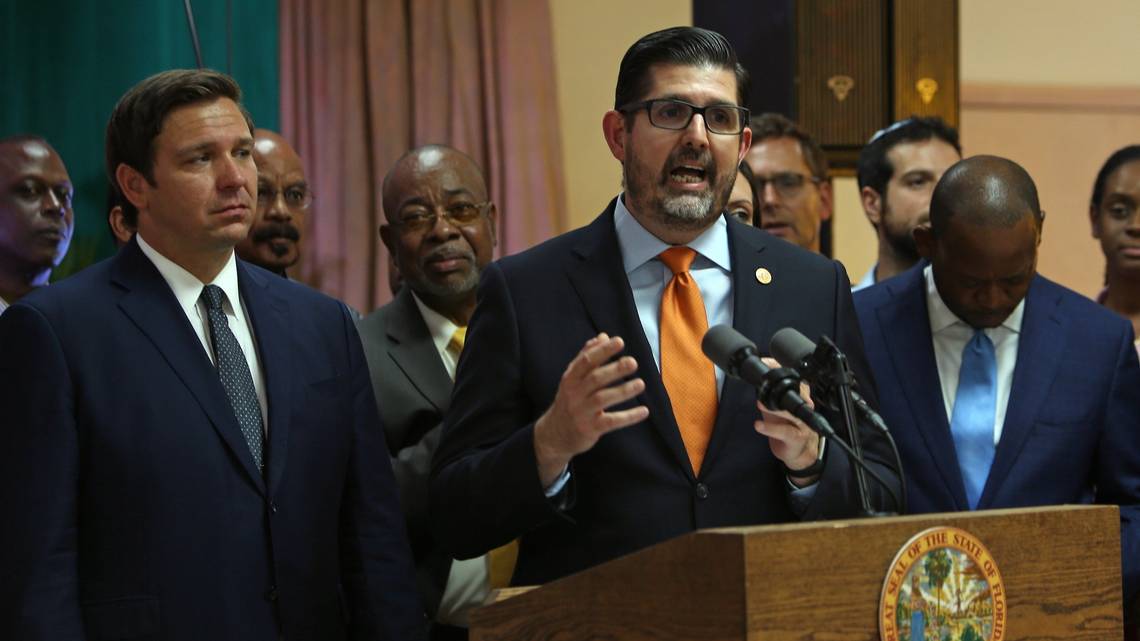 DeSantis' education nominee backs school choice, comes from public and charter schools
Miami Herald | By Ana Ceballos Herald/Times Tallahassee Bureau | April 28, 2022
TALLAHASSEE
When Gov. Ron DeSantis was looking for the next person to run Florida's education department, he turned to one of the state's loudest school choice supporters: Manny Diaz Jr.
The 49-year-old Republican, a state senator from Hialeah and former teacher, had been the long-rumored pick to replace Richard Corcoran, a firebrand former House speaker who reshaped the job of Florida education commissioner during his four-year term.
Corcoran, with a take no prisoners attitude, carried out many aspects of DeSantis' education agenda. He fought to expand the charter school sector and school vouchers, which pay for students to attend private schools.
And in the pandemic era, he led the charge on reopening schools after briefly shutting them down, punished local school board members who supported strict mask mandates, publicly quarreled with President Joe Biden's administration and tackled head-on the classroom culture war fights that have become so emblematic of DeSantis' political persona.
Diaz, who is poised to be confirmed by the State Board of Education on Friday, will come into a Florida education system reshaped by the pandemic and now a wedge issue in politics as local school officials face increased scrutiny from Republican lawmakers, activists and some parent groups.
He will also enter the scene as DeSantis seeks re-election in November, and a potential run for the White House, with education as a main focus.
A husband and father of four — including three school-age daughters who attend charter schools and a 23-year-old son who graduated from Columbus High School and later Florida International University — Diaz was shaped by an education at Miami Springs Senior High. He received a bachelor's degree from St. Thomas University, a master's degree in education from Nova Southeastern and completed a Harvard Graduate School of Education program for principals.
Diaz, a mild-mannered lawmaker with deep-rooted ties to charter school operators, aligns with the governor's education agenda. He plans to continue advocating for the GOP mantra about school choice, greater parental control and the fight against what Republicans call the indoctrination of children in the classroom.
But he says his leadership style will probably be "a little different" than Corcoran's. He might not be in the public eye as much.
"Even though I haven't shied away from making comments to the media or anything like that, it's not my intent to be out in the forefront," Diaz said in an interview this week. "My intent is to fulfill the duties of the commissioner and do my job."
Behind the scenes, he expects the governor to be involved in actions taken by the Department of Education.
"He is the top executive of this state, he has had an agenda for education, and I am aligned with that agenda," Diaz said. "I am listening, and I will share my thoughts with him as well."
At the helm of the Department of Education, Diaz would be overseeing several contentious education laws passed by lawmakers this year that will need to be implemented in the next couple of years.
Those include an overhaul to Florida's K-12 testing system and a review and update of state standards and educator practices in relation to the new "parental rights in education" law that critics have called the "don't say gay" bill.
WHAT HISTORY SHOWS ABOUT DIAZ'S PHILOSOPHY
Diaz has served in the Legislature for a decade and since 2013,as avice president at Doral College, a private non-profit institution that offers advanced courses at charter schools. Doral College is affiliated with Academica, a Miami-based for-profit contractor that provides administrative services to charter schools.
Diaz said he plans to resign his post at Doral College to dedicate himself full-time to the commissioner's job.
Before coming into Doral College, Diaz taught social studies at Hialeah-Miami Lakes for four years starting in 1995 and went on to become an assistant principal there from 1999 to 2007.
In January 2021, Diaz was accused by several former students at Hialeah-Miami Lakes Senior High of acting inappropriately around girls while he was a teacher, including making comments on girls' appearances and talking to students about doing ecstasy at Miami clubs. Diaz denied the allegations and said the attacks were politically motivated, "baseless and defamatory." No further action came after the accusations were made.
In the Legislature, he first served in the Florida House and moved to the Senate in 2018. He chaired the Senate Education Committee for several years. And when he no longer did, he continued to sponsor education bills — many of them backed by DeSantis — that drew the praise of Republicans and the ire of Democrats.
In some cases, he found common ground with lawmakers of both parties. In 2020, for example, Diaz sponsored legislation that became the vehicle for a years-long effort to increase Florida teachers' minimum salaries to $47,500 — a priority for DeSantis since he took office.
"I have worked on amendments and bills with Manny that he has been very helpful — in the ones that we can agree on — and he met me in the middle with things that were extremely controversial," said Senate Education Committee Vice Chair Shevrin Jones, a West Park Democrat. "I hope he will take that same energy over to the Department of Education."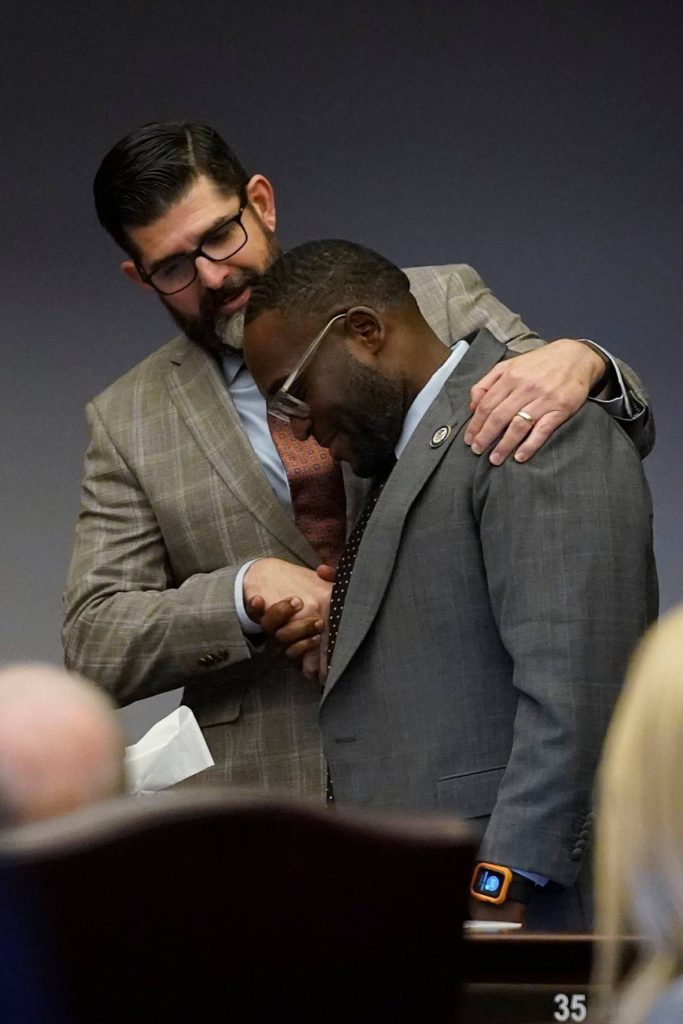 Other Democrats are not too enthused he was picked for the state's top education post, noting his long history of advocating to expand school choice.
"Sen. Diaz is someone who has been a fervent leader in privatization of public education," said state Rep. Anna Eskamani, an Orlando Democrat. "I'm concerned it's going to be more of the same partisan weaponization of education."
Diaz's education philosophy is centered on choice. As commissioner, he said that will be the guiding post.
"I think our job as a state is not to push parents into any particular choice. It is to make those choices available and let them make those choices," he said. "And obviously, continue to strive to have the best public school system as a whole to provide parents with those options."
For years, Diaz has advocated for sweeping school choice measures in the Legislature. In the past two years, he sought to create publicly funded education savings accounts to help families pay for private tuition and other expenses and helped pass legislation that dramatically expanded the Florida Family Empowerment Scholarship voucher program, which DeSantis pushed to create shortly after taking office.
This year, he also carried a bill to overhaul the state's testing system, a process that will be overseen by the Department of Education, and legislation that created a new body within the department to make it potentially easier to get charter schools approved and renewed. It is the latest effort by Republican lawmakers to get more charter schools approved in the state by creating state-level authorization, a concept that was previously found unconstitutional in court.
"I wholeheartedly believe that we have a huge role for our public education and our public schools," Diaz said. "But where I think I have differing opinions from some others is that I do think that the parents should be able to make the choice regardless of ZIP code, regardless of their financial situation, or what best fits the child."
A FOCUS ON PARENTS AND INDOCTRINATION
As one of DeSantis' top allies in the Legislature, Diaz has embraced a message about prioritizing the rights of parents in schools, and about protecting children from indoctrination there.
Those issues go hand in hand, he says.
He defines indoctrination in the classroom as school employees "imposing or putting a student in a situation where they have to either accept or admit something they're not responsible for," or "pushing or imposing a specific view on a topic."
"There is a role for the family here, and there is a role for the parents, [for] social views, political view, religious views and those things," he added.
This year, he sponsored legislation that gets at the heart of the issue. The new law, signed by the governor last week, says schools must not teach lessons about race that foster hatred of the nation or that tell children they are inherently racist. Opponents say the measure is a GOP effort to rewrite history to ignore negative truths, and a federal lawsuit challenging the new law has already been filed.
DeSantis signed the bill in Hialeah Gardens, at an event where children were holding "Stop Woke" and anti-critical race theory signs, which were political in nature. Some Democrats criticized the governor's event as being the "real indoctrination."
But Diaz says the bill is about giving parents "a voice." And he disagrees that DeSantis and his administration's policies are giving more weight to parent groups who share the same conservative ideology.
"I think all parents are getting a voice," he said. "I mean, naturally, parents that agree with certain policies or philosophies are going to gravitate towards one side that supports that, but that doesn't mean that all parents aren't important."
WHAT'S NEXT?
On Friday, Diaz is not expected to face stiff resistance from the board, which is stocked with DeSantis appointees. The board did not conduct a search for the job and scheduled a confirmation hearing for Diaz a day after the governor recommended him for the job.
If confirmed, he would move from Hialeah to Tallahassee to start thejob on June 1. His legislativeteam says he would start transitioning into the role next month.
Diaz knows there is a lot of work to do. Among the tasks will be the implementation of a new testing system that will be rolled out in the 2022-23 academic year, a top priority for the governor.
He will also oversee the implementation of a new law thatprohibits classroom instruction on gender identity and sexual orientation in kindergarten through third grade in public schools, and could restrict the teaching of those topics in older grades if deemed not "age appropriate" by the state.
Diaz did not specify what he, personally, would find to be inappropriate instruction on those topics in grades 4 to 12. But he said the department would conduct a full review on the issue.
"I do expect to look at all that before I formulate any kind of final opinion on specifically what to do," he said. "But when we say age appropriate, what we mean is having those experts in child development … and make sure that we are in compliance with the pupil progression and the pacing plan, like we do with any other topic."
Then, Diaz said, he would like to include the Republican-dominated Legislature on the matter so that lawmakers "can make those decisions, if there are legislative decisions."