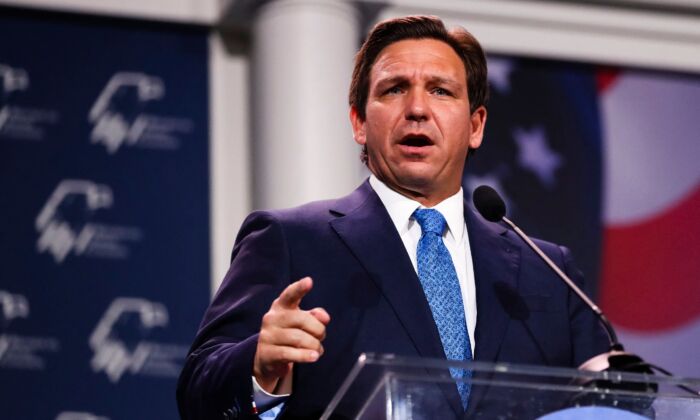 DeSantis Says 'Freedom' Agenda Scored 2022 Election Wins in Schools, Governor's Race
The Epoch Times | By Janice Hisle and John Haughey | December 20, 2022
ORLANDO, Fla.—Gov. Ron DeSantis is working to turn Florida's 67 school boards freedom-based, one seat at a time.
As governor, DeSantis endorsed 34 candidates in school board races—local-level contests that rarely draw attention from state officials. All but five of the DeSantis endorsees won.
"That's a huge, huge thing," he said at "The Freedom Blueprint" education retreat at the Westgate Lakes Resort and Spa in Orlando on Dec. 19.
"In the past, nobody cared about these races. Nobody was paying much attention to these races, except the teachers' unions; they would fund the races.
"For too long, these school boards have not reflected the values of the communities that they were supposedly elected to serve," he said.
Thus, he asked the crowd of about 250 people: "What other school boards can we flip in '24?"
In response, attendees shouted out names of counties that might benefit from the DeSantis spotlight; he seemed familiar with each school board landscape.
But DeSantis made no mention of "the elephant in the room:" the widespread speculation that he might run for president of the United States.
So far, former President Donald Trump is the sole declared candidate seeking to become the GOP nominee in the 2024 election. Some people want DeSantis to challenge Trump while others think he would make a good running mate for the former president.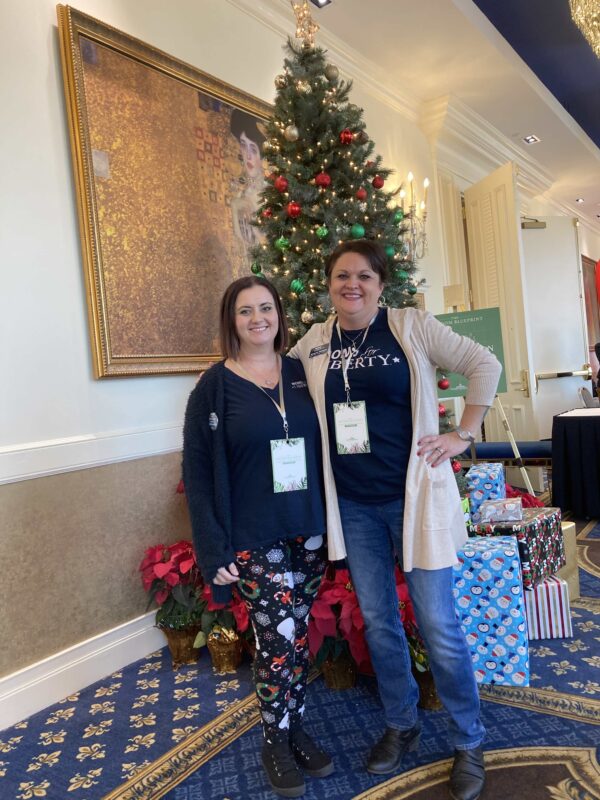 But Shannon Rambow, a member of the conservative group Moms for Liberty, said she doubts DeSantis will run for president.
"I personally don't think that he will," she told The Epoch Times after DeSantis's speech. "He won't have enough time; he's got to save us first."
Rambow supports DeSantis's emphasis on citizens voicing their opinions and seeking school board spots. "Show up, and do not be scared," she said. "Courage is contagious."
Rambow, of Flagler County, said she wasn't sure whether she'd vote for DeSantis as president because "I got to know who else is running."
If DeSantis does run, Kathryn Birren, a grandmother of six who intends to run for the Hernando County School Board, vowed to back him.
"I think he's amazing. He is what America needs. He is one of us—and he stands up for us. He's doing a fantastic job. I'm proud of him," Birren said in an interview with The Epoch Times.
Birren, who homeschooled four children, said she decided to run for school board after hearing about issues that troubled her.
"We need to give parents a voice" and treat them with respect when they have questions, Birren said.
Success Story
Monica Colucci, who was elected to the Miami-Dade Public School Board in August, unseated a 24-year incumbent on the board in "a tough battle," in a traditionally liberal area.
She said DeSantis's endorsement made the difference for her.
"I was standing for and standing with his agenda; it resonated with voters … education, not indoctrination," Colucci told reporters before DeSantis spoke. She made her living as an educator for 26 years in Miami-Dade, the nation's fourth-largest school district and Florida's biggest.
Florida is making great strides in education, Colucci said. "Florida is the education leader, the education state," she said. Her mission: "get back to basics—reading, writing, arithmetic."
Public schools are no place to push ideologies, she said. The focus needs to be on "academics, not political agendas."
She thinks children need to be taught to see both sides of issues. "Let the kid be a critical thinker," Colucci said.
Her advice to other parents and educators: "Don't be afraid to speak your mind. Ours is a free country. Speak your mind, get involved with local boards."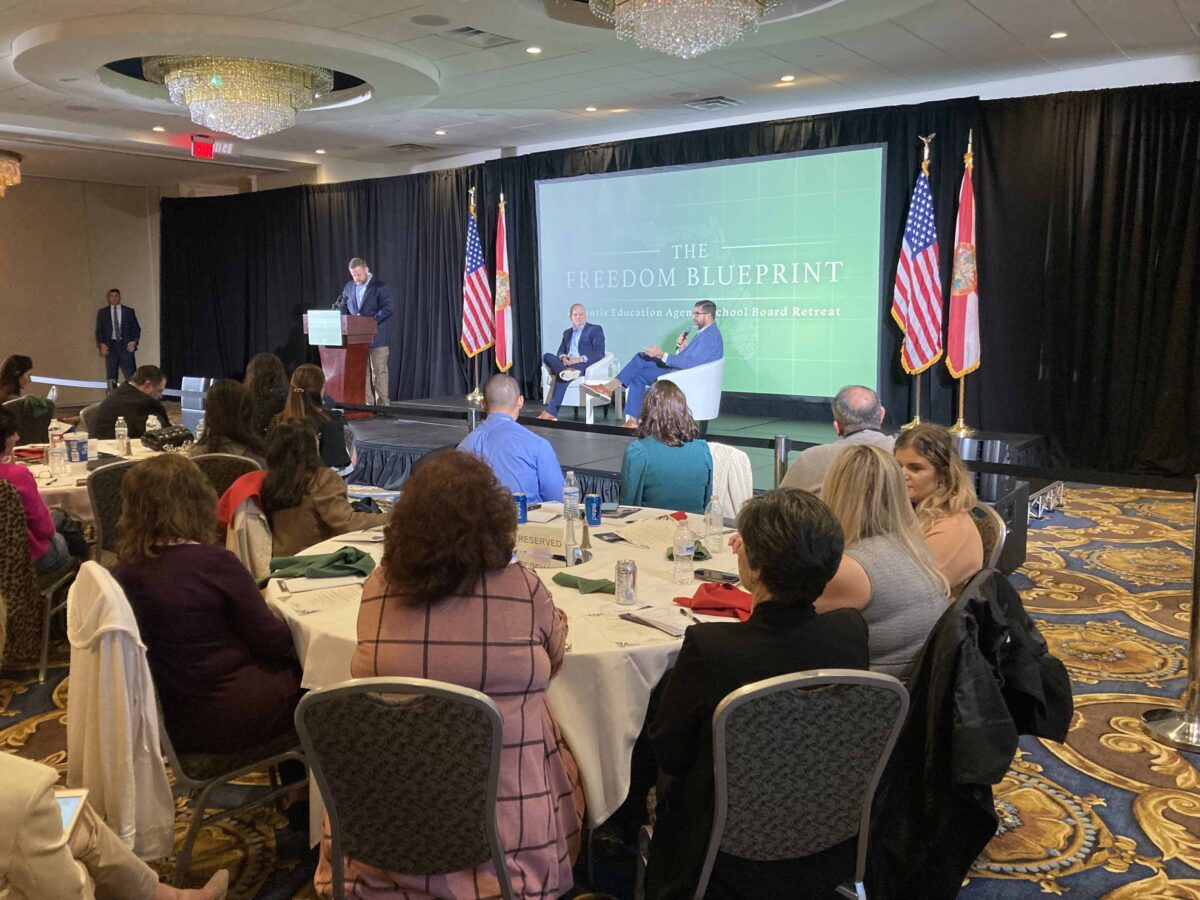 A Winning Agenda
DeSantis launched his 45-minute speech by congratulating the successful school board candidates.
"I know there's some people that we need to eject from some of those positions around the state. So we'll be working hard for that," he said, earning shouts of approval.
The governor commended parents for being "very active in making sure that our school systems educate our kids and are not trying to indoctrinate our kids."
He also gave an overview of his own success in the Nov. 8 election.
DeSantis resoundingly defeated Democratic challenger Charlie Crist by more than 1.5 million votes. That was "the largest raw vote margin in the history of the state of Florida for any governor's race," he said.
He also won 62 of the state's 67 counties. "We even won Palm Beach County, which has not happened in almost 40 years for a Republican governor candidate," DeSantis said.
"You win big when you produce big results," he said.
DeSantis said he bucked the system by fighting for parents' rights to choose how to protect their kids during the COVID-19 pandemic.
He opposed mandated vaccines, mask-wearing, and school shutdowns. He thinks those policies resonated with parents.
He used his fingers to draw air quotes around the word "science," and said it bothered him to see how "'science' has been used really as a weapon to infringe people's basic freedoms."
That, he said, was particularly obvious in the schools.
Standing up for those freedoms "isn't, like, a conservative issue," he said.
"When you're talking to parents about a COVID jab for an 8-year-old kid, that is something parents want to evaluate and make the decision for themselves," DeSantis said.
"They do not want the bureaucracy, forcing that decision on them and on their family."
That's why his supporters were "not limited to parents who agreed with me politically, across the board," DeSantis said.
Emphasis on Conservatives
However, the conference where DeSantis spoke did seem to be well-populated with conservatives.
Claudette O'Dowd, a mother of children ages 9 and 11 in Flagler County, said she was "very excited" about the prospects of electing conservatives to school boards.
"I want to fight for my children, for all the children," she said, adding that "woke ideologies" don't belong in the classroom.
Rather than "being a keyboard warrior," O'Dowd joined Moms for Liberty "to make a difference" in how boards manage schools, she said.