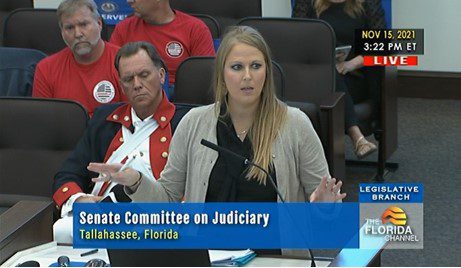 Educators largely absent as lawmakers move to prohibit mask and COVID vaccine mandates in schools
Florida Phoenix | By Isaac Morgan and Danielle J. Brown | November 16, 2021
A few weeks ago school districts and state education officials were battling over who has authority to operate schools during the COVID-19 pandemic: the state, local school boards or parents.
But during the first day of the special legislative session on mask and COVID vaccine mandates, educators and school officials were largely scarce and few, if any, appeared at legislative meetings in the Florida Capitol to advocate for school districts' ability to require students to wear masks.
"A lot of these issues are not really changes from what is currently in place," said Andrew Spar, president of the Florida Education Association, a statewide union. "And it doesn't make sense for us to get diverted away from what we know to be important issues that need to be addressed."
He added, "The fact of the matter is, all of this stuff that these bills look to address are already being debated and discussed in the courts."
Of concern is that the state has been making decisions that undermine local boards' authority, Spar said. He described the situation as problematic.
(The Florida Constitution states that school boards "shall operate, control and supervise all free public schools" within their school districts.)
That said, 66 of 67 school districts now allow parents to decide whether their children should wear masks at school. And on Nov. 20 it will be 67 school districts.
Several school districts have softened strict mask mandates because of declining COVID-19 cases. In addition, several of those districts have been punished for implementing strict masks mandates because they wanted to protect children. But they also lost pay over the issue, with the state docking salaries from certain school boards.
Sponsors of legislation in the Florida House and Senate would prohibit vaccine and mask mandates for schoolchildren, arguing that parents should be the arbiters of who will put masks on kids.
Both the House and Senate committees on Monday approved the legislation about mask and vaccine mandates at public schools. In the Senate Judiciary Committee, the vote was 7 Republicans and 4 Democrats. In the House Commerce Committee, the legislation also passed. The bill also included topics other than school-related issues.
The committee votes Monday aren't the end of the road. There will be more votes coming up this week during the special session.
State Rep. Ralph Massullo, a Republican representing Citrus County and part of Hernando, said developing natural immunity against COVID-19 and other options should serve as suitable safety measures if parents don't want their kids vaccinated.
But those lawmakers during a committee meeting on Monday didn't provide details surrounding the effectiveness of natural immunity. Doctors did show up and other anti-vaccine groups spoke out during public testimony, claiming that vaccines pose risks to kids.
Massullo also suggested that parents should consider monoclonal antibody therapy as a treatment if a child is infected with the virus. Florida has been operating state-run treatment centers for COVID-19 patients — a key initiative pushed by Gov. Ron DeSantis at several press conferences earlier in the pandemic.
State Rep. Joseph Geller pointed to vaccines that are already required for students, such as measles and Hepatitis B, and questioned why the COVID-19 vaccine is a big deal.
Geller asked the bill sponsors if there is physical harm related to children wearing masks. "My ninth grader wears a mask everyday," said Geller, a Democrat representing parts of Broward and Miami-Dade counties.
Geller also warned about the risk COVID-19 can have to parents who could come into contact from the virus by students.
Meanwhile, Massullo said, "for a child to have to wear a mask, that is tough." He also said that wearing masks could cause headaches and for kids with allergies, "it could impair their breathing."
State Rep. Geraldine Thompson, a Democrat representing part of Orange County, recalled when she received her required immunizations at an early age to attend school and questioned whether any school districts in Florida so far have required COVID vaccines for schoolchildren.
Andrew Spar, of the FEA, previously told the Phoenix that school districts have not required vaccines.
Erin Grall, a Republican representing Indian River and part of St. Lucie County, said the state has a list of vaccine requirements but "we are not discussing whether or not to add COVID-19 vaccines to that list."
"I don't know that there is one that is mandating it," said Grall, who is the chair of the House Judiciary Committee. "The scope of the bill says you can't do this."