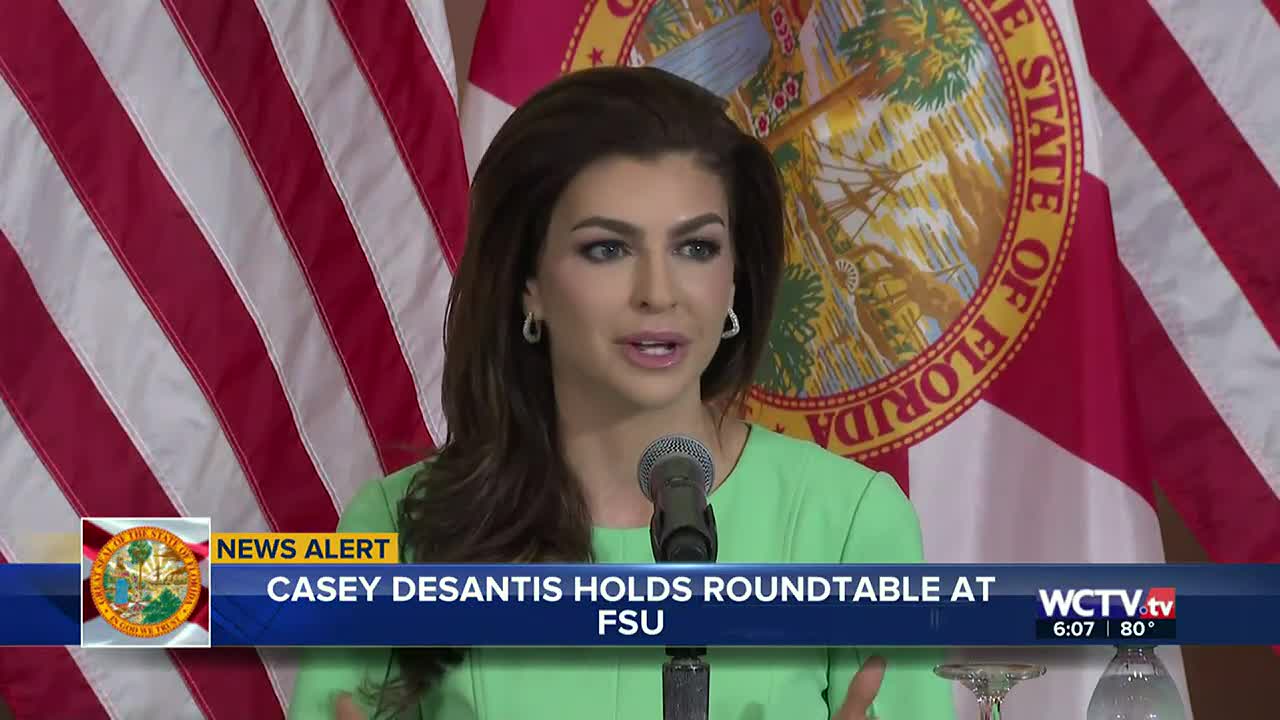 First Lady Casey DeSantis leads roundtable on education
WCTV | By Jaclyn Harold | March 22, 2023
TALLAHASSEE, Fla. (WCTV) – Florida First Lady Casey DeSantis sat down Wednesday morning for a round table discussion at Florida State University.
She and several other speakers introduced a new initiative to address mental health and student success across the state. Their plans aim to provide more resources both in school and at home.
"It's about learning to preserve, to never give up, to overcome and to become triumphant," DeSantis said.
The initiative, dubbed 'The Resiliency Education Standards', will add things like mentorship programs and provide problem-solving skills to encourage perseverance and focus among students.
"Our goal is to teach kids key foundational skills that will help the all throughout life," the first lady said. "Skills like problem-solving, critical thinking, grit, perseverance, empathy, responsible decision making, self-management, mentorship, citizenship and honesty."
The visit comes at a time when higher education is a recurring topic in the Florida legislature. Legislators are working on bills limiting funding for diversity, equity and inclusion programs in higher education and restricting college curriculum.
Guest speaker Monica Colucci, a Miami-Dade County school board member, chimed in on the issues as well, sharing how she believes inserting certain ideological topics within schools fights against the goal of student success.
"As for injecting ideologies, we have to remember that as educators, as policymakers, as parents, we cannot allow that. We're here for the mental well-being of our students," Colucci said. "We are not here to promote activism; we are not here to promote ideologies. We're here for the best interest of students and their well-being," she continued.
DeSantis said the new initiative will strictly focus on teaching students fundamental skills to be used throughout their lives, with more than $21 million dedicated to providing curriculum to teachers and parents as additional support.
Officials say the hope is to have the resiliency education standards approved and implemented for the 2023-2024 school year.