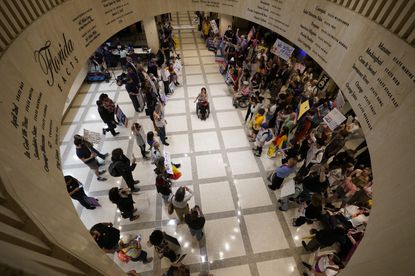 Florida lawmakers approve DeSantis 'anti-woke' plan for schools, businesses
Orlando Sentinel | By Skyler Swisher | March 10, 2022
TALLAHASSEE — Florida lawmakers approved Gov. Ron DeSantis' plan Thursday to combat "woke" ideology in corporate training and school lessons.
The legislation bans schools and businesses from teaching that a person is "inherently racist, sexist, or oppressive, whether consciously or unconsciously."
Senators voted 24-15 along party lines to send it to DeSantis, who dubbed the plan the "Stop Woke Act."
Sen. Kelli Stargel, R-Lakeland, said students should learn the good and bad parts of history, but they shouldn't be made to feel responsible for past historical wrongs.
"I don't think that we should be teaching a certain race should feel they are better or worse than another based solely on their skin and not on the facts of the situation," Stargel said.
Opponents painted the measure as a politically motivated and unconstitutional effort to penalize teachers who tell the truth about America's racist past. They also said it could unleash a torrent of lawsuits from employees upset about diversity training and would hurt Florida's ability to recruit and retain businesses.
"Children should be able to learn true history," said Sen. Shevrin Jones, D-Miami Gardens, one of five Black state senators. "I don't care if it is Black history. I don't care if it is Jewish history. We should not have to be here in 2022 where your five Black members in this room have to stand up and defend ourselves."
Sen. Bobby Powell, who is Black, said that saying "colorblind allows us to ignore facts."
"Slavery happened," said Powell, D-West Palm Beach. "Hangings happened. Massacres happened. … Jim Crow happened. George Floyd happened. Eight minutes, 46 seconds."
He gestured to a row of portraits of past Senate presidents hanging in the chamber that doesn't include one Black person.
"Unconsciously, this wall tells me it ain't possible," he said about the prospect that a Black person could lead the Florida Senate.
The "anti-woke" bill (HB 7) prohibits teachings and training that make people "feel guilt, anguish, or other forms of psychological distress" for past wrongs committed by others of their "race, color, sex or national origin."
It bars teaching that "members of one race, color, sex, or national origin are morally superior."
The legislation taps into a conservative backlash against critical race theory, which is not part of the K-12 curriculum in Florida.
Critical race theory involves the idea that many U.S. institutions are built on systemic racism and oppression of people of color. It is largely taught at the graduate level in college and in law schools.
Lawmakers have passed other culture war priorities ahead of the November election, including a 15-week abortion ban and a bill to limit classroom instruction on sexual orientation and gender identity.
Democrats have accused the Republican majority of using culture wars to secure their conservative political base. DeSantis, who is up for reelection this year, is widely considered a potential GOP candidate for president in 2024.