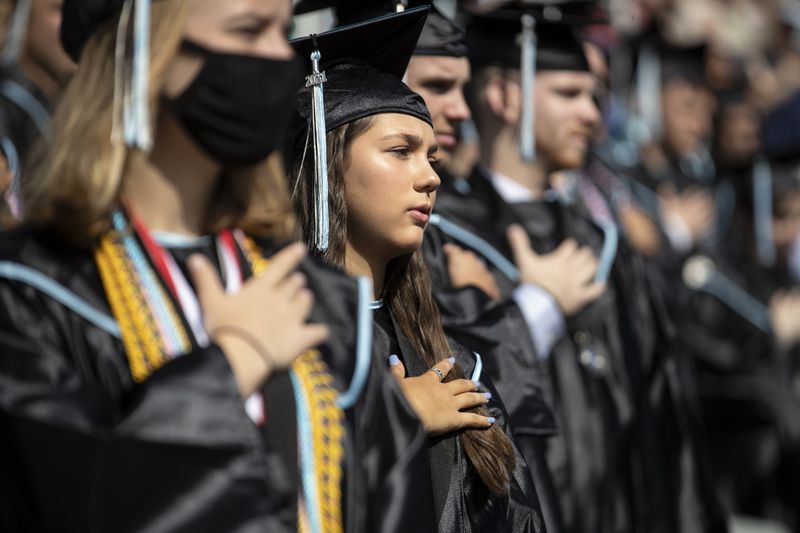 Florida's grad rate rises with test rules waived again
Orlando Sentinel | By Leslie Postal | January 4, 2022
Florida's high school graduation rate remained above 90% last year but nearly 16,000 teenagers earned diplomas in 2021 because the state waived testing requirements amid the pandemic, state data released Tuesday showed.
In Central Florida, the Seminole County school district, as it historically does, posted the highest four-year graduation rate at 95.5%, a one percentage point increase from 2020. That ranked it third-best in the state, behind only Columbia and Lafayette county schools and tied with the Wakulla County school district.
"Great News…our SCPS Grad Rate for 2021 was 95.5%!" the district posted on its Facebook page. "Great job students, families, & staff!"
The Orange County school district held steady at 90.4%. Both the Lake and Osceola school districts saw modest declines from the previous year, dropping to 90.6% and 89.7%, respectively.
Florida's high school graduation rate — the percentage of students who finish high school four years after they started — increased "significantly" in the past 18 years though this year it moved up just 0.1 percentage points, to 90.1%, in 2021, the state noted. The state's graduation rate was less than 60% for the class of 2003 and at 70.6% a decade ago when the class of 2011 walked during commencement ceremonies.
But the class of 2021, like the class of 2020, benefitted from Florida waiving its requirement that students pass a math and a reading exam to earn diplomas. Because the pandemic disrupted schooling and had many students studying from home, the state waived the testing rule for both classes, eliminating what is a barrier to graduation for some teenagers.
As a result, 8.5% of the class of 2021, or more than 15,780 students, graduated though they had not passed at least one of the tests, the Florida Department of Education noted in its annual report on graduation rates. For the class of 2020, about 7.1% graduated without passing the tests.
As is typical, graduation rates varied by race, with 97.5% of Asian students, 91.8% of white students, 89.4% of Hispanic students and 87.1% of Black students earning diplomas in 2021. The rates for all races have climbed in recent years, the department said.
For all races, female students graduated at higher rates than male students. Among white students, for example, the rates were 94% for females and 89.7% for males.
The class of 2021 included 185,758 graduates and 6,603 dropouts, the department said. It also included 13,793 "not graduating" students, more than half of whom are still enrolled. More than 4,500 of the "not graduating" students left their high schools to enroll in adult education programs, the department report noted.