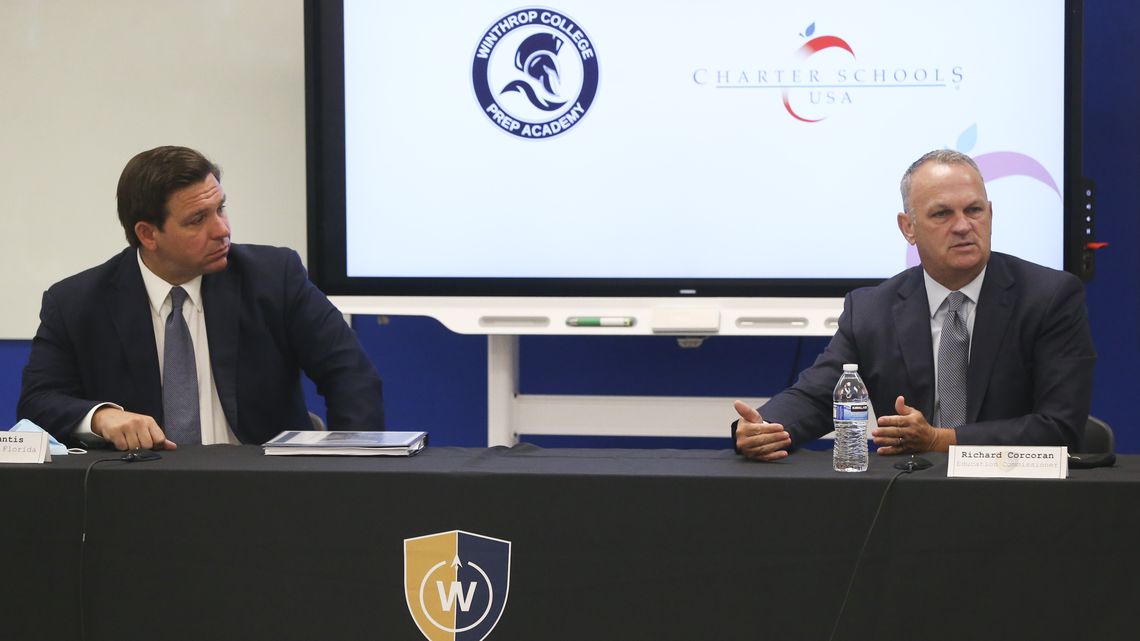 Florida's teacher bonus plan may violate COVID-19 relief money rules
A letter from the Biden administration said Florida's plan to use federal money to give teachers bonuses may conflict with requirements on how that money is used.
Tampa Bay Times | By Leslie Postal, Orlando Sentinel | July 6, 2021
ORLANDO — Florida's plan to use federal COVID-19 relief money to give classroom teachers and school principals $1,000 bonuses may have hit a snag.
The U.S. Department of Education, in a letter this week, told Florida education leaders their bonus plan looks likely to conflict with federal requirements that the money help address student "learning loss" brought on by the pandemic.
That could derail the state's effort to spend nearly $216 million on bonuses for about 180,000 teachers and about 3,600 principals.
The problem, first reported by Politico Florida, was detailed in a letter the federal department sent Wednesday to Education Commissioner Richard Corcoran.
The Florida Department of Education is reviewing the letter, Gov. Ron DeSantis' office said Saturday, adding that it found the federal response "surprising."
In the letter, Ian Rosenblaum, deputy assistant secretary for policy and programs, said the "American Rescue Plan" act allowed money, under certain circumstances, to be spent on bonuses or other "premium pay."
But he said Florida's plan "would conflict" with other provisions of the law that spell out how the money can be used. Those sections, he wrote, require the funds to help "address 'learning loss' through evidence-based interventions and to provide evidence-based summer enrichment and afterschool programs."
Those interventions, he added, must "respond to students' academic, social, and emotional needs," and they must "address the disproportionate impact of the COVID-19 pandemic" on certain groups of students, such as those "from low-income families, students of color, children with disabilities, English learners, and migratory students, students experiencing homelessness, and children and youth in foster care."
DeSantis spokesman Jason Mahon in an email said state leaders were reviewing the letter but did not understand the reasoning of their counterparts in Washington, D.C.
"It is surprising that the U.S. Department of Education would suggest that a $1,000 disaster relief payment is not "reasonable or necessary" given the dedication teachers in Florida have shown to keep schools open, allow in-person learning, and recover lost learning the entire school year," the governor's office statement said.
Even before the U.S. education department letter surfaced, the bonuses had prompted some criticism.
The state, for one, plans to mail the bonus checks to employees, rather than providing money to the school districts and allowing them to distribute the funds. That process is creating unnecessary delays, according to the Florida Education Association, the statewide teachers union.
Wednesday, Corcoran wrote to district superintendents asking them to provide by July 13 lists of employees who qualified for the bonuses.
"Gov. DeSantis has held up these funds because he doesn't want the districts to provide the bonuses. Instead, he wants to be able to send a bonus check with his signature to all classroom teachers in the state," the union said on its website.
The bonuses, announced in March at a Palm Beach County high school, were touted by DeSantis and Corcoran as a way to thank school employees who had helped students keep learning despite the challenges of the past year.
Corcoran said they would be recognitions for "heroic work."
DeSantis said teachers and principals were deserving because they had "put student success first throughout the course of the coronavirus pandemic."
But some educators and school leaders said the bonuses unfairly left out some employees, including deans and guidance counselors, and didn't cover those who worked the entire school year but then retired in June.
The Orange County School Board this week offered to provide $1,000 bonuses to current employees left out of the governor's plan, as have some other school boards.