Grappling with new law, fearful Florida teachers tossing books, resellers say
NWF Daily News | By Douglas Soule | August 3, 2023
It's not uncommon for Abby Bell to see teachers bearing books, wanting to offload them in between school years.
She's the store manager of one of Chamblin Bookmine's two locations, which has offered Jacksonville enormous inventories of used books for decades. Hers is the bigger of the two, a 23,000-square-foot maze of shelves crammed with millions of books.
But the teachers walking through the store's doors are also navigating a different kind of maze, recently-raised by Gov. Ron DeSantis and legislative Republicans. New laws focused on what books can be on teachers' own shelves have created confusion and even fear. And the president of Florida's largest teacher's union says the state hasn't provided educators any maps.
"That fear is a reason they are hesitant to keep their books in the classroom, and why they are hesitant to buy new books out there, especially with so little guidance," said Andrew Spar, president of the Florida Education Association, the state's largest teachers union. "It creates chaos, it creates confusion and it's had this chilling effect."
Bell says she's noticed something uncommon in this year's influx of books from teachers. Joining the typical older, beat-up books are hundreds of newer titles, most of them children's books depicting minority characters.
And she's not the only person in Florida's used bookstore world that's noticed a shift. 
'They don't want to be in fear'
About 150 miles down the East Coast, MerryBeth Burgess has seen something similar in Cocoa, where she owns Hello Again Books with her wife, Amy Elkavich.
"We've had classrooms as low as elementary schools, we've had high school classroom teachers, go ahead and bring us their donations because they're unsure of exactly what is banned, what isn't banned," Burgess said. "They don't want to have to be in fear for their job, but they are on a daily basis.
"In some ways, it's easier for them not to have a classroom library."
On Florida's Gulf Coast, in Pinellas Park, George Brooks says he's gotten more than twice as many books from schools this year than last.
He and his wife, Sarah, own The Book Rescuers, which they launched in 2021 after learning that some big used book distributors were throwing away titles in mass quantities.
At the end of the 2021-22 school year, Brooks said they received around 8,000 books that were previously in schools. At the end of this past school year, he said that number exceeded 18,000.
The book rescuers in Pinellas Park. Facebook
The Book Rescuers is young, and he attributes a lot of that increase to rising awareness of it. But Brooks estimated a quarter of those – or around 4,500 – came due to those new laws.
Those aren't only ones that have been restricted, he said, but also ones that schools and teachers want to get rid of to avoid possible trouble.
Meanwhile, in Orlando, Andrew Walker, co-founder of Joybird Books, says he's not seen any difference in teacher donations.
"I feel like if you're a teacher you're just going to hold on to those and hopefully ride out the political storm," Walker said.
But he still says he's seen an impact from the laws.
"We do get a lot of teachers who are very cautious and almost nervous to buy books for their classroom library because they don't know exactly what is good and what is not," Walker said.
His used book store is new, less than two years old, but this trend is even newer, he said, prominent over the last several months.
"I don't remember people even a year ago expressing as much caution about the children's books that they would buy from us,' Walker said.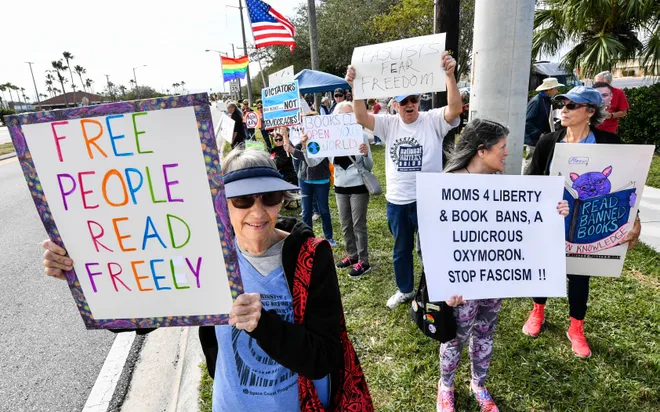 Dozens of people gathered along Babcock St. at Bulldog Blvd in Melbourne, FL to protest against the banning of books Saturday, January 28, 2023. Craig Bailey/FLORIDA TODAY via USA TODAY NETWORK
What's changed
It's not just classroom libraries.
School districts across Florida have purged titles from their library shelves since DeSantis signed the Curriculum Transparency Act last year, which he touted as a way to increase parental involvement in education and prevent "indoctrination." The law requires districts to catalog every book they offer and put a formal review process in place for complaints.
School districts took wildly varying approaches to the law.
Meanwhile, teachers, looking at their own classroom libraries, have been afraid of repercussions if they are found to have books in their classroom libraries deemed "harmful to minors" under a DOE media specialist training published in January. It said a teacher can be charged with a third-degree felony if materials are found harmful, pointing to a law previously on the books.
The book purges, often decried by free speech advocates, have generated headlines across the nation. They've also drawn lawsuits, such as one filed by the authors of "And Tango Makes Three," a children's book about two male penguins who raise a chick together.
Lake County limited access to the title, citing the Parental Rights in Education Act, called "Don't Say Gay" by critics, which prohibits instruction on sexual orientation or gender identity.
The law, which DeSantis also signed last year, has been commonly cited by those challenging books, and has further narrowed the tightrope public educators must walk to stay in accordance with law.
And then came House Bill 1069, the new book challenge law, which took effect July 1.
Some school districts, like in Leon County, are interpreting the law in a way they say could even put William Shakespeare writings at risk.
"If there were one or two small scenes in a book that we were not necessarily comfortable with, but the overall part of the book was really very valuable as a piece of literature, contributed to what students learned and so on, then I would look at that small percentage and be able to make a decision about a purchase," said Kathleen Malloy, Leon County Schools' coordinator for instructional materials. "That's changed [under the law]."
Following prodding from a local chapter of the conservative group Moms for Liberty, Leon County Schools Superintendent Rocky Hanna announced last month that five books would be removed from high school libraries, even though official challenges hadn't been filed.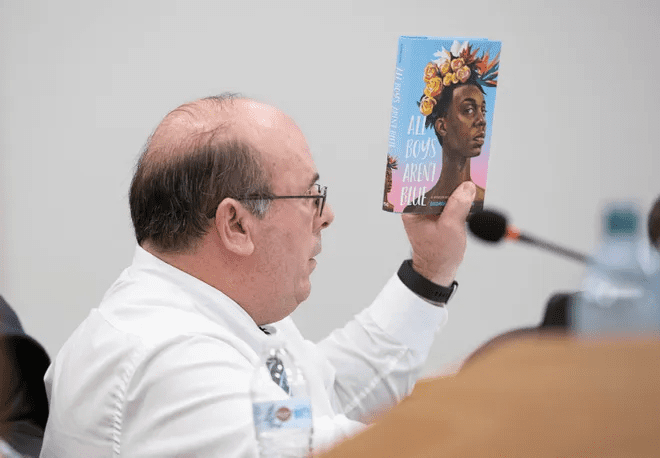 Kevin Adams makes a statement before voting whether or not to ban the book "All Boys Aren't Blue" at the School District of Escambia County meeting in Pensacola on Monday, Feb. 20, 2023. The board voted 5-0 to ban the book from all Escambia schools. Gregg Pachkowski / gregg@pnj.com
The Department of Education and governor's office did not respond to a media request, which included a question about whether the state will be providing school districts with guidance on how to comply with HB 1069.
"Schools seem to be erring on the side of caution, because there hasn't been a lot of guidance," said Spar from the Florida Education Association. "So we do see schools removing a lot of books, from the classrooms and from our libraries in our schools."
DeSantis, though, has maintained that the idea of book bans across Florida, which have made many headlines, is a "hoax." Conversely, he has bashed books that have been recently restricted in public schools as pornographic, violent or otherwise inappropriate.
"Exposing the 'book ban' hoax is important because it reveals that some are attempting to use our schools for indoctrination," DeSantis said in a statement. "In Florida, pornographic and inappropriate materials that have been snuck into our classrooms and libraries to sexualize our students violate our state education standards."
Used bookstores say they see a silver lining
The Books Rescuers' Brooks says he sees benefits in the new laws.
"I don't actually like book banning, but I like the results of book banning, at least part of the results," he said. "But what I really like about banning a book is it ensures more people will read it than will be banned for it."
His store has a "Banned Books" section, which includes books that have been actually pulled from Florida school shelves and also titles that have been challenged across the United States throughout its history. It's one of his most popular sections.
MerryBeth Burgess, an owner of Hello Again Books, stands beside a display of books Moms for Liberty chapters have requested removed from the Florida public schools libraries. Bailey Galion
The first table customers see walking into Hello Again Books is one with challenged or restricted titles from local schools. Many of those books feature LGBTQ, Black and other minority characters, and Burgess says the section helps some kids "see themselves safely represented in a form of literature."
Joybird Books, too, had a "Banned Book" section. With the demand, it lasted only a couple of weeks.
"I didn't have enough to keep it going," Walker said.
But, in Bell's Chamblin Bookmine store, she says there's no lack of incoming books to refill their "Banned Book" displays.
And, she said, "they sell wonderfully."
This reporting content is supported by a partnership with Freedom Forum and Journalism Funding Partners. USA Today Network-Florida First Amendment reporter Douglas Soule is based in Tallahassee, Fla. He can be reached at DSoule@gannett.com. Twitter: @DouglasSoule.