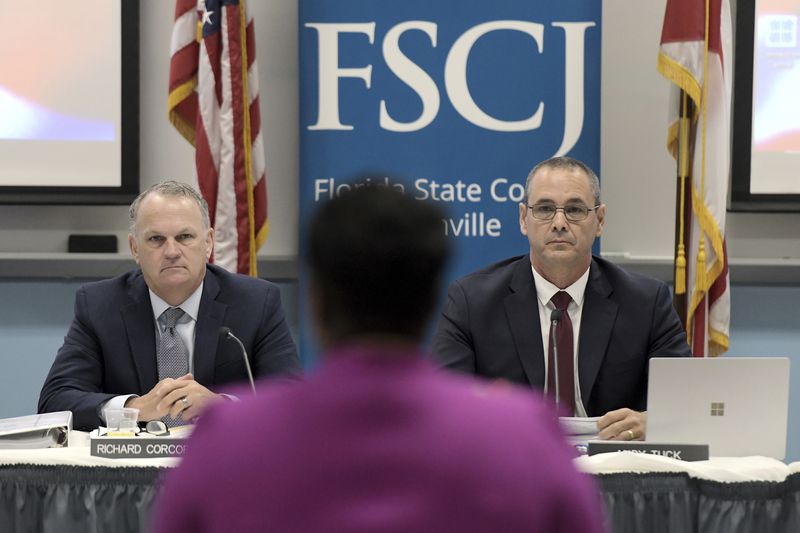 'Gross negligence,' conflicts plague Florida's search for private firm to help troubled school district
Orlando Sentinel | By Leslie Postal | January 13, 2022
Florida's bid to find a private company to help a troubled school district fell apart late last year when a member of the State Board of Education and a high-ranking state employee tried to win the contract, which they hoped would pay nearly $2 million this year.
Andy Tuck, a GOP political appointee who served on the state board since 2014, and Melissa Ramsey, an executive vice chancellor at the Florida Department of Education, both resigned in November as department investigators dug into their proposal to help operate the Jefferson County school district.
Department officials said Tuck and Ramsey committed "gross negligence" by seeking to use their positions to snag the work. The conflict-of-interest investigation prompted the department to restart its search for a private company to help the tiny North Florida school district.
Bids are now due Jan. 19.
Even before the first effort was scrapped, however, the education department's initiative faced scrutiny because as Ramsey and Tuck were trying to win the bid, other department leaders were trying to steer the work to a Tampa company run by a former Republican lawmaker with ties to Education Commissioner Richard Corcoran, the Tampa Bay Times reported Tuesday.
The Jefferson school district, long plagued by academic and financial problems, wastaken over by the state five years ago and then given to a charter school company to run. Now the state is transitioning control back to the district but wants a private company to help.
Education department officials met with representatives of MGT Consulting — the firm run by the former lawmaker — before its request for bids was released and told Jefferson officials that MGT would get the contract before any official action was taken, the Times reported.
The department also used a 2021 draft agreement between MGT and the agency to craft its requests for bids that in November it sent to 25 companies on a state-approved vendor list, including MGT, according to a Dec. 13 report from the department's inspector general.
The department got two proposals back — the MGT bid and the unsolicited one from Ramsey and Tuck's new venture, Strategic Initiatives Partners.
Two department attorneys on Nov. 15 "expressed concerns" about the bid from Strategic Initiatives since it involved current department staff, and the inspector general's office began to investigate.
"While we are appalled that any employee at the Department would have the audacity to use his or her position to create an advantage in a bid, the process here worked the way it should," said Jared Ochs, a department spokesperson, in an email.
Department officials quickly noted the "suspected conflict of interest," Ochs said, and Tuck and Ramsey resigned, departures first reported by Florida Politics.
Corcoran said both Tuck and Ramsey "have great hearts" and "have done wonderful things in education for the state of Florida," Ochs wrote in his email. "What they did was not malicious, it was just gross negligence. As soon as they were shown the error they both did the right thing and resigned."
Corcoran, a former Republican legislator and speaker of the Florida House, was tapped by Gov. Ron DeSantis in 2018 to be the state's top education official. He told the Times the department did nothing wrong in its effort to find a private company to help run Jefferson schools.
But Rep. Allison Tant, D-Tallahassee, on Wednesday called for Florida's Office of the Chief Inspector General to investigate the department's actions.
In her letter to the inspector general, Tant said she was "gravely concerned" about the education of Jefferson's students and feared they were being treated "as a pawn in a game between private providers who simply want access to public dollars."
State employee told to craft bid
Ramsey and Tuck formed Strategic Initiatives Partners in August. In their proposal submitted to the state Nov. 15 they explained how they would help operate Jefferson schools and said, if chosen, they wanted $1.8 million.
Tuck, as a member of the state board, helped oversee the education department and set public education policy in Florida, voting recently to ban critical race theory, adopt new math and language art standards and fine school districts with face mask mandates. He served for a time as chair of the seven-member of the board.
A citrus grower and agricultural businessman, Tuck was finishing up a term on the Highlands County School Board when he was first appointed to the state board by former Gov. Rick Scott. He made news then when his opposition to teaching evolution in schools surfaced.
Strategic Initiatives used a Highlands address affiliated with one of Tuck's agricultural business as its address when it filed incorporation papers. Tuck's daughter, Kaylee Tuck, is now a member of the Florida House, a Republican who represents Highlands and other nearby counties.
Tuck, whose current term was up at the end of December, resigned from the state board Nov. 16. That day he spoke with department investigators and agreed to be interviewed about the Jefferson proposal the next day, the report said. He then canceled that interview and said his attorney would reschedule, though his attorney never responded to subsequent emails and phone messages from the department, the report said.
Tuck could not be reached for comment.
Ramsey, whose education department title listed her duties as "strategic improvement," worked for the agency since 2015, according to her LinkedIn profile. She previously served as an administrator and school principal in the Gulf County school district.
Ramsey told department investigators she planned to retire if Strategic Initiatives won the contract and had told senior officials in the department of her interest in the Jefferson work.
According to the report, she supervised the employee who drafted the department's "request for quotes" for companies interested in the Jefferson job — and then instructed that same employee to draft her new company's bid for that work.
Investigators spoke with Ramsey, who was earning $123,600, on Nov. 22, and she resigned that day, state documents show. Reached by phone, Ramsey declined to comment.
The investigation also involved Jacob Oliva, the department's chancellor for K-12 education and one of Corcoran's top deputies. Oliva, along with Ramsey and Tuck, was listed on Strategic Initiatives' incorporation paperwork filed with Florida's Division of Corporations.
But Olivia told investigators he did not give Tuck and Ramsey permission to use his name and did not learn until Ramsey submitted the company's proposal to the department that his name was on company papers. He asked that it be removed, and it has been, records show.
"Chancellor Oliva was exonerated from any wrongdoing," Ochs wrote in his email.
'I should have known better'
The inspector general considered the case closed once Ramsey and Tuck resigned. But its report was sent to the department's human resources office, which sent a written reprimand and a demand to attend ethics training to Caroline Wood — the employee Ramsey had told to create Strategic Initiatives' proposal, Ochs said.
Wood told investigators, "I should have known better … I trusted a lot of people I shouldn't have trusted," the report said.
The Jefferson school district — rural, poor and with a little more than 700 students enrolled — struggled with its finances for years and twice since 2009 had a state panel appointed to manage its operations. Jefferson students also struggled academically, with the district earning mostly Fs and Ds from 2013 to 2017 because of students' low scores on state tests.
In 2017, the state board — with Tuck then serving as vice-chair — took a historic vote to hire a charter school operator to manage Jefferson's public schools with the hope of improving academic performance. Somerset Academy won the contract, and the district's grade improved "marginally" to a C in 2018 and 2019, according to the education department's new Dec. 22 bid request.
Because of the COVID-19 pandemic, Florida did not assign school letter grades in 2020 and made them optional in 2021. Somerset opted not to get a grade for Jefferson in 2021 but would have received a D, the department said.
In 2021, Jefferson had the smallest percentage of students scoring at grade level on state math tests of any of Florida's 67 school districts and was tied with another district for the smallest percentage in reading, the department added.
Somerset's contract ends in 2022 and it does not want to continue its work in the county, the inspector general's report said. The department decided it would transition operations back to the district, with a private company to help with teacher recruiting, training, food service management, transportation and other operations.
The department's initial "request for quotes" was put together by Wood. Ramsey was on vacation in early November, so Oliva told Wood to do it, giving her a draft of an agreement between MGT and the department to use as a template. The document spelled out what MGT would do to help manage Jefferson schools and suggested a four-year price tag of $4.8 million.
During its investigation, the inspector general's office asked the department's general counsel if using the MGT document to create a "request for quotes" ran afoul of Florida's conflict-of-interest laws. Attorney Jason Borntreger said it would not if the department was only "reusing" MGT's proposal "not conveying any special privileged information or other favor in the process," according to a Nov. 18 email that was included in the investigation's exhibits requested by the Orlando Sentinel.
But the Times reported that MGT's chief executive officer met with department and Jefferson officials on Nov. 1, a week before the department put out its request.
MGT's CEO is Trey Traviesa, a former Republican state legislator who served four years in the Florida House. Corcoran, an attorney, at that time served as special counsel to the Republican Party of Florida in charge of House campaigns, according to his resume, and then as chief of staff to the House Speaker. Corcoran was first elected to the House in 2010 and served as speaker from 2016 to 2018.
Traviesa and Corcoran in 2007 started a nonprofit business together called Step to Success. It was dissolved six years later.
Billy Townsend, a former Polk County School Board member, first revealed that business connection on his education blog last week and called for a broader investigation.
"Re-open the investigation," he wrote. "Get Jefferson County and the taxpaying public some real answers."