The extra time helps children acclimate to schools many have never seen.
Tampa Bay Times | By Jeffrey S. Solochek | June 29, 2021
LARGO — Jahvier Blair, Winnie Miller and Michael Martinez clutched green crayons as they carefully practiced writing the letter of the day on a recent Thursday morning in the hallway at Anona Elementary School.
"Guh-guh-guh," they chanted, reminding themselves how the G sounds while they alternated between upper case and lower case.
Instructional aide Jen Bryant pointed to the pattern the children had created, and asked them which one would come next.
"Lower case now," Winnie responded, cheering after learning she was correct. "You know how we get so smart? Because we're learning here. And, I'm hungry right now."
After a bit more practice, which included hopping the shape of a G when a "go" sign was showing, the children scampered outside to join their classmates on the playground for a 20 minute break from their morning lessons.
Like hundreds of 5- and 6-year-olds across Pinellas County, these youngsters were participating in the district's new rising kindergarten program. Funded by federal stimulus money, rising kindergarten aims to prepare children for their first time taking a full day of classes — no more nap time — in the elementary schools.
Following a year when many families stayed away from prekindergarten and kindergarten because of the pandemic, Pinellas officials decided a voluntary four-week introduction could help smooth the path to school as usual.
"It's a wonderful opportunity for the children to get into the kindergarten space," Anona principal Ann Welsh said, noting they'll be in bigger classrooms, using the cafeteria and walking the halls with bigger kids soon enough.
"The other great thing is, the parents," who are being trained to let their children walk into school alone, she added. "They're getting all those wiggles and jiggles out now."
In Pinellas, kindergarten is being reserved for children who normally would be entering it by age 5. Those who skipped the grade last year, but are older, generally will be placed into first grade, district spokesperson Isabel Mascareñas said.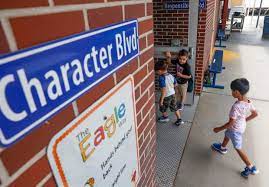 Some other school districts are taking a different approach.
Pasco County amended its student progression plan so it can offer blended kindergarten-first grade classes, taking into consideration students' abilities in addition to their ages. Some School Board members worried about placing children who had no kindergarten directly into first grade, forcing them to learn two years' worth of information in one.
District officials said most families who had enrolled their children so far indicated they want to begin with kindergarten. The goal, assistant superintendent Kim Poe said, was to make sure parents had options.
At Anona Elementary, rising kindergarten teacher Julie Nibert said she expected most children would become accustomed to the environment and adapt to the expectations with little problem. It just might take some a longer time than others because of their different experiences, she said.
But that's no different than any other year, even without a pandemic, said Nibert, who has taught prekindergarten and kindergarten for more than 15 years.
"They'll fall into place," she said. "That's what kindergarten teachers have been doing for years. They prepare them."
In her summer class of 17, Nibert had 11 children who attended Anona's voluntary pre-k the past year, and six who hadn't. Within the first week, she said, the differences were diminishing as they went through the 20 minute sections of reading, writing and math interspersed with lots of movement and fun.
"I like everything!" Reagan Waker said between bites of cafeteria chicken and waffles. "It's my brother's school, and now it's mine."
Nearby, Jacob Bodamer and Caleb Serafyn excitedly whooped and hollered each time the digital clock on the wall changed.
Welsh said she expected such enthusiasm from the youngest students, who still view school as cool. She said the teachers find ways to get the children ready for kindergarten without dampening their spirit.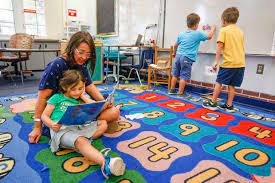 They made it clear they were ready to advance, as Nibert began their lesson on compound words.
"Okay, pre-k, we're going to …" she began.
"You said pre-k!" Jacob shouted back, with others joining in. "We're not pre-k!"
"You're the first to get me," Nibert responded. "Let's call it rising-k."
She didn't say pre-k again the rest of the morning, to the satisfaction of the new kindergartners. She did say she was grateful for the opportunity to work with the children toward their next educational endeavor.
"I really think it's helpful for them and fun for them," she said.
Welsh agreed, adding that she hoped the model won't disappear once the stimulus funding dries up.
"I think it's wonderful," the principal said. "I would love for it to stay."