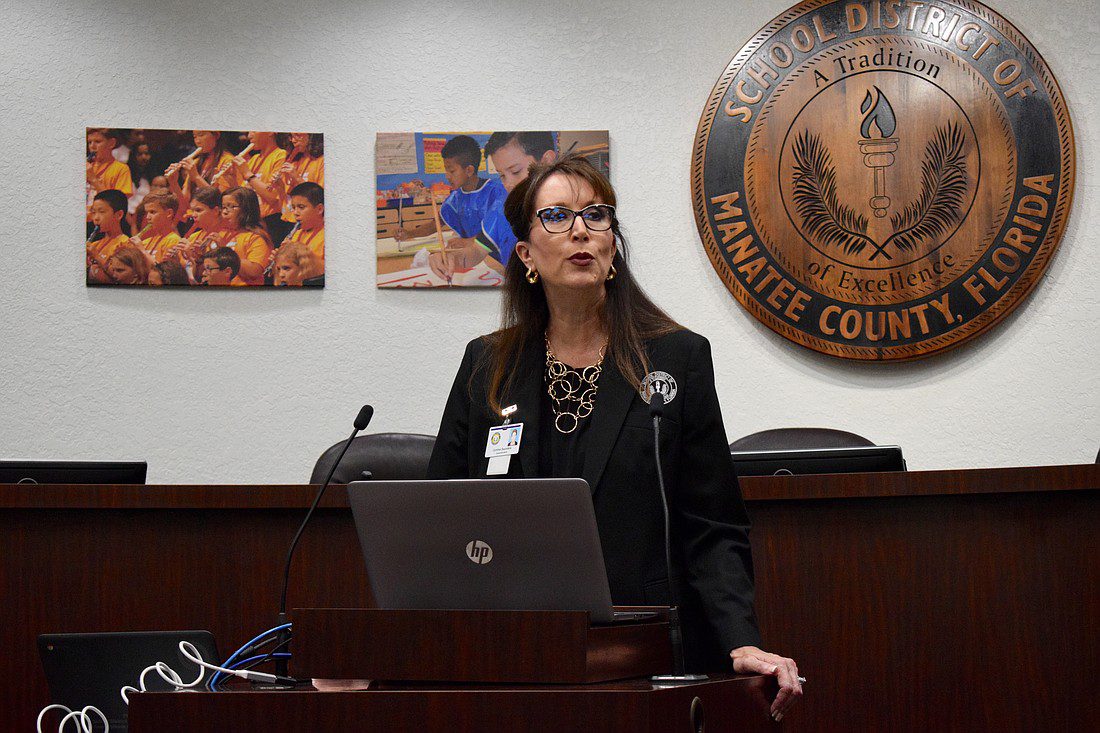 Manatee school board clashes on preference for new superintendent
Some board members say they would prefer a Florida resident while others say they are open to all candidates.
Observer | By Liz Ramos | January 12, 2023
The School District of Manatee County's board is kicking off the search for a superintendent, and unlike the last time they had an opening for the position in 2019 when they hired Cynthia Saunders, they will rely on a comprehensive search for candidates.
Saunders was the executive director of secondary schools and then the interim superintendent before school board members decided to forgo a search.
On Jan. 10, the school board approved a consulting firm to help with the search. Saunders, who first started working for the district in 2013, announced in October she would be retiring June 30.
"This is a big turning point for the district," said Chad Choate, the chair of the School Board of Manatee County. "We've had good leadership throughout the past four years with Ms. Saunders. This hire will take us to that next level. We're 25th out of 67 districts in the state, and we're trying to get better every year."
Andrea Messina, the chief executive officer of the Florida School Board Association, said as a result of the internet, all searches are national searches because anyone can see the job posting.
"I would tell you that it doesn't matter what search you do, it's going to be an international search," Messina said. "People from across the country will hear about your search because they have Google alerts. It would be a misnomer to think we're just going to do a Florida search because that's just not a practical reality in today's world. It will be a national search, whether you want it to be or not, but you get to decide where you want to advertise."
All five school board members said they will take any candidate, regardless of where they are coming from, into consideration when going through applications.
"To me personally, living on the west coast here from Hillsborough and Pinellas (counties) all the way down to Naples, it has to be roughly four to five million people," Choate said. "If we can't find somebody that's going to be good enough to lead our school system, then we have other problems. I don't think we need to do a national search, but I don't think if someone from Texas, California, wherever applies, I don't think we're going to throw them out. I want to be able to look at everybody and say, 'Is this the right candidate or not?'"
Board member Cindy Spray said with at least six other school districts throughout Florida looking for a new superintendent, the board would be limiting itself by only looking in Florida for candidates.
"There might be talent in other states that we could bring into Florida," she said. "I'm not sold on just looking locally or looking in Florida. I think that prohibits people from being able to apply for a job in another state. That's how I got to Florida. I wouldn't want to prevent anyone from applying. If you limit yourself to a demographic, you're missing out on the opportunity that you might have to bring somebody in with fresh ideas and can take our district to a higher level."
Although board member Gina Messenger said she would consider anyone who applies, she would take into "heavy consideration" someone who is from Florida.
"Florida is unique in how our financial program is set up through the state," she said. "Florida is also unique in the laws that are applicable to the school district and even to the superintendent. I would definitely take that into heavy consideration, but I would be welcome to anyone applying."
Board member Mary Foreman said she doesn't have high expectations on the number of people who will apply for a superintendent position because of the "current culture" in education and society as a whole.
"Manatee County looks good compared to some of the other counties with openings, but there are so many openings and so much division that I'm not sure that any of these counties are going to be seeing a lot of applicants," Foreman said. "If it's national and they don't have Florida experience, that's not ideal. I think ideally, it would be somebody who understands the Florida education system."
Board member Richard Tatem said he's "agnostic to where applicants come from" because the idea is to find the best person for the job.
"We want the best person for the job whether they live on the North Pole or two miles from the school board building," he said. "Having knowledge of the Florida education system is desired but not required."
Messenger said even if the vote on the selected superintendent is not unanimous, it's vital that each board member stand behind the new superintendent.
Messenger said although she was one of the two dissenting votes to make Saunders the permanent superintendent in February 2019 after she had been serving as interim since June 2018, she has supported her as the leader of the district.
"It's about us working as a team and supporting our team, and our new superintendent is going to be a member of our team," she said. "We need to support all members of our team including the superintendent. That doesn't mean we don't hold the superintendent accountable. That means we ensure we set our superintendent up for success and we work diligently to continue the quality education we already have here in Manatee County for our students."