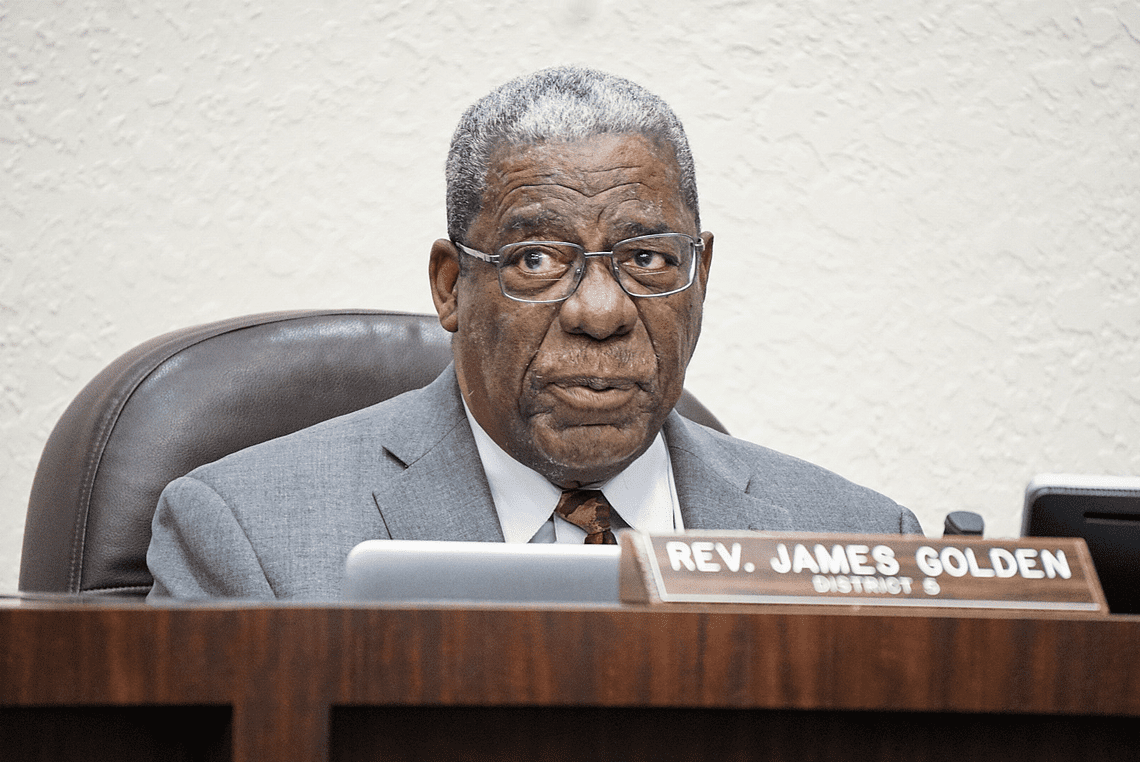 Manatee School Board elects first African American man as chair
Bradenton Herald | By Giuseppe Sabella | November 17, 2021
After a year of highs, lows and countless moments in between, Manatee County School Board member Charlie Kennedy passed the gavel to a new leader on Tuesday evening.
Board members voted unanimously to elect James Golden as the new chairman, making history during Tuesday's annual reorganization meeting, when the board chooses new leadership.
Golden, a board member since 2018 and the board's vice chair since last year, is now the first Black man to lead the Manatee County School Board as chair. He follows in the footsteps of Ruby Byrd and Barbara Harvey — Black women who previously held leadership positions on the board.
And after another unanimous vote, Gina Messenger, a board member since 2016, will serve as the vice chair.
Before tapping the gavel and ending Tuesday's meeting, Golden reflected on those who came before him, including two parents — both of them educators — whose hard work and sacrifices paved the way for his own journey in public education.
"I am deeply, deeply honored to gain the trust of my fellow board members and become the first African American man to not only be elected to the School Board, but to be the first African American man to serve as the chair of the School Board in Manatee County," he said. "And I stand on the shoulders of giants."
On Nov. 17, 2020, board members elected Golden as the vice chair and Kennedy as the chair. In the 12 months that followed, board members endured the COVID-19 pandemic, an onslaught of critical public comments, and the often complex responsibility of governing a school district.
Soon after becoming the vice chair last year, Golden spearheaded a new rule that banned "discourteous, disrespectful, or disparaging conduct" at board meetings.
Golden also played a part in bringing invocations back to the start of every meeting. While the invocations are open to all people, faiths and beliefs, Golden — a local Reverend — has led most of the prayers since the practice was revived.
He continued with a prayer on Tuesday evening, setting a hopeful tone for the year to come:
"We thank you, most of all, for the fellowship among this board," Golden said. "We got called a lot of names a lot of times, but not by each other, and we thank you for that. And we thank you for the people who called us names, because it keeps us humble in knowing that we are not perfect, either."
Golden is taking the reins from Kennedy, who has now served twice as the vice chair and twice as the chair after being elected in 2014.
In an interview on Tuesday afternoon, before the reorganization meeting, Kennedy reflected on his most recent stint as a board member and chairman. The last year, he said, was by far the most challenging.
Residents — some with no children in the school system — flooded the board room and demanded a stop to mask mandates and student quarantines.
And just when conditions seemed to be improving over the summer, COVID-19 cases again began to spike after the start of classes in August, giving new life to pandemic safety measures and raucous board meetings.
The last year was no doubt trying, Kennedy said, but it also served as a valuable learning experience.
"I really think we've come a long way in the past year," he continued. "And I think part of that is because of all the stuff we've been through together."
The board's five members — Golden, Messenger and Kennedy, along with Mary Foreman and Chad Choate — recently completed the Master Board Program, a 20-hour course focused on teamwork and communication.
And after enduring some of the toughest meetings of their career, the five School Board members enjoyed victories, too.
Most recently, the school board put a tax renewal before voters and celebrated a decisive victory, securing more than $40 million in annual funding for local schools and teachers through June 2025.
Looking forward, the newest chairman said he hoped to continue their positive momentum, even if the path to success was sometimes bumpy.
"I ask for your prayers that I bring no dishonor to the legacy and the memories of those whom I have been blessed to carry on for," Golden said. "I will make mistakes. Charge it to my head and not to my heart."