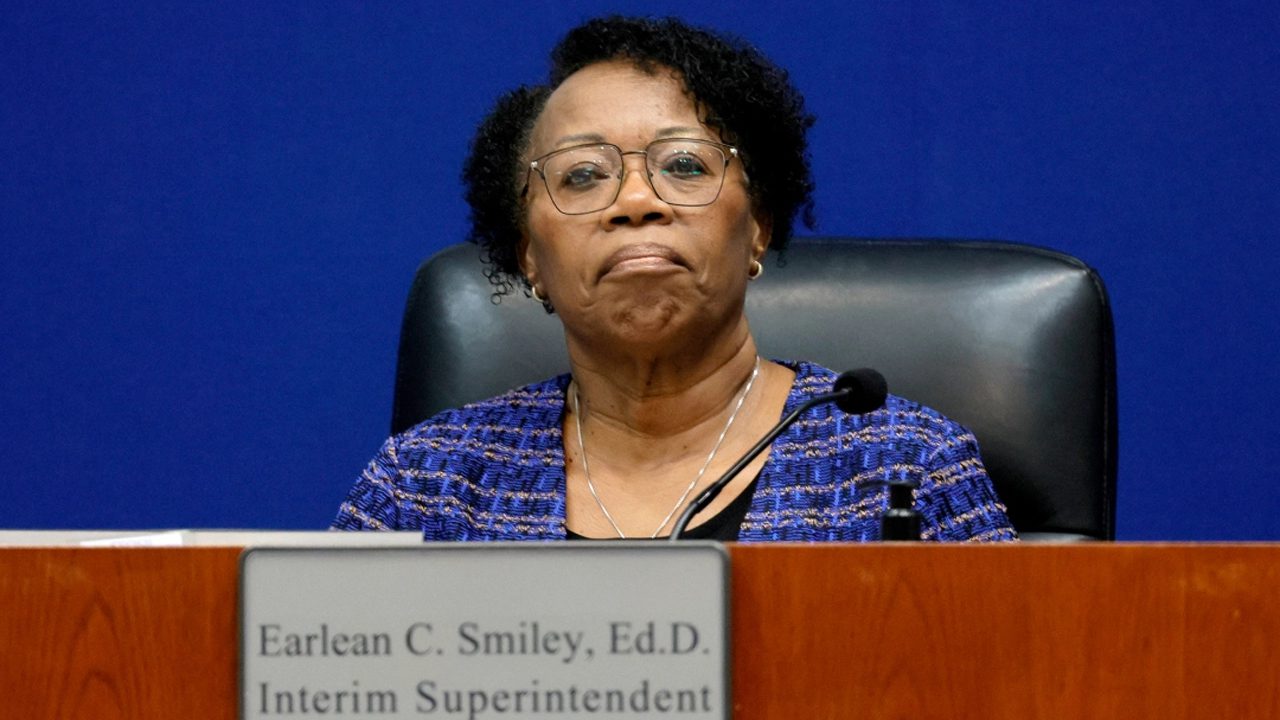 Massive Broward school district shakeup proposed, days before new leader is hired
South Florida Sun-Sentinel | By Scott travis | June 12, 2023
The interim leader of Broward Schools has proposed a massive administrative shakeup of the district, potentially creating turmoil just days before a vote on a new superintendent is scheduled.
Earlean Smiley, who was brought in as interim superintendent in February after Vickie Cartwright was forced out, released a reorganization plan Friday night with demotions, non-renewals and high-paying promotions, and the timing is sparking outrage among some School Board members. One raise, for nearly $25,000, would go to Chief of Staff Valerie Wanza, a superintendent applicant who the School Board rejected in late May.
"It's quite audacious for any outgoing leader to want to tie the hands of an incoming leader who might be in the job within days," Board member Allen Zeman told the South Florida Sun Sentinel.
Board members are scheduled to vote on Smiley's plan Tuesday. Two days later on Thursday, they plan to choose a new superintendent to replace Smiley.
"Every Superintendent has the ability and responsibility to make appointments during the annual reappointment process that they believe is the best for the position(s) for the upcoming school year," district spokesman John Sullivan said in a statement. "The next Superintendent will also have that opportunity."
Smiley's plan includes at least 20 promotions, with salary increases of up to $40,000. The agenda shows that Smiley recommended many of the appointments without accepting applications and conducting interviews, a move that Cartwright was criticized for last year.
At least eight employees would be demoted under the plan and at least six would be non-renewed or forced out.
"I support the interim superintendent making tough decisions and reorganizing the district, many calls that the prior occupant failed miserably and all of the stakeholders have told us so publicly," said Board member Torey Alston, a Smiley ally. "Dr. Smiley was tasked by the board to make these tough decisions including on non-performing administrators. Can I debate a few, sure? But overall there is one superintendent at a time."
But several other School Board members say they are reluctant to support the plan, putting its approval in doubt.
"I think that for the sake of the students and the schools, we need to let the next superintendent select top leaders," Zeman said.
Board members Sarah Leonardi, Nora Rupert and Lori Alhadeff voiced similar concerns.
"With our superintendent search coming to an end this week, the timing is ridiculously suspect," Rupert told the Sun Sentinel. "There are quite a few salary bumps, one around $40,000, that really make me angry. This is not the message to send to the public, our incoming superintendent, our staff or Tallahassee. Shameful."
Whether the School Board can legally stop the moves is unclear. State law gives superintendents the authority to appoint their staff, and the School Board can only reject the appointments in limited instances, such as the candidate is unqualified or has committed a moral offense.
Zeman said the School Board may not be able to reject the appointments but it can postpone the vote and discuss it with the next superintendent.
But that could also get tricky. The item up for consideration Tuesday includes thousands of routine appointments that must be approved in June to guarantee employees have jobs on July 1. Board member Debbi Hixon said delaying these may not resolve the concerns since a new superintendent probably won't start right away.
But Hixon said she still wants to find out how the salary increases could affect the district's budget.
"It bothers me because we keep telling our employees we can't give them raises," Hixon said. "These people didn't get a little bump in pay. Most of the ones I saw that got a promotion got at least an $8,000 increase."
Some are much bigger.
Regional Superintendent Alan Strauss, would get a $40,000 raise to become acting deputy superintendent of teaching and learning, bringing his salary up to $220,000.
David Azzarito, executive director of human resources, would get more than a $30,000 boost to serve in a new HR leadership role called "chief people person," which would pay him $173,000.
Angela Fulton, director of teaching and learning, would get an extra $30,000 to become a regional superintendent at a salary of $173,000.
Saemone Hollingsworth, also a director of teaching and learning, would get a $25,000 boost to become chief academic officer at $173,000.
Wanza would get a nearly $25,000 pay increase in an upgraded position of deputy superintendent/chief of staff, bringing her salary up to $230,000.
Hixon voiced concern at a May 2 board workshop about upgrading Wanza's chief of staff position to one with a higher salary range, but Smiley denied at the time any plans to give Wanza more money.
"Are we changing what the role of the chief of staff is or is the idea of making them a [deputy] superintendent just to give them more pay, because I'm struggling with that a lot?" Hixon asked Smiley at the meeting.
Smiley responded there was "no pay increase" planned.
"We're readying the system for the next superintendent to come in and might really have a high-achieving individual that he or she wants to level up," Smiley said. "It's already been board approved. You don't have to waste time doing things like that. There's no expectation because we're readying the system whoever is in that [job] would get a raise."
At that time, Smiley was pushing for Wanza to become superintendent, both from the dais and through a letter of recommendation in her application packet. Most employee groups also backed Wanza, and it looked for weeks that she was the favorite.
However, most board members decided May 30 they wanted someone external and chose not to advance Wanza to the final three. On Thursday, they are expected to choose between Peter Licata, regional superintendent for Palm Beach County schools, Luis Solano, deputy superintendent for Detroit schools, and Sito Narcisse, superintendent for East Baton Rouge schools in Louisiana.
As part of Smiley's reorganization, she is also parting ways with some administrators, including three that Cartwright brought in last year. Marilyn Doyle, deputy superintendent for teaching and learning, is retiring. Latonia Green, executive director of exceptional student education, and Darius Adamson, regional superintendent, are both resigning.
Nicole Mancini, a longtime administrator who Cartwright promoted to chef academic officer last year, was non-renewed.
Doyle declined to comment while Adamson, Green and Mancini couldn't be reached.
Many criticized Mancini's termination, saying she had served the district well for many years and had just gone on family and medical leave for health issues a few weeks after Smiley started in February.
"Dr. Smiley and [Mancini] overlapped five weeks, and somehow that was enough information to end a 25-year career," Zeman said. "To take her out like that was wrong."
A list of most promotions, demotions, transfers, resignations and retirements is available here.