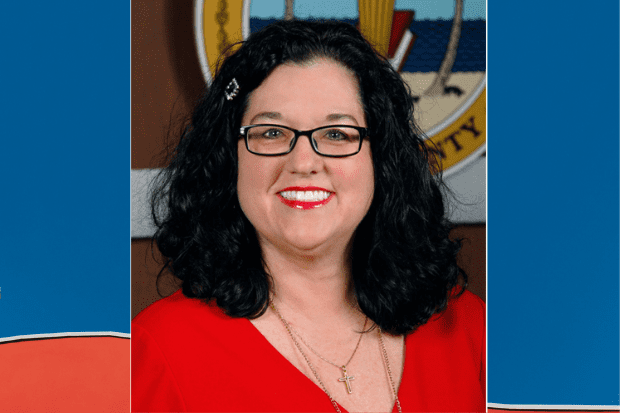 Member of Florida school board falsely says masks, vaccines don't work against COVID-19
Orlando Sentinel | By Tiffini Theisen | August 19, 2021
A member of a Florida school board said during a public meeting this week that masks and vaccines don't work in the battle against COVID-19.
Melisa Giovannelli of the Lee County School Board later backtracked, saying, "I'm not a medical expert, and I don't claim to be," according to Fox 4 Now.
"I was like beyond shocked … how dare she say that stuff. How dare she say masks don't work," said Dr. Parisima Taeb, the owner of a private clinic in Fort Myers who was listening to the meeting online.
Giovannelli, who voted against a mask mandate without and opt-out in schools, made the comments during a meeting Tuesday.
"If your child is sick, if you're sick, please stay home. That's really the only way you're going to fix this. Masks don't work, they really don't. We know that the vaccination is not even working," Giovannelli said during the meeting.
She later said she received criticism from several people, including parents.
With the highly contagious delta variant spreading across the U.S., children are filling hospital intensive care beds instead of classrooms in record numbers, more even than at the height of the pandemic. Many are too young to get the vaccine, which is available only to those 12 and older.
The surging virus is spreading anxiety and causing turmoil and infighting among parents, administrators and politicians around the U.S., especially in states including Florida and Texas, where Republican governors have barred schools from making youngsters wear masks.
School boards in Palm Beach, Miami-Dade and Hillsborough counties voted Wednesday to join Broward and Alachua in requiring students to wear facial coverings unless they get a doctor's note. With Orange County still allowing an easy parental opt-out, four of Florida's five largest districts are now defying Gov. Ron DeSantis' ban on strict mask mandates.
Children — particularly those too young to get vaccinated against COVID-19 — are "really good" at transmitting the coronavirus, said Dr. J. Stacey Klutts, a special assistant to the national director of pathology and lab medicine for the entire Veterans Affairs system.
Klutts said the highly contagious delta variant makes it absolutely necessary to wear masks indoors and avoid large group gatherings, so if unprotected students sit for hours in classrooms every day, it could rapidly spread infection in the community at large.
The Associated Press contributed to this report.