Moms for Liberty Banned Book List—The Novels They Want Taken Out of Schools
Newsweek | By Khaleda Rahman | November , 2022
Florida enacted a new law earlier this year that allows parents to raise objections to books they deem inappropriate and to petition school districts to ban them.
Gov. Ron DeSantis' administration then proceeded to assemble a council tasked with creating restrictions for public school libraries and to train school librarians to abide by the law. But as reported by The Daily Beast last week, some of those appointed to the group are conservative parents with a history of pushing for book bans.
Candidates with years of teaching and experience were passed over for self-nominated candidates like Michelle Beavers, the website reported. She has no teaching experience but leads the Brevard County chapter of Moms for Liberty, a conservative group that says it challenges "short-sighted and destructive" policies in public schools.
Moms for Liberty formed last year and has become known since then for its opposition to critical race theory in public schools, and its efforts to get books with LGBTQ+ themes removed from school libraries. This week, the group said it had endorsed 270 candidates running in school board elections who will promote those efforts.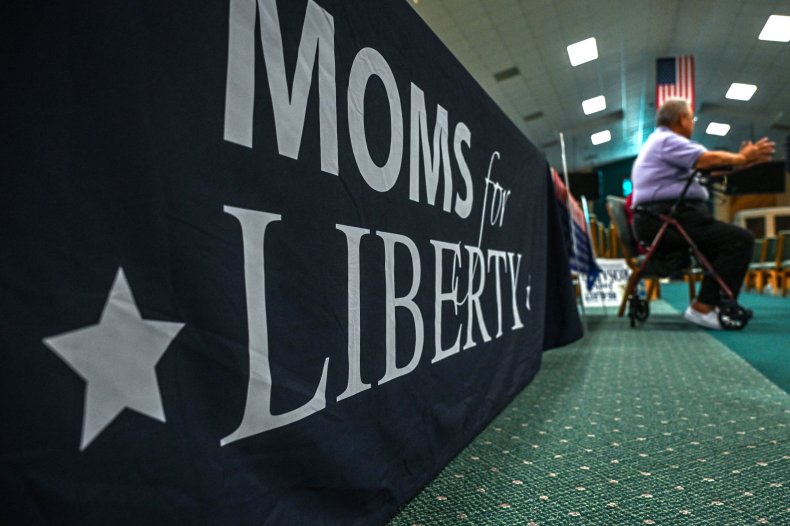 The Moms for Liberty chapter in Florida's Indian River County challenged more than 150 books in November last year, but the Indian River County School Board later voted to remove only five: Blanketsby Craig Thompson, Triangles by Ellen Hopkins, Girl 2 Girl by Julie Peters, Deogratias: A Tale by Alexis Siegel and Gone Girl by Gillian Flynn. The full list of challenged books can be viewed here.
Meanwhile, the Brevard chapter has challenged 41 books in school libraries, saying they violate state pornography statutes, ClickOrlando.com reported.
The list includes the modern classic Slaughterhouse-Five by Kurt Vonnegut, Khaled Hosseini's acclaimed novel The Kite Runner and Sally Rooney's bestselling Normal People.
"We're not looking to ban any books," Moms of Liberty co-founder Tiffany Justice told Newsweek.
Referencing recent calls for an upcoming book by Supreme Court Justice Amy Coney Barrett to be canceled, Justice said: "There were people that don't want the book to be published. That's banning books. Our moms are saying write the book, publish the book, print the book, sell the book wherever you'd like to sell it, but don't put it in a public school library if it has explicit sexual content in it."
Moms for Liberty and Brevard County Schools have been contacted for comment.
Here is the full list of books the Brevard chapter of Moms for Liberty has sought to have removed from schools:
Damsel by Elana K. Arnold
Forever by Judy Blume
Lucky by Alice Sebold
Monday's Not Coming by Tiffany D. Jackson
Not My Problem by Ciara Smyth
Red Hood by Elana K. Arnold
Sold by Patricia McCormick
This Book is Gay by Juno Dawson
This One Summer by Mariko Tamaki
What Girls are Made Of by Elana K. Arnold
A Court of Mist and Fury by Sarah J. Maas
Crank by Ellen Hopkins
Infandous by Elana K. Arnold
Push by Sapphire
The Haters by Jesse Andrews
The Nowhere Girls by Amy Reed
Tilt by Ellen Hopkins
Triangles by Ellen Hopkins
Tricks by Ellen Hopkins
A Court of Silver Flames by Sarah J. Maas
Breathless by Jennifer Niven
Last Night at the Telegraph Club by Malinda Lo
The Infinite Moment of Us by Lauren Myracle
YOU: A Novel by Caroline Kepnes
A Court of Thorns and Roses by Sarah J. Maas
A Court of Frost and Starlight by Sarah J. Maas
A Court of Wings and Ruin by Sarah J. Maas
Out of Darkness by Ashley Hope Perez
The Kite Runner by Khaled Hosseini
Milk and Honey by Rupi Kaur
Jesus Land by Julia Scheeres
People Kill People by Ellen Hopkins
Beautiful by Amy Reed
Empire of Storms by Sarah J. Maas
Living Dead Girl by Elizabeth Scott
House of Earth and Blood by Sarah J. Maas
The Perks of Being a Wallflower by Stephen Chbosky
All Boys Aren't Blue by George M. Johnson
Slaughterhouse-Five by Kurt Vonnegut
Normal People by Sally Rooney
House of Sky and Breath by Sarah J. Maas
Update 11/3/22, 11:55 a.m. ET: This article has been updated with comment from Tiffany Justice.