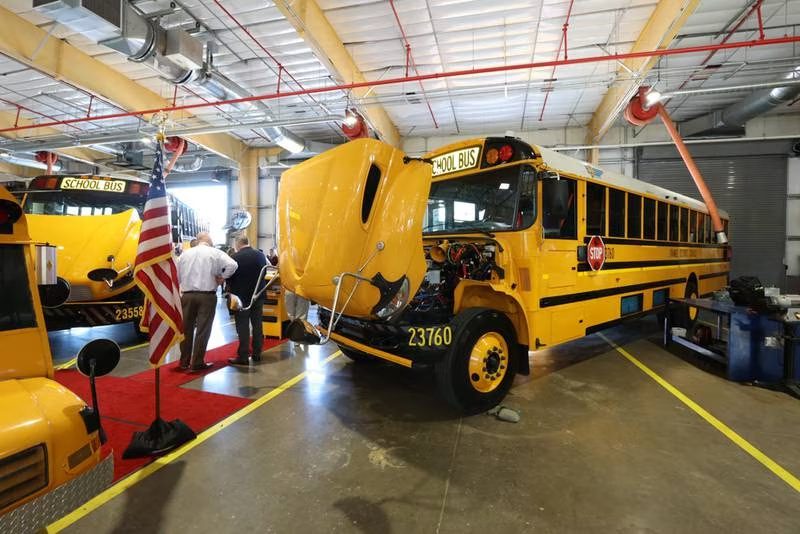 OCPS schools to debut Florida's first electric school buses, a pilot to test costs
Orlando Sentinel | By Leslie Postal | February 20, 2023
Six electric school buses will soon be driving Orange County Public Schools students to and from school, as the district becomes the first in Florida to put these vehicles on the road.
The new buses will be used on routes in west Orange and in the Pine Hills area and will help OCPS test whether the more expensive electric buses save money in the long run because of lower fuel costs.
About 60 students and bus driver Gary Giddens took one of the electric buses on a test run last week.
"They were so excited," Giddens said.
He was, too. The electric bus was much quieter, smelled better and offered a smoother ride than than the diesel-powered vehicles he usually drives, said Giddens, who has been an OCPS driver for 20 years. And it made a return to the bus depot simpler.
"All you've got to do now is plug it in. You don't have to go to the fuel pump," he said.
But the electric buses — which fit with the district's "going green" efforts — have downsides, too, said Bill Wen, senior director of transportation.
Their range now is about 100 to 200 miles between recharging sessions, depending on the model, he said. That means the buses likely will not be doing field trips or transporting sports teams to far-flung games. The six buses need to use the new OCPS charging station at its transportation center on Pine Hills Road, so will be used for routes that allow an easy return there.
The new buses represent just a fraction of the OCPS fleet, which includes about 1,000 diesel buses that transport about 69,000 OCPS students a year.
With a cost of about $360,000 per bus, the electric vehicles are about three times more expensive than their diesel counterparts, Wen said. But a grant from the state's Department of Environmental Protection covered the difference for the six new electric buses, allowing OCPS to pay what it normally would per vehicle.
The department provided the grants because it got money from the Volkswagen settlement, an agreement the car manufacturer made with the federal government after being found in violation of the Clean Air Act, and decided to use those funds for "projects that mitigate diesel emissions from mobile sources."
The department's electric school bus project will spend $57 million of that settlement money helping to buy 218 electric school buses in seven Florida counties — Broward, Manatee, Miami-Dade, Orange, Palm Beach, Pinellas and Sarasota counties, according to its website. Broward will get the most, with 60 electric buses slated to debut in that South Florida school district.
Orange is the first to get the electric buses on the road, Wen said, as supply chain issues have delayed all the districts' efforts. One of OCPS' six buses has not yet arrived, though five are ready to transport students.
"We're proud to be the first to get it going," he added.