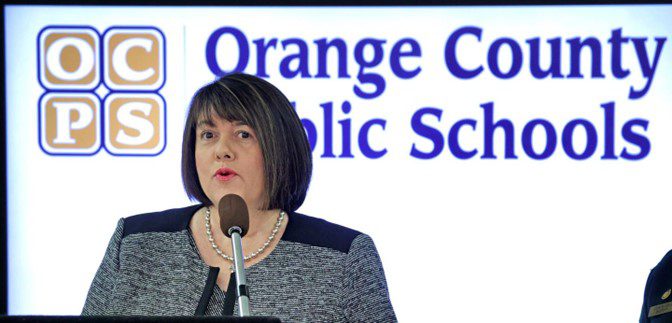 Orange County parents back teacher who put kids on TikTok protesting book bans
Orlando Sentinel | By Skyler Swicher | February 22, 2023
A group of Orange County parents wants school officials to reinstate a teacher accused of using children as "political pawns" in a series of TikTok videos, including some that took aim at book bans.
Ethan Hooper, a sixth-grade language arts teacher at Howard Middle School, was put on administrative leave and faces being fired by the Orange County school district after he posted the videos.
In one, Hooper snatches "Harry Potter" and other books from children with the caption "POV: A Florida teacher." In another video titled "POV: a Florida school detention," students recite that they will only read approved books and then confiscate a book from a classmate reading in a closet.
A social media account called Libs of TikTok featured Hooper's videos, racking up more than 1 million views as of Wednesday.Libs of TikTok is influential with conservatives, including Florida Education Commissioner Manny Diaz and Gov. Ron DeSantis, and mocks videos posted by liberals on social media.
DeSantis and Diaz supported a new law that requires media specialists to review books for inappropriate content. That's led some schools to remove or cover books that have not yet been vetted yet.
Libs of TikTok also shared a video titled "Black History Month … the shortest month of the year" in which white students acted like they were serving Black students.
Orange County Public Schools issued a statement that it will "not tolerate the use of our children as political pawns by anyone, including a classroom teacher."
The district added that any employee who creates content with students in "an effort to exploit them for political purposes will be immediately removed from the classroom, placed on administrative leave and swift action will be taken to terminate employment."
"I am appalled at the behavior and judgment of the teacher who posted the inappropriate videos using his students as political props," Maria Vazquez, the district's superintendent, said in a prepared statement. "This is not free speech — it is the exploitation of our students for political purposes and it will not be tolerated in our school district."
But some Howard Middle School parents say Hooper is beloved by his students and one of their favorite teachers at the school. They are sending emails to school officials and urging them to put Hooper back on the job. They also plan to take their concerns to the Orange School Board.
"We were really upset to find out he had been placed on leave," said Alexis Edouard, whose son is in Hooper's class. "He is one of my son's favorite teachers. I feel like Orange County schools need more teachers like Mr. Hooper. To be placing a teacher like him on administrative leave is outrageous."
Edouard said she has been in touch with about a dozen parents who will publicly support Hooper and expects others will join the effort in coming days.
Another parent, Ronette Arthur, said her son has participated in videos in the class, although not the controversial ones featured by Libs of TikTok. She said the children came up with the skits on their own, and she had no concerns about the material Hooper posted.
"We feel like he is a great teacher," Arthur said. "He is young, innovative and the kids really love learning in his class. That's what is important at the end of the day."
Other parents say they think the school district made the right call.
"If one of the teachers was using my kid for political gain, that would upset me," CJ Johnson told News 6 in an interview. "What if I don't believe in that, and, you know, that's not what I'm teaching my kid."
Hooper could not be reached for comment on Wednesday.
School officials would not reveal the district policy Hooper is accused of violating, saying the matter is under investigation.
Orange County Public Schools has a policy dealing with employee political activity while on duty.
One of the restrictions bars teachers from using their "official position in any way to influence, or attempt to influence, students to support or oppose any candidate, party, or issue."
Also this month, a substitute teacher in Jacksonville was fired after he posted a video of empty library shelves, First Coast News reported.
Duval County school officials said the video was a "misrepresentation," and the substitute teacher, Brian Covey, violated his employer's social media and cellphone policies.