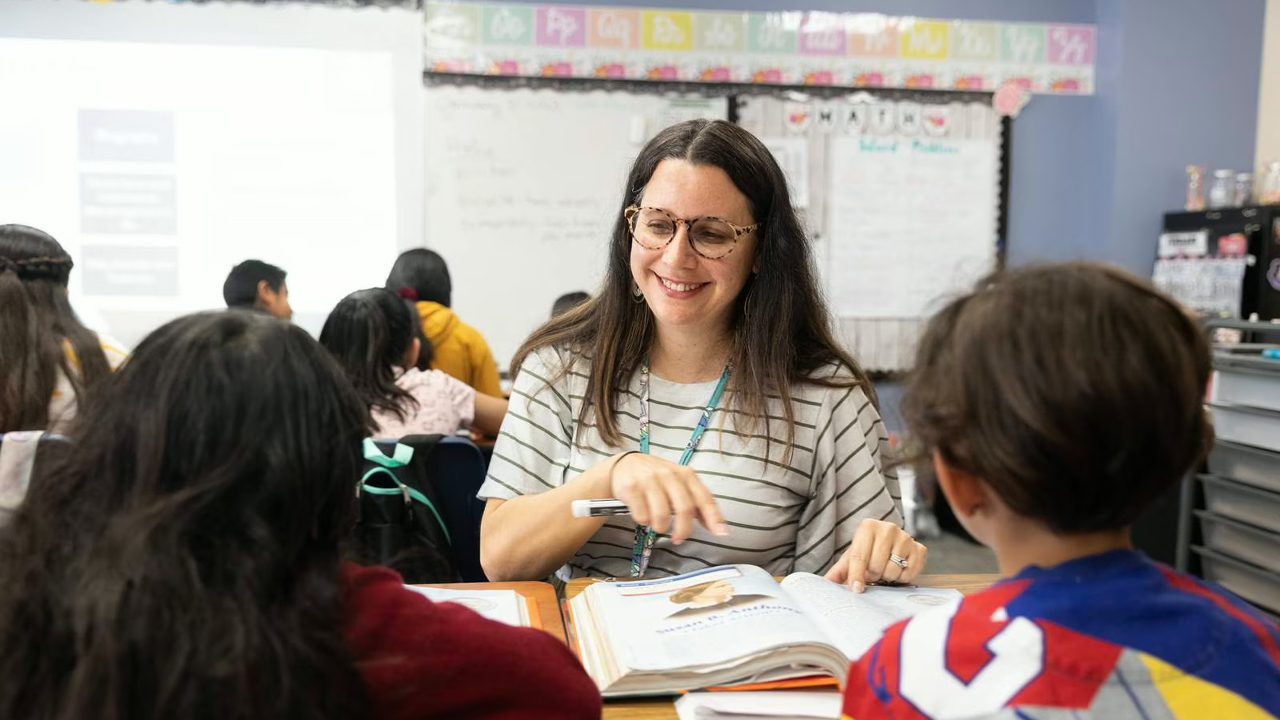 Orange school district gives classroom aides a path to teaching careers
Orlando Sentinel | By Leslie Postal | April 5, 2023
When Kelly Longstreet's family moved to Florida four years ago, she applied for a job as a classroom aide, knowing the hours would mesh well with her daughters' school schedules. Plus, she'd once hoped to become a teacher, and the job with Orange County Public Schools gave her a taste of that teaching life.
And that taste seemed enoughuntil she received an email from the school district.
It told her about a new OCPS partnership with Rollins College that would help classroom aides — who already have two-year degrees — earn a bachelor's degree and become state-certified teachers, boosting their pay and professional opportunities and helping the school system combat Florida's ongoing teacher shortage.
Longstreet signed up and was soon a part-time college student, having "homework nights" with her daughters, taking evening classes and still working full-time as an aide.
She graduated from Rollins in December and in January started work as a third-grade teacher at Ocoee Elementary School, taking over a class run by a series of substitutes after the teacher who started the school year resigned.
"I love working with the kids," she said, as she sat in her classroom early one morning before students arrived, a quiet time interrupted by one boy who stopped in eager to tell her, "I did all my homework."
Longstreet, 39, is now an enthusiastic cheerleader for OCPS' Pathways to Teaching program. "For me, it offered an opportunity for a ship I thought had sailed," Longstreet said. "It was hands down one of the best decisions I've ever made."
She is one of the program's 22 graduates, all of whom are now OCPS teachers. Another 26 employees are currently enrolled at Rollins, slated to graduate as certified elementary school teachers this year and next, and a new class is set to start in the fall.
The school district also hopes another 30 aides, officially called paraprofessionals, sign up for a similar effort to be offered through the University of Central Florida starting in August.
The program helps classroom aides advance their careers and helps the school district tap another source of potential teachers, said Bridget Williams, OCPS' chief of staff, who oversees hiring for the nation's eighth-largest school district.
The district employs more than 14,300 teachers and 2,100 classroom aides.
The former aides "worked very hard, extremely hard" and became teachers thanks to the "unique partnership" with Rollins, Williams told the Orange County School Board, as it celebrated the program's graduates at a December meeting.
OCPS' effort is focused on classroom aides working in schools with lots of students from low-income families, places where teacher shortages are most acute. Employees who sign up for Pathways to Teaching can get scholarships to help cover tuition, free textbooks and laptops and even continued pay while doing the required teacher internship.
Both the Rollins program and the new UCF one allow OCPS employees to be part-time students and to take their required courses in the evening. UCF will offer its classes remotely via Zoom to accommodate students who cannot make it to campus.
Administrators at both schools said classroom aides are excellent candidates for teacher education programs because they already work in schools, typically helping small groups of students, and they understand what students need.
"The expertise they're bringing in from being in the classroom and working with teachers is just phenomenal," said Andrea Borowczak, director of UCF's school of teacher education.
UCF ran a small pilot program this school year for about eight aides. In the fall, it hopes 30 from OCPS and another 30 from the Marion County school district start the classes that could have them certified Florida teachers in three years.
The goal is to "harness all of their knowledge" and offer a program that makes obtaining a bachelor's degree manageable while working full-time and, in many cases, also juggling parenting responsibilities, said Elizabeth Hoffman, a senior lecturer in UCF's teacher education school.
"They have different needs than our traditional students," she added.
At UCF and Florida's other universities, the number of traditional undergraduates pursuing education degrees has dropped in the past two decades, even as the state's public school population, and the demand for teachers, has grown significantly. That has left school districts across the region and state looking for teachers and for ways to "grow your own," through programs like the Pathway initiative.
Marybelle Doe, now a teacher at Cypress Creek High School, was in the inaugural group that began classes at Rollins in August 2019. At the time, the mother of two worked as an aide and part-time at Target to help cover her family's bills.
She'd long wanted to be a teacher but financially that goal was out of reach — until she got an email about the Rollins program."That's when I began to cry. I knew this was it," Doe told the school board.
She is now a ninth-grade reading teacher.
OCPS aides on average earned just under $20,000 last school year, according to the Florida Department of Education. First-year teachers in Orange now earn $48,400.
"It has not only changed the trajectory of my life but of my family's," Doe said. "The income increase, it's like a bonus every payday."
Classroom aides who studied at Rollins are a racially and culturally diverse group, with 62% of them Black or Hispanic and about 30% of them non-native English speakers, said Susan Singer, Rollins' provost. That means they mirror the make-up of OCPS' student body and offer "rich perspectives" that will benefit the children they teach, she said.
Longstreet said Pathways wasn't easy — she was sometimes up at 5 a.m. on Saturdays to study — but it was doable. She turned down a teacher education program in New Jersey years ago because she and her husband just learned they were expecting their first child and the program seemed too inflexible to make work.
Now, she is delighted to watch as her third graders, some of who are native Spanish speakers, make gains, especially in their ability to read.
"If you're not sure, make your best guess," she said as she led them through a reading lesson on a recent morning. "It's OK. We're still learning."
She is also thrilled that her daughters, ages 11 and 12, watched her study and attend classes with the goal of professional advancement. The oldest recently wrote her a note: "I'm so proud of you for pursuing your dreams," it read.