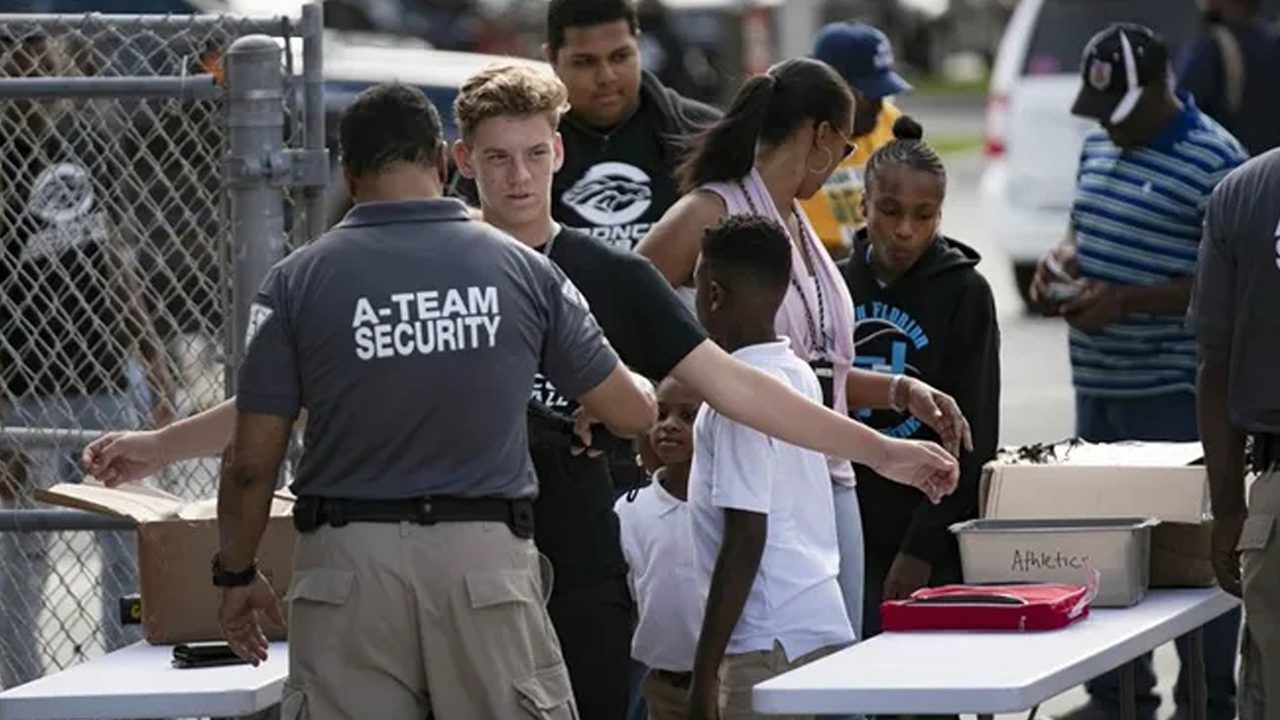 Palm Beach County school leaders OK $2.25M for metal detectors at all high schools
School board members cautioned each other that failing to approve the measure could signal that the board isn't serious about campus safety.
The Palm Beach Post | By Katherine Kokal | May 11, 2023
Palm Beach County school leaders approved a $2.25 million contract that may result in metal detectors at entrances of all county high schools.
The contract comes on the heels of a previously approved pilot program for metal detectors at four district schools. Those devices are to be installed at John I. Leonard, Palm Beach Lakes, Seminole Ridge, and Palm Beach Gardens high schools.
But the equipment for that pilot program has yet to arrive from Italy, according to Superintendent Mike Burke.
Burke said Wednesday that the school board must run the pilot program and see if scanning up to 3,000 students each morning causes delays to the start of the school day. He said he'd hoped to run the pilot program this spring, but supply-chain issues have pushed back delivery of the equipment.
Approving the contract with Ceia USA without any results from the pilot program worried some board members, who said they weren't ready to jump into a larger contract.
"We authorized $250,000 for a pilot program, and the pilot program has not yet started," board chair Frank Barbieri said. "I don't believe it's prudent (to spend the money) until the pilot is finished.""I want to see it work," he said.
Palm Beach County schools won't buy metal detectors until after pilot program at 4 high schools
The school district operates 23 high schools that serve nearly 54,000 students.
This school year, school police have confiscated 27 weapons from students, according to district records. At Palm Beach Gardens High alone, district reports show three students have brought guns to school this year.
Burke said the proposed contract would lock in the price for the districtwide metal detectors, but it wouldn't require the district to buy the equipment until school board members are sure they want to.
"I would not approve a purchase order until we've had that chance to debrief after the pilot (program)," Burke said.
While some board members worried about how to walk back the contract if they decide not to install metal detectors at all high schools, other members cautioned that voting down the measure could signal that the board isn't serious about campus safety.
"With everything that's going on in our country, there is going to be a higher demand for metal detectors," board member Barbara McQuinn said. "I would rather be in line with our order."
Board member Edwin Ferguson supported the contract award, but said that the school day may have to be adjusted in order to properly scan 3,000 students at the start of each school day.
The board voted unanimously to approve the measure.
Push for metal detectors at PBC schools swings with current events
About 8% of high schools across the country scan students daily with metal detectors, according to the most recent data available from the National Center for Education Statistics for the 2019-20 school year.
All Broward County schools use handheld metal detectors to scan students for potential weapons.
Miami-Dade County schools use random metal-detecting scans, but don't have permanent metal detectors on campuses, according to district records. About 14% of high schools across the U.S. use random scanning, the data show.
In Palm Beach County, the debate over whether to use scanners on campuses has swung back and forth and spiked after school shooting incidents across the country and closer to home.
Elected officials in Riviera Beach began to push for metal detectors as early as 2000 after the fatal shooting of Lake Worth Middle School teacher Barry Grunow by a student who left campus, collected a gun from home and returned to shoot the teacher on his classroom doorstep.
The discussion resurfaced at district headquarters in the year following the December 2012 Sandy Hook Elementary School shootings in Connecticut.
Mayors in Riviera Beach, Boynton Beach, Lake Park and Mangonia Park rallied to collect 2,000 signatures on a petition in support of metal detectors on campus.
But change came slowly.
In 2018, a shooting outside a Palm Beach Central preseason football game prompted the district to start scheduling earlier game times, barring entry after halftime, only allowing clear bags and scanning every attendee with a handheld metal detector.
"It takes longer but it's better to be safe," Gianni Cedillos, a Forest Hill senior, told The Palm Beach Post at the time.
Those scanning measures remain in place at all public school football games.
Do metal detectors work?
Vice board chair Karen Brill supported the contract for metal detectors, but said she has reservations about implementing the scanners in schools because they could provide a "false sense of security."
While many school boards look to secure schools in the same way as sports stadiums or public buildings, researchers are conflicted on whether scans actually make schools safer.
A 2019 report from the WestEd Justice and Prevention Research Center found that during the course of one school year, 57% of weapons confiscated in New York public schools were found without using a metal detection device.
The report said for every 23,000 students scanned, just one dangerous item was found.
Complicating the findings, according to the WestEd report, in some cases, staff were not properly trained to use the metal detectors, or the equipment did not work correctly.
Still, others studying the matter say metal detectors may serve as a deterrent. If students know they'll be scanned when they enter schools, they may be less likely to try to bring weapons to campus.