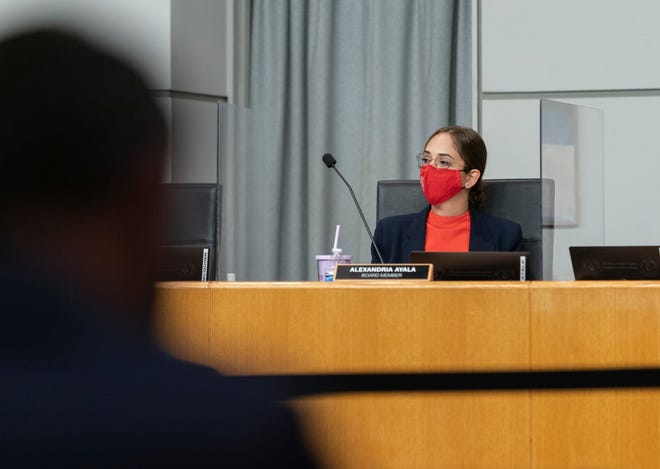 Palm Beach County's school board will have a Hispanic-majority seat for the first time
The Palm Beach Post | By Andrew Marra | December 9, 2021
Palm Beach County School Board members agreed Wednesday to redraw their districts and create the board's first Hispanic-majority seat, an effort to ensure the school district's largest student demographic is represented on the public schools' governing board.
In the new map, District 2 – a central-county district that includes parts of West Palm Beach, Greenacres and Palm Springs – now will represent 212,000 people, an estimated 52% of them of Hispanic ethnicity.
The move, part of a required rebalancing of its seven member districts after the 2020 U.S. Census, comes a day after the Palm Beach County Commission created its own Hispanic-majority district for the first time.
Both changes were part of a coordinated effort by Hispanic activists and business leaders to ensure representation on the county's largest governmental agencies as the county's Hispanic population grows.
Hispanic residents now comprise an estimated 24% of the county population and 36% of the district's students, making them the district's largest racial or ethnic demographic.
But it was only last year that the school board received its first elected Hispanic member, Alexandria Ayala, who represents District 2.
Ayala's district was already heavily Hispanic – about 48% – before Wednesday's vote, but the redistricting move carried both symbolic and practical significance, she said.
"This is a historic, long-awaited moment to just provide opportunity," she said. "It's really important that we provide the opportunity for these growing populations of voters so that, if they unite around somebody, they at least have the chance to elect them."
The largest change to District 2 was the inclusion of West Palm Beach's so-called "Latin Quarter," a predominantly Hispanic area bounded by Belvedere Road, Forest Hill Boulevard, Dixie Highway and Parker Avenue.
The combining of that neighborhood with largely Hispanic neighborhoods in Palm Springs and other parts of the central county makes it easier for the Hispanic community to unite around a certain idea or candidate, Ayala said.
The fact that the school board had never had an elected Hispanic member had more than just symbolic impact, she added.
"When people who look like us aren't in positions where decisions are made, we're often not thought of at all," she said.
The new district maps, which do not affect school attendance were agreed to last month and received final approval without discussion Wednesday.