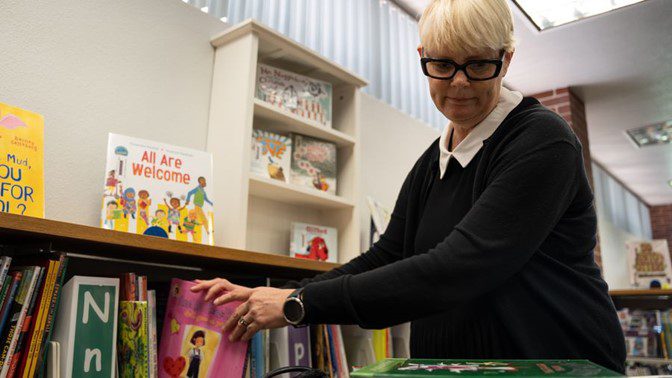 Pinellas schools move to protect teachers as Florida invites book challenges
Tampa Bay Times | By Jeffrey S. Solochek | November 1, 2022
As the summer break wound to a close, the Pinellas County school district encouraged principals to have teachers review classroom library books for appropriateness during the first quarter.
The goal was to prepare for whatever challenge might come from the community as a new Florida law governing lessons about race and gender took hold. Book objections were on the rise across the state, they noted, so potentially controversial materials should get a closer look.
The quarter rolled to an end on Oct. 14, and neither the district nor the state had provided clear guidance for teachers to rely on. In that void, some began purging their shelves as a self-protection measure, Pinellas Classroom Teachers Association president Nancy Velardi said, and some principals reportedly blocked a handful of new book purchases.
"People are being extremely cautious because they're feeling they're not getting direction from the state as to what they can and cannot use in their classrooms," said School Board member Carol Cook, who received reports of long-used novels such as "To Kill A Mockingbird" being removed.
To address the uncertainty, district officials are revising rules to provide added protections for teachers. The proposed new wording lays out procedures for reviewing materials that might be considered controversial — items that contain such matters as violence, profanity, sexual situations, nudity and drug abuse.
Teachers would be required to review those materials in their entirety and explain why they would be necessary in lessons. The request then would be reviewed by a media specialist and at least one other group at the school, such as the teaching team for the grade involved or the media selection committee.
The principal would have the final decision, which could be appealed to the district's First Amendment Review Committee. If approved, the teachers would have to alert their students' parents and give them the option to choose another title.
Parents and others who remain dissatisfied can appeal to a district-level review panel.
Superintendent Kevin Hendrick said he anticipated bringing forward the policies for public hearing and a vote in late November, after any adjustments are needed because of State Board of Education rule changes.
"Is it a lot of work? Yes. But if you're passionate about it and you want to do a book, at least it gives a teacher the option," said board chairperson Eileen Long, a retired teacher. "Really, it's for the protection of the teacher."
Long said she had received several calls from teachers who are taking books out of their classes because they worry about the troubles they might face if challenged. The State Board of Education recently approved a rule that would target teachers' certification if they provide materials or lessons to students that aren't considered age-appropriate, particularly in the areas of gender and race lessons.
"It's really important to communicate our trust to our teachers to make choices of supplemental materials," board member Laura Hine said during an Oct. 18 workshop where the proposed changes were discussed.
Board member Nicole Carr, also a retired teacher, said she worried that teachers and schools might be subject to repeated complaints, perhaps with no substance to back them up. The proposed policies try to balance adherence to state law with ensuring that people inclined to challenge books don't abuse it.
They would require parents or community members to file specific objections in writing to an individual school, which would empanel a committee to review the material. The item would remain in circulation unless and until the committee recommends otherwise.
That has not been the case in some other Florida counties, where people have brought in lists of titles and demanded their removal without offering specific explanations. Some counties have restricted access to those titles during their reviews.
"I'm glad that we're still following our procedures that are in place," Carr said.
Carr noted that the district did on its own evaluate nearly 100 books over the summer, and suggested that such an annual process helps educators understand and explain the inclusion or exclusion of many materials.
Board vice chairperson Lisa Cane said teachers should be reassured that the board and administration are "in their corner" when it comes to their classroom libraries. She praised the selection and challenge process as strong and fair to all sides.
If concerns about book content are rampant in Pinellas, Cane said she hasn't heard about it. Unlike the masking debate, when board members were inundated with opinions, "I don't receive hundreds of emails about this," she said.
Hendrick, the superintendent, stressed that much of the approach to books is not new.
What is new, he said, is "that people are watching it a lot closer."