Police: Girl, 10, dies after hit by car as she tried to get to school bus early Thursday
Treasure Coast Newspapers | By Will Greenlee | September 23, 2021
FORT PIERCE — A 10-year-old girl died Thursday after being struck by a hit-and-run driver as she crossed a road to get to a school bus, Fort Pierce police Maj. Carlos Rodriguez said.
The incident happened about 6:35 a.m. at Oleander Avenue and Skylark Drive, which is west of U.S. 1 and north of Bell Avenue.
The bus was stopped on southbound Oleander with its stop arm out and lights flashing, said Curtis Jennings, police spokesperson.
Rodriguez identified the girl as Yaceny Berenice Rodriguez-Gonzalez.
She was crossing Oleander from east to west to get on the bus when a white, 4-door northbound vehicle struck her, officials said. The speed limit in the area is 35 mph.
"The driver just disregarded all of those signs, blew the stop, made impact with the girl and just continued to keep driving," Jennings said.
The school bus was picking up children for Allapattah Flats K-8 school, Jennings said.
Jennings said the school bus driver appeared to have done everything appropriately.
The hit-and-run vehicle was further described as having right front-end damage.
"We're working tirelessly to try to find this person. We hold our kids very near and dear. We never want a situation like this to play out for anybody," Jennings said. "A child was just trying to get onto a school bus to go to school. It's heartbreaking."
Rodriguez said children were on the school bus at the time.
He said he "absolutely" thinks the driver knew he or she hit something. That, he said is because the driver fled the scene, and the school bus had a stop arm out and red flashing lights.
"Anything that anybody can do that can help us, we'd ask for your cooperation. We want to find this person and take them into custody," Rodriguez said. "Because think about it, they didn't even stop to see if the person that they hit, a young child that was struck, Yaceny, was OK. And that hurts us all."
Yaceny was taken to Lawnwood Regional Medical Center & Heart Institute in Fort Pierce but succumbed to her injuries.
Yellow tape blocked off the scene later Thursday morning as what police said were the girl's shoes were in the road, and her backpack was in the grass.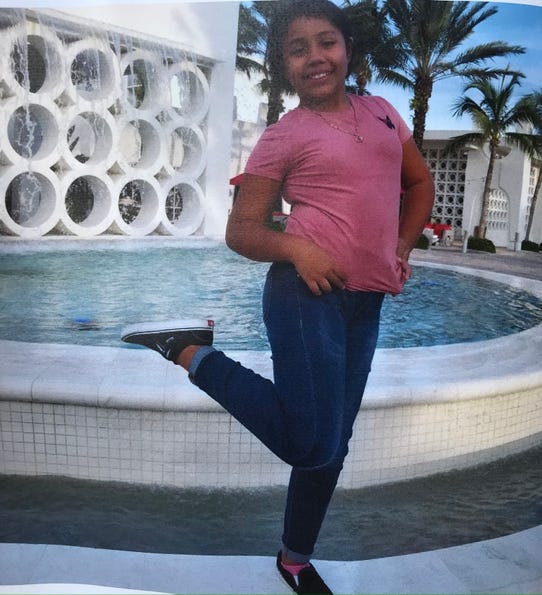 Several law enforcement vehicles and investigators remained at the scene after 10:30 a.m.
What witnesses saw
Alex Meade, 26, who lives near the school bus stop, said he and his uncle were there and heard the initial impact.
"We thought it was like a truck that hit the back of the bus," Meade said.
He said he thought the girl's mother and another person were taking the child to the bus stop.
Oleander has one northbound lane and one southbound lane. There are several homes on Skylark Drive.
Denise Morales, 45, said she'd just woken up and was in her kitchen.
"I heard a huge bang," Morales said. "Then all of a sudden I heard a woman crying."
She said the woman was saying "God" in Spanish.
"I came flying out of my house," Morales said. "So I just went over there. And all I was doing was holding the mom and holding her."
Morales said she has trouble getting the image out of her head.
"It's heartbreaking as a mother, too, just as a human being with a heart, it's sad and I'm praying," Morales said. "I'm praying for that little girl and that family. The mother was so distraught, of course."
She said she held the mother.
"It was just such a scene," Morales said. "It was horrible."
School district
Schools Superintendent E. Wayne Gent, speaking at an afternoon media briefing at the Police Department, said the district is in shock.
"The district itself sends our condolences and our prayers to the family, to the school center, to the students," he said. "Our core mission is to protect our children, and to do the best we can, and so it's a very sad day for us right now."
Gent said grief counselors were at the school working with students and staff.
He urged people to be safe while driving.
"There are promotions and campaigns that go on every year," Gent said. "Folks need to slow down and pay attention to what's going on and pay attention to their surroundings when they're driving, especially when there's school buses there and the … warning lights are going, the arm is out."
Those with information are asked to call Treasure Coast Crime Stoppers at 800-273-TIPS or Traffic Homicide Investigator Shayne Stokes at 772-302-4764.