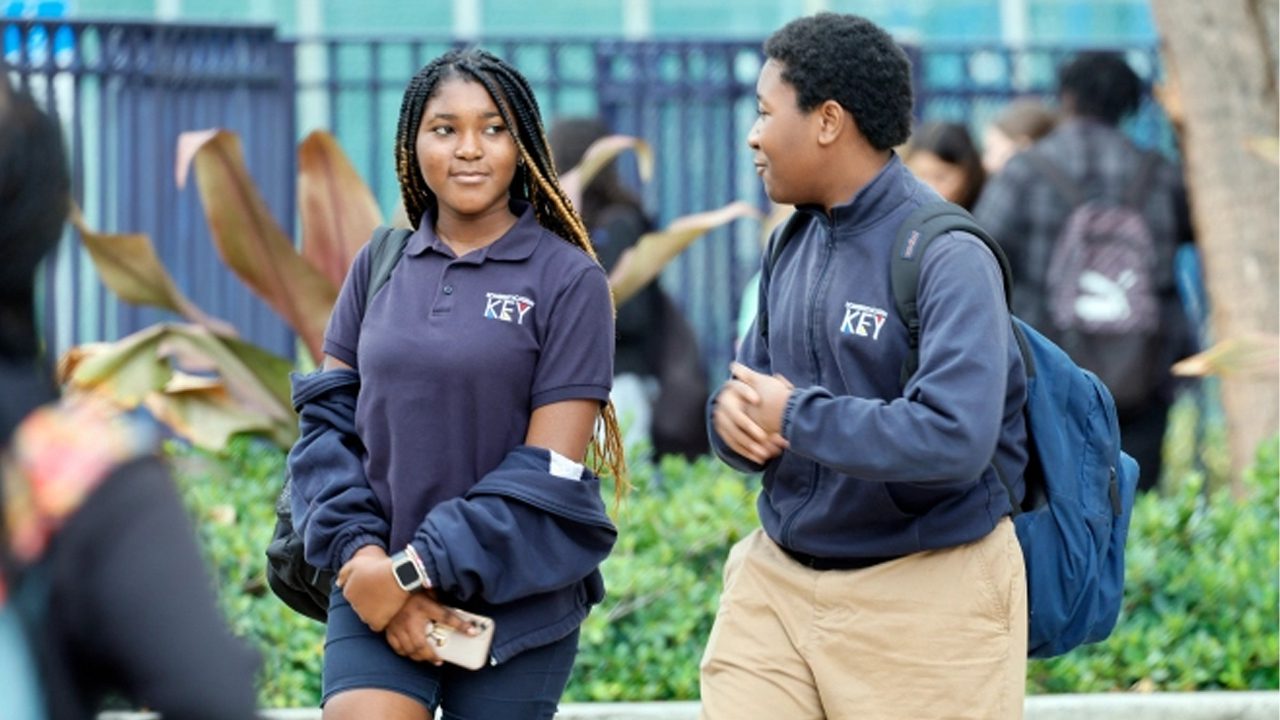 School uniforms could be required in Broward schools
South Florida Sun-Sentinel | By Scott Travis | May 29, 2023
Broward students may have to replace those hoodies and leisure shorts with polos and khakis when they step onto school campuses.
The Broward School Board is considering requiring uniforms or a "unified dress code" starting in the 2024-25 school year, in another measure to try to improve school safety and compete with charter schools, where uniforms are the norm.
Uniforms are already common in many district-run elementary schools. Some middle schools require them but few high schools do. Right now, a School Advisory Council at each campus votes on whether to require them.
But uniforms or a "unified dress code" could be required for students in all grades, under the proposed policy.
This could be a major fashion shift for high school students.
"In my own school, it's normal to see people completely dressed in an alternative style or early 2000s, full-on baggy style," said Skilla Penso,15 a freshman at Fort Lauderdale High, who said she's ambivalent about uniforms.
"Most students, if not all, really couldn't care about what the person next to them has on. Even the majority of my teachers don't really concern themselves with the fabric on our bodies," Penso said. "If a school mandates it, then people should follow suit."
The proposed policy recommends that uniform shirt colors be "consistent with the official colors of the school and one neutral color" and should not be gender specific, according to a draft policy introduced Wednesday at the District Advisory Council, which makes recommendations to the School Board.
The policy would not require students to wear clothes with their school name or logo on it.
The change could mean an extra $1.3 million to the district under a state program that gives incentives to districts that mandate uniforms.
The proposal is one of several major changes the district is looking at in the coming years in an effort to improve safety on campuses.
Other proposals include clear backpacks, which could take effect this fall, and stand-alone metal detectors. Right now, the district uses metal-detection wands to randomly search for weapons.
All three topics are expected to be discussed during a town hall on security, scheduled for 5:30 p.m. June 12 at Plantation High.
The School Board first discussed the idea in closed-door session, a possible violation of state law. So the district is now responding to concerns by discussing the idea in multiple public meetings.
At the District Advisory Council meeting, administrator Valerie Wanza said a uniform dress code "can be another layer of safety. If a student doesn't have on certain things, you know they're not supposed to be there.'
Joshua Franco, 16, a sophomore at Western High in Davie, said he had a dress code an Indian Ridge Middle and he's not strongly opposed to them. But he has some concerns with the district's proposal.
"My issue with the idea, in general, is that it seems Broward would enforce this on the premise of school security," he said. "A unified dress code would not improve the safety of our schools, as it isn't hard to replicate. There are other, more critical vulnerabilities at schools that make us less safe."
School uniforms have been debated for more than 25 years, with supporters saying it fuels school pride and reduces conflicts and bullying related to clothing. Opponents say it thwarts individuality, increases laundry and often forces parents to buy clothes from a preferred vendor. The district's policy is designed not to favor one vendor.
There are disputes about whether uniforms require parents to spend more or less on school clothing. Supporters say collared shirts can be brought for less than $10 at discount stores. But Parkland parent Tammy Morris said she found them pricey.
"Dress codes are a disaster. I spent more on clothing when mine had dress codes than I ever do without one," Morris said. "Mine had it in elementary school and has sensory issues so only certain brand clothing is allowed on her body. No seams, no tags, no zippers/buttons. That was absurd."
The state Legislature came out strongly in favor of uniforms, creating an incentive program in 2015 that authorizes $10 per K-8 student for districts that require uniform dress codes. If Broward participated, this would be up to $1.3 million.
Uniforms enable students to "express their individuality through personality and academic achievements, rather than outward appearance," the state law says.
A policy also allows districts "to focus on academics, rather than fashion, because they are able to convey a neat, serious, and studious image," the law says.
A uniform policy also minimizes "visible differences between students and eliminating social pressures to wear brand-name clothing or colors to show gang affiliation, thereby easing financial pressures on parents and enhancing school safety."
The research on the effectiveness of school uniforms has been mixed, with some saying there is no discernable change to student behavior, while others show a negligible improvement in student behavior and attendance.
District administrator Valerie Wanza said the policy change could help the district retain students. It's lost about 20,000 students in the past decade to charter schools, almost all of which require uniforms.
"Some of the data that we have collected in previous years [shows] one of the reasons parents talk about leaving our schools is because we don't wear uniforms," she said.
The district did not provide the data, despite requests Thursday and Friday.