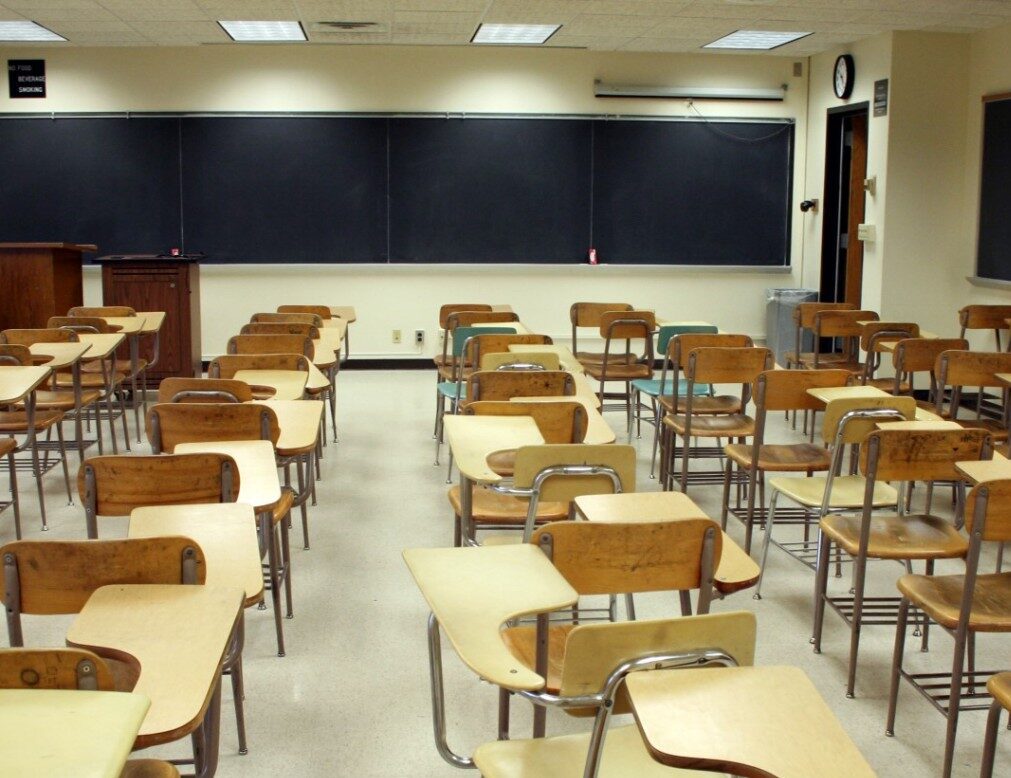 Teacher: 'I'm going to be up in a tower in a clown suit with a rifle.' 8 years later, she's fired
Palm Beach Post | By Giuseppe Sabella | August 22, 2022
A Palm Beach County teacher told colleagues in 2014 that "there is so much pressure here I'm going to be up in a tower in a clown suit with a rifle."
Now, after eight years and at least six investigations, Diane Baumann is facing allegations that she threatened elementary students — likely ending her career.
The latest accusation arose in February, after a third-grader from Canal Point Elementary School told his grandmother about a comment that Baumann reportedly made:
"She told me I can jump off a cliff and kill myself."
The grandmother soon filed a complaint, and the investigation revealed more allegations.
When the principal sat down with Baumann's students, two children confirmed that she said "f**k you," and another student said she threatened to stick a pencil up his nose, according to the investigative report.
"I would never say that to a student," she told school officials, denying the latest accusations. "I am never in a class alone. No other adults heard this."
Baumann has faced discipline only during the latter half of her career, which began in the late 1990s, according to a Palm Beach Post review of more than 1,000 pages of public documents.
Coworkers questioned her behavior and the quality of her work at South Grade, Diamond View and Canal Point elementary schools. She denied the allegations leveled against her in 2014, 2019, 2020 (twice), 2021 and this year.
But the district verified allegations during each review, usually resulting in a reprimand letter, a transfer or, in one case, a 10-day unpaid suspension following the gun comments.
Her teaching career — which often involved students with special needs and children learning English — continued for years. And she still found support from some of her colleagues, who said that Baumann struggled with issues in her personal life and that she felt unsupported by school administrators.
"She seems very frustrated at times when handling her classroom challenges," a coworker said in 2014, after Baumann made comments about wanting to shoot people, according to the police report. "Diane does not have a mean bone in her body. Diane enjoys talking to people. She would never harm another person."     
On June 29, after the most recent investigation, Superintendent Mike Burke recommended the teacher be fired — the second time he has moved to terminate Baumann. The school board then fired her in late July.
Burke had recommended that Baumann be fired last year, but the teachers union intervened, arguing that district leaders violated her due process rights by launching another investigation and not informing her of the allegations. Burke later pulled his recommendation before the school board could vote.   
The teacher, now on unpaid suspension, will officially be terminatedMondayif she decides not to appeal, ending a career she began more than two decades ago.
"A teacher must establish a warm, positive environment in the classroom," Baumann said in a job interview in 1997. "She needs to be an approachable person, one the students do not feel intimidated by."
When reached by phone Wednesday, Baumann declined to comment on the termination or whether she planned to appeal.
Baumann lauded before 2014 'clown suit' investigation 
Baumann's teaching career started at West Riviera Elementary School in 1998, where she found immediate success.
"Ms. Baumann has adjusted well during her first year at West Riviera," the principal wrote in her assessment of the teacher. "She volunteered to tutor low achieving students after school on her personal time. She has good rapport with her students and parents."
The praise continued after she filled a teacher vacancy in 2001 at South Grade Elementary School in Lake Worth Beach.
Along with constantly improving her lessons, Baumann jumped on training opportunities and joined several committees focused on art, technology, math, science and literacy, according to annual job reviews.
"Diane displays a very positive professional attitude at work and is a pleasure to work with," an annual assessment reads. "South Grade is very fortunate to have such a dedicated individual."
Baumann's record appears to be spotless for the first 15 years of her career.
That changed in 2014, when she conversed with a school coach in the media center, apparently venting about the "teachers we would get rid of."
"He meant administratively, but she meant with a gun," the ensuing school police report states.
Baumann reportedly named five colleagues she would shoot if she had a shotgun. One of those teachers got word of the conversation days later, the report states. That teacher appeared "very unsettled" as she reported the apparent threat to South Grade's principal, prompting the police investigation.
After speaking with the shaken teacher, a detective quickly decided Baumann was guilty of creating a hostile work environment, not a crime.
For her to be charged, she would have had to make a threat directly to her colleagues, placing them "in a fear of imminent danger," and displaying "the means to carry out such an act at the time the statement was made," the detective wrote.
Baumann made the comments to a school coach, not to the people on her supposed hit list, and she was "exercising her right of free speech," the detective continued.
He then interviewed Baumann, who insisted it was all a joke, and that she had made similar comments in the past.
'I did not mean to carry this out at all,' Diane Baumann said of gun comments
Baumann also acknowledged that she told coworkers "there is so much pressure here I'm going to be up in a tower in a clown suit with a rifle." The comment, she later said, was referencing an episode of the television sitcom "Roseanne," according to district records.
"I did not mean to scare anyone, and I did not mean to carry this out at all," Baumann said in her written police statement. "I was just kidding around with my friends."
During the 2014 investigation, at least four South Grade Elementary employees confirmed in police interviews that Baumann was known for her supposed jokes, with one person saying the teacher made derogatory comments and talked about "the many weapons she has" for years.
"I have heard her say that she will shoot or injure another person," an employee wrote.
"She uses phrases like 'I'm going to kill so and so' or 'I'm going to shoot someone,' " another staffer said.
But most of those colleagues also vouched for the troubled teacher.
"I think of her as one of my daughters and a wonderful person who keeps everything hidden under a tough exterior," a coworker said in her police statement.
Ultimately, police closed the investigation and deemed it an administrative issue. The school district then placed Baumann on the 10-day unpaid suspension.
And the Florida Department of Education, which launched its own review, said in a 2015 letter that "further action by this office is not warranted."
Report cards: Some students marked proficient, but they were reading 'significantly' below grade level
After the clown controversy, she moved to Diamond View Elementary in Greenacres and faced at least four more investigations, including reviews into whether she mishandled student records and ignored COVID-19 guidelines.
In 2019, Principal Carolyn Seal said she found "vague, incomplete and meaningless" lesson plans in Baumann's classroom, along with errors in her student report cards.
Baumann, the principal said, had "no documents or data to support what was taught and learned by students." And despite past warnings, the teacher had problems with late or incomplete reports on her students' reading levels, Seal continued.
In response, Baumann said she had trouble using technology, leading to some of her record-keeping woes. She also promised to work on the issues outlined by Seal.
"It is my intention to get everything done by the end of the school year," Baumann said then. "I am working really, really hard."
The principal issued Baumann a reprimand for insubordination and "failure to fulfill the responsibilities of a teacher," but the questions only multiplied in 2020, when the school reprimanded Baumann for the same infractions.
At the request of Diamond View's principal, another staff member reviewed Baumann's reading records, report cards and other student data, finding "discrepancies" for 17 out of 22 students, according to a district report.
A comparison of the records showed some students marked as "proficient" when they actually read "significantly below" grade level. As a result, students likely missed out on tutoring or other needed support.
"My students are successful and doing well," Baumann responded during the investigation. "I have no problem with the students or parents. I am willing to work on the books again and do what is necessary to get them up to par."
On Jan. 30, 2020, the principal issued Baumann a reprimand for the record-keeping issues. "I did not hear you take much if any responsibility for your actions," Seal wrote.
Months later, Seal documented a complaint that Baumann used the word "retard" when chatting with coworkers.
And on Sept. 14, 2020, the principal again reprimanded Baumann following an investigation into a host of problems related to the yearbook, COVID-19 measures and scattered documents found throughout her classroom.
Baumann's page in the school yearbook, created with information she submitted, was "the only one out of the whole school that has students listed twice and names spelled incorrectly," Seal said.
And all teachers, she said, received a single six-hour appointment to visit campus and pack up their classrooms at year's end after having worked virtually for months during the pandemic.
Baumann, however, needed three days and repeated guidance from school administrators, yet her room was still in disarray, according to the investigation.
The principal said she found reading records in a trash bag, while students' other belongings — notebooks, folders and papers — sat in piles throughout the room.
"I don't know how as a veteran teacher that she was not able to complete the task," Seal said in an email to district staff.
School administration asked Baumann not to return on the fourth day. She made little progress on the room cleanup, and she hugged several employees while on campus, violating COVID-19 policies and making them uncomfortable, the principal said.
"My natural reaction is to touch," Baumann later responded. "I didn't know if I was ever going to see them again."
On the end-of-year room cleanup, Baumann said she was moving to a new classroom for the upcoming year, and that she had decades of teaching supplies — some in 30-pound boxes — to move on her own.
"I feel I am being harassed. … I'm doing my best out there," Baumann said.
'I was appalled at what I witnessed' in teacher's classroom, official says
The friction between Baumann and Diamond View Elementary came to a head in the following months, when she nearly lost her job.
Seal assigned a longtime paraprofessional to help in Baumann's classroom, and after only two months, the employee threatened to quit if she wasn't reassigned.
Baumann refused to take advice or wear a face mask during the pandemic, calling it a "chin diaper," but "the way she spoke to the students upset me the most," the paraprofessional told investigators.
It was common, she said, for Baumann to yell at students several times a day. The paraprofessional then described a specific incident involving a student: "Ms. Baumann got close to his face, speaking aggressively at him … no social distancing. I finally got the courage to tell her to take a step back."
"I was watching the student, but I could see Ms. Baumann looking at me, like how dare I talk to her like that," she continued.
Baumann described her relationship with the paraprofessional as "collegial and professional," while the paraprofessional called the teacher a "bully."
She worked in Baumann's classroom though November 2020, and less than a month later, Jeff Pegg, then instructional superintendent for Palm Beach County schools, did a routine walk-through of the class.
"Suffice it to say that I was appalled at what I witnessed," he said at the time, noting that Baumann seemed to have no lesson plan.
Pegg, who was joined by the principal, said Baumann appeared to be nervous, asking several times why the administrators were in her classroom.
"She finally called a student up to her desk and told him to write the word 'car' on the whiteboard," Pegg said. "The student clearly looked confused and uncomfortable, leading me to infer that this was not a normal routine for this student."
"Ms. Baumann told him repeatedly to 'write it, just write it … write it again … write it 5 times,' " Pegg continued. "As she became more anxious, so did the students."
Pegg also noted that Baumann had trouble keeping her face mask on, an important safety measure for students who have special needs and may be immunocompromised.
His concerns, along with allegations raised by other coworkers — who said Baumann made offhand jokes and missed deadlines — were outlined in a January 2021 district report.
The teacher quickly defended herself. In a district interview, Baumann said she was "constantly adjusting" her face mask, allowing the nonverbal students to see her face.
And when two administrators walked through the classroom, it rattled Baumann.
"I was nervous because my technology was not working correctly and they were in the room watching me," Baumann said. "I was hoping to redeem myself in Ms. Seal's eyes and impress her."
With the help of a union representative, Baumann asked to be transferred to a new, more supportive school.
Superintendent Burke makes his first recommendation to fire Baumann
With the help of a union representative, Baumann landed at Canal Point Elementary in the Glades — her latest school.
Emails show Baumann earned the respect of Derrick Hibler, her new principal, who commended the teacher for an engaging reading lesson in August 2021.
She also earned a $25 gift card to Office Depot for completing work on deadline.
Around the same time, however, the district called on Baumann for a new "investigative interview." At that time, it was unclear what new allegations, if any, she faced.
And on Aug. 30, Superintendent Burke asked the school board to approve her termination, citing the history of allegations and reprimands in her file.
The board was scheduled to vote on her termination two weeks later, but on the morning of the meeting, Justin Katz, president of the teachers union, emailed board members.
"I think most of you can attest that in my 5 years as CTA president, I have rarely, if ever communicated about employee terminations, but this one is suspect and deserves review to protect yourselves from a potential wrongful termination," he wrote.
The school district, he said, recently opened a new investigation into Baumann without providing any details about the accusations against her, a violation of her due process rights.
Soon after the union pushed for answers, the superintendent issued his termination notice.
The union later learned the district was questioning Baumann about issues at her prior school — allegations that were already investigated, Katz said in his email, calling it a "fishing expedition."
He also noted that Burke's recommendation "moves almost instantly to termination, bypassing typical progressive discipline practices."
"I am only tangentially aware of the details of this employee and past issues, but I do know if I were on the school board, I would give pause to request some private background before proceeding with a termination," Katz wrote.
"Worst-case scenario, you proceed with it during your next meeting if you learn enough to ensure it is justifiable," he continued.
Teacher faces termination a second time 
The superintendent issued a new termination notice only after the Canal Point allegations surfaced.
According to the investigation this year, students accused Baumann of half a dozen threatening or unprofessional comments:
"One student confirmed that Ms. Baumann told 'Student 1' that he was stupid and would not make it to 4th grade."
She told a student "she was ugly and did not know how to read."
Baumann "told a student "F**k you" before Christmas break, two students said.
The teacher said "Hell" and "Damn" in the classroom, asking one child to spell "Hell."
She told a student she would "stick a pencil up his nose."
Baumann would also "pull her mask down to make 'ugly faces' at the students."
"I didn't feel good about what she said to me," one student said.
Baumann denied the claims, but the district's Employee Investigation Committee ruled that two accusations — that she cursed at the student and called another child stupid — had "legal sufficiency." The school board then approved her termination.
If she were to file an appeal, Baumann would remain on unpaid leave during the appeals process. Otherwise, her career in Palm Beach County schools will end Monday, nearly 25 years after it started.
"I want a challenging and rewarding teaching position in primary education," Baumann said in a job application dated Nov. 14, 1997.