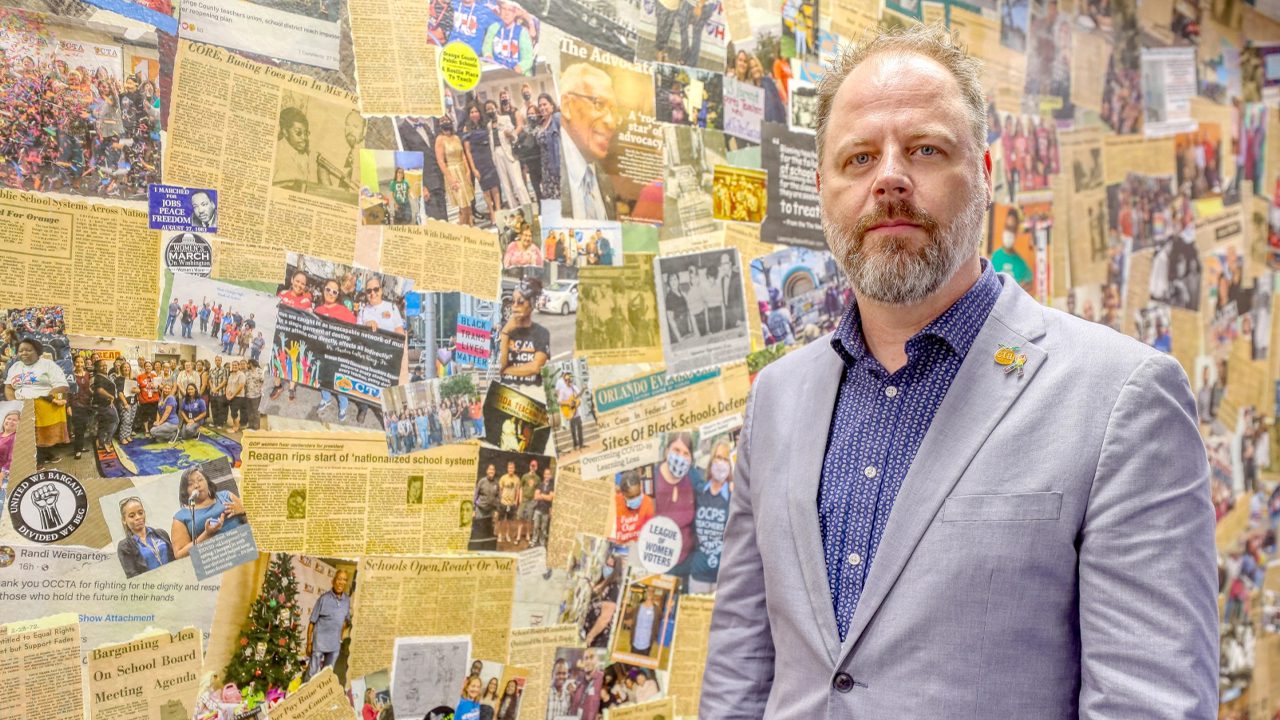 Teachers unions work to increase membership as new law kicks in
Orlando Sentinel | By Leslie Postal | June 29, 2023
Florida's teachers unions, running an "I'm sticking with my union" campaign, are working this summer to overcome the hurdles of a new state law they argue is unfair and unconstitutional.
The new law passed this spring by the Florida Legislature and signed by Gov. Ron DeSantis ends payroll deductions for union dues, which have been in place for years, and requires bigger membership numbers for unions to remain active, among other changes.
Republican lawmakers who pushed for the new law (SB 256) argue it makes unions more transparent and accountable to their members. The unions call it a revengeful effort to weaken them.
As unions work to re-sign their members, which the law requires, an anti-union Washington state group that lobbied for the new law is sending fliers to teachers across Florida urging them not to re-join. The law takes effect Saturday.
"Don't let the union mislead you," the fliers from the Freedom Foundation read.
But the Florida Education Association, the statewide teachers union, said its membership has increased by about 5,000 so far this summer. The association, which has challenged the new legislation in a federal lawsuit, said public school teachers feel attacked by many laws passed by the GOP-dominated Legislature and DeSantis and more than ever want the protection of the union.
Michelle Polgar, a Volusia County teacher, said the Freedom Foundation flier arrived at her home and did nothing but annoy her.
"It made me just actually a little frustrated. It seemed like misinformation," said Polgar, who teaches third grade and has been a union member for about a decade. "Someone's putting that out to manipulate."
The flier, for example, said under the new law "the decision to join or not will be left up to you and your family," which union members said has always been the case.
The unions see the law as a union-busting effort that notably left out police and firefighter unions, who typically support Republicans, while forcing new requirements on teachers unions, who supported DeSantis' Democratic challenger, Charlie Crist, last year. They see it as retribution for teachers' opposing a lot of Republican-led school legislation.
"The legislators who passed this law knew what they were doing," said Clinton McCracken, president of the Orange County Classroom Teachers Association, the local union. "If it's good for unions, why doesn't it include police and fire?"
The law also ends payroll deductions by school districts for union dues, so the unions are urging members to sign up for "e-Dues," an independent online payment system, and are encouraging more teachers to join.
The law also requires unions to maintain membership of at least 60% of eligible employees, up from 50%, to avoid a vote on whether they should continue to represent a district's teachers. And it requires union members to sign state-devised membership forms and unions to do audits.
Orange's union had 58% of its membership pool signed up for its new payment system by this week and continues to contact teachers, some of whom are hard to reach during the summer due to vacations and other employment, McCracken said.
"We would rather be focusing our attention on advocating for students and families and parents," he said, adding that he views the new law as another "hardship for teachers at a time when there is already enough difficulty in this profession."
Sen. Blaise Ingoglia, R-Spring Hill, sponsored the legislation, arguing it would make sure "the union members are getting the best possible representation."
Ingoglia said the legislation exempted police and fire fighter unions because their members are "putting their lives on the line" and also often work nighttime shifts that would make going to a union office to drop off a dues check, if such a system was required, more difficult.
He denied it was an effort to hurt some unions. "There's nothing in this bill that is taking away your freedom to organize and collective bargain," he said during the bill's first hearing in March. "You still have the right to be in the union. What is not a right is deducting your union dues from your paycheck."
The bill passed easily on that vote and others as it moved through the Legislature. DeSantis signed it on May 9, saying it would give teachers a chance to decide if they wanted a bigger paycheck or to pay union dues.
"If they want to then take a check and write it to the union, they have every right to do it," DeSantis said at the bill signing event in Miami, the News Service of Florida reported. "But they'll be doing it with their eyes wide open, and they'll know exactly how much money they're talking about."
In Orange, union dues are $30.80 every two-week pay period during the school year.
The Freedom Foundation, which has pushed similar laws in other states, called the legislation "the most aggressive state labor reform the United States has seen in more than a decade." It said the law would "push back the union stranglehold over state government and bring more union accountability to Florida government employees."
Rusty Brown, the group's southern director, testified in Tallahassee that the law doesn't get rid of unions, just gives employees more say about whether they represent them.
"You get to vote," Brown said at a legislative hearing. "This is, as said before, is about democracy."
In 2018, the Los Angeles Times reported that the foundation was working in California, Oregon and Washington to limit unions' membership numbers. The group is funded by wealthy, conservative donors including brothers Charles and David Koch and an education foundation run by former U.S. Secretary of Education Betsy DeVos, the paper said.
But after Brown, the last of dozens of speakers at the March hearing, finished speaking, Sen. Tina Polsky, D-Boca Raton, who voted against it, said, "It's interesting that the last three speakers were men in suits from think tanks and not actually people who are affected by this bill."
Most public employees who spoke were opposed, Polsky noted.
That included Ron Pollard, president of the union that represents Orange County Public Schools' bus drivers, custodians, clerks and teachers' aides, among others. He told lawmakers their claim that union membership was somehow forced through payroll deduction was untrue.
When he was hired as an OCPS custodian, "Nobody told me to join anything other than that workforce. I chose to join my union," he said.
The education association filed a lawsuit against the new law soon after DeSantis signed it, arguing the law was unconstitutional in part because union membership hinged on the signing of government forms. It also sought a temporary injunction to stop its implementation while the lawsuit proceeds, but a federal judge denied that request Monday.
Other public employee unions challenged the law in state court, and their request for a temporary injunction was denied Tuesday.
Andrew Spar, president of the Florida Education Association, said local teachers unions are successfully getting new members and signing up employees for e-Dues, even if they object to the requirements.
But union leaders worry that the audit requirement will be a hardship to unions in small school districts with limited members and funds, and it contends the new required forms are an infringement on free-speech rights. The whole law is retaliatory because teachers objected to DeSantis administration policies, they said.
"Gov. DeSantis has made it clear that he is targeting educators," Spar said in a statement, "because we exercise our constitutional right to speak out against attempts by this governor and others to stymie the freedom to learn and to stifle freedom of thought."