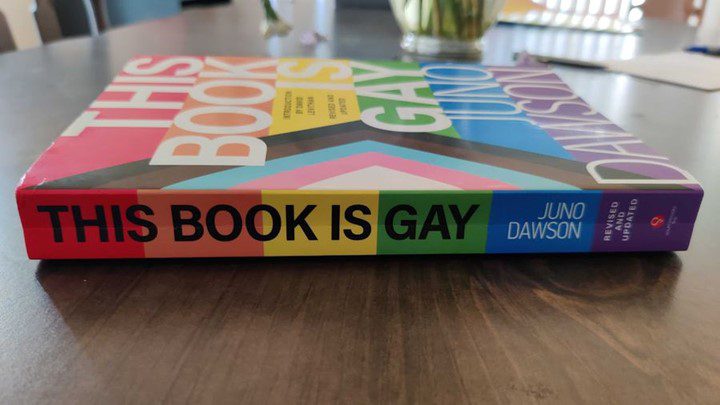 'This Book Is Gay' is banned at Hillsborough County middle schools
School Board members found the book to be inappropriate for children in that age group.
Tampa Bay Times | By Jeffrey S. Solochek | March 28, 2023
TAMPA — "This Book Is Gay," a nonfiction book that offers guidance to LGBTQ+ youth, will no longer be available at any Hillsborough County middle school.
With a 4-3 vote Tuesday, the school board decided to ban the title as inappropriate for children as young as 11. The vote aligned with the recommendation of Superintendent Addison Davis.
The decision might have been unanimous had board members focused only on Pierce Middle School, which had been the subject of the initial complaint about the book. But board members Nadia Combs, Jessica Vaughn and Karen Perez — each of whom expressed concerns about having the material in the hands of sixth graders — opposed the measure because they came specifically to consider a challenge from Pierce Middle.
"The process we have in place is important and we should keep that in place," Vaughn said, adding that any school facing a book challenge should have the chance to evaluate it first.
That's what board attorney Jim Porter advised as the most conservative option.
But board member Patti Rendon disagreed, instead pushing for a complete middle school ban. She stressed that her opposition to the book arose from its explicit content, and not because it addressed LGBTQ+ issues.
"It is my job to ask if the content of that book violates state statute," Rendon said. "I apologize that this particular book addresses a particular community."
Board member Stacy Hahn expressed similar sentiments. She said there are better ways to help LGBTQ+ youth.
"There are plenty of appropriate resources out there," Hahn said. "Why this book?"
The book came to the school board after two committees decided to leave it available for Pierce Middle. The book is not in any other county middle schools, and it is in one high school, Tampa Bay Tech.
Parent Stephanie Ascroft, who does not have children at Pierce, challenged the book, saying it is too graphic in its depiction of sex, among other concerns. Speaking to the board, she stressed that she was not attempting to mount a political battle, but rather to get the book out of the hands of middle schoolers.
The school and district committees found that materials like "This Book Is Gay" don't introduce students to the concept, but serve as a nonfiction alternative to classmates and the internet that can clarify sometimes dangerous misconceptions.
People nearly filled the boardroom to discuss the book and whether to take it away from schools. Though they were discussing the same title, they had clearly different views of its value and its content.
Some saw the nonfiction material as helpful to LGBTQ+ teens seeking direction in life, while others viewed it as dangerous pornography that could damage children's minds. People from both sides accused the other of engaging in "political theater."
A group organized by the conservative organization Hillsborough County Citizens Defending Freedom arrived early to sign up as speakers against keeping the book at Pierce. They argued that the book violates state law that prohibits pornography from being distributed to minors.
Several read portions of the book aloud, including sections that describe sex acts. Many were not parents of current students, with a couple coming from Miami and Orlando.
"People are passionate for this particular issue, books with obscenities being in the public school libraries, which should be a safe place for kids," said Debbie Hunt, the group's education director. "There's no good reason for it to be in the public school library."
Members of the group said removing the book should not be controversial, insisting that they are not seeking to ban books but rather to protect children while in school.
"Please don't fall for the nonsense that removing this book would be fascism or an attack on LGBTQ people," said speaker Michael Sciarrino.
People opposed to banning the book showed up in nearly equal number. They denounced what they called a "right-wing attack on public education" and advocated against banning any books.
"I just don't think that we should have to remove a book because someone disagrees with it," said Bailey Turnquist, one of a handful of Leto High School students who attended the session. "Everyone should be able to see themselves (in library books). This book is a way for gay kids to see that."
Rachel Perez, who described herself as a professional book reviewer, said she was required to read pornography while growing up in Hillsborough schools. She recited the Song of Solomon from the Bible.
"If 'This Book Is Gay' violates (state law), so does the Bible," Perez said, urging the board to ensure that education of children be meaningful.
Others encouraged the board to uphold the district review and evaluation process that has been in place for years and adheres to state law, and to keep in mind the needs of all children.
"The school is not forcing anyone to read it. It is waiting on the shelf for someone to check it out who needs it," said Naydell Laffita Serrano, a Leto High student. Had the book been available to her in middle school, she added, "it would have been easier to know my true self."
Toward the end of the session, board member Lynn Gray said the board must take each book challenge seriously, and not ban items recklessly.
"If you only read books that everyone else is reading, you can only think what everyone else is thinking," Gray said. "Let's have a cautionary reflection on getting carried away with book banning. I'm not going to forget that."
The board plans to discuss its book review policies and procedures again at an April 25 workshop.