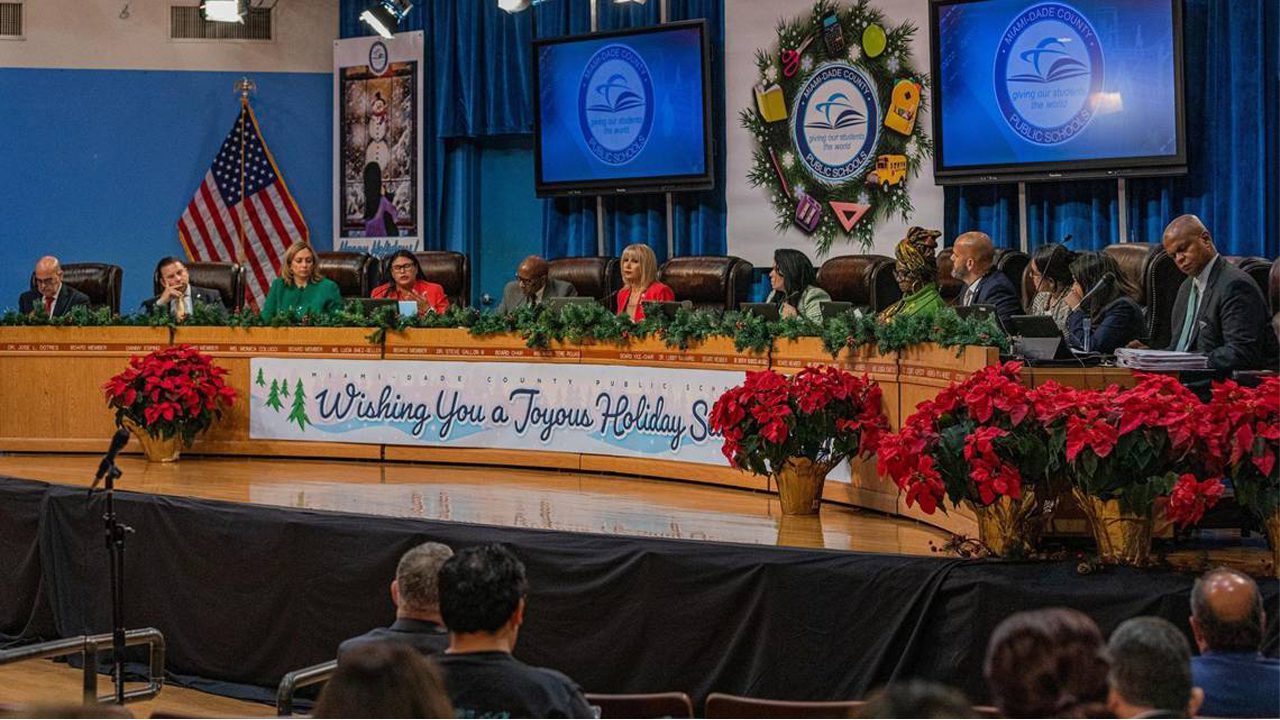 Who's running for 5 Miami-Dade School Board seats, including 2 held by DeSantis appointees?
Miami Herald | By Sommer Brugal | September 14, 2023
Five newcomers and one incumbent have filed paperwork to run for five seats on the nine-member Miami-Dade County School Board, including two seats held by Gov. Ron DeSantis appointees, signaling possible changes for a board that already saw drastic changes less than one year ago.
The five seats represent districts 1, 3, 5, 7 and 9; the primary elections will be Aug. 20, 2024.
Board member Steve Gallon III is the lone incumbent who has filed to defend his District 1 seat, which includes Miami Gardens, Carol City and North Miami. Board member Luisa Santos, who represents District 9 , is also up for re-election, as are Vice Chair Danny Espino and Mary Blanco, both of whom were appointed by Gov. Ron DeSantis in 2022 to fill vacancies on the board.
Neither Blanco, Espino or Santos have filed for reelection.
Espino, who replaced Doral Mayor Christi Fraga, represents District 5. Blanco represents District 7. She replaced Lubby Navarro, a registered lobbyist for the South Broward Hospital District who stepped down to comply with a new law that went into effect New Year's Eve that barred elected officials from lobbying.
Here are the candidates who have filed to run, as of Sept. 13.
DISTRICT 1
Gallon, who filed to in July, faces no challengers. He successfully challenged an incumbent in 2016, when he was first elected to the board, and faced no challengers to win his reelection in 2020.
Gallon was a former teacher, assistant principal and elementary and high school principal at Northwestern Senior High. He also served as superintendent of Plainfield Public Schools in central New Jersey. On the school board, he served as vice chair for three years and has championed issues such as the achievement gap among students.
District 1 encompasses Miami Gardens, Carol City and North Miami.
DISTRICT 3
In District 3, which extends from Aventura down to the beaches and includes a slice of downtown Miami, two candidates are vying to replace board member Lucia Baez-Geller, who announced last month she would not seek reelection.
Joseph Scott Geller, a former state representative, two-term mayor of North Bay Village and longtime chair of the Miami-Dade County Democratic Party, announced Tuesday he was running. While serving in the House, he was a member of the Education Committee as well as the K-8 Subcommittee. He has no relation to Baez-Geller.
Gustavo Ortega, a special education teacher, has also filed to run. Ortega, a Democrat, unsuccessfully challenged Jordan Leonard for the party's nomination for the House District 106 seat to replace Geller. (Leonard later lost to Fabian Basabe in the general election.)
Neither have raised any money, according to campaign finance records.
Baez-Geller, a former teacher, won her seat in 2020 and has become a prominent figure on the board for progressive issues. Most recently, she unsuccessfully championed an effort to recognize October as LGBTQ History Month — a measure both Geller and Ortega supported.
Geller, in his announcement Tuesday, said he was "proud" of Baez-Geller. The outcome, a news release said, "resolved me even more to make sure that we do not suffer a leadership gap on the School Board," and pledged to be "an outspoken voice in support of the issues we hold dear, and to provide continued leadership to make our public schools better and more inclusive."
Ortega, for his part, went to Twitter following the 5-3 vote against recognizing October as LGBTQ History Month, writing, "when I get elected as a board member of Miami-Dade Schools, I will make sure to have this as one of my top priorities!"
DISTRICT 5
No candidates have filed to run for the District 5 seat, which envelops Doral and Miami Springs.
Espino's office declined to comment on whether he plans to seek reelection.
Espino's office declined to comment on whether he plans to seek reelection.
DISTRICT 7
Javier Perez, the former principal of South Dade Senior High, and Max Tuchman, a former district teacher, have both filed to run for the District 7 seat, which includes Kendall and a large swath of Southwest Miami-Dade County.
Navarro, who was appointed to the board in 2015 by former Gov. Rick Scott before stepping down at the end of last year, filed and then quietly withdrew from the race. She had raised $227.22, according to campaign finance records. Perez, who's been with the district since 1996 and has served as a teacher and assistant principal, works in the district's school operations department. A lifelong educator,
Perez, who said he's not a politician, said his focus will be on student achievement, school safety and parent involvement — areas he focused on while principal.
Perez filed Sept. 8 and has yet to raise any money.
Tuchman's campaign website and announcement video highlight her support for more parental involvement schools and her Cuban-American heritage. Campaign records show Tuchman announced her candidacy on May 1 and since then, she's raised more than $100,000, according to campaign finance records.
Incumbent Blanco told the Herald she will "issue a public announcement" once a decision is made regarding her plans to seek reelection.
DISTRICT 9
Kimberly Beltran, a graduate of Coral Gables Senior High, is the only candidate currently in the race for District 9, which stretches from Pinecrest to Homestead.
According to her campaign website, Beltran's vision for the district is to "elevate education, strengthen communities and shape a brighter future for Miami-Dade County."
Her priorities include school safety; "educational lifeskills," which she defines as a "well-rounded curricula encompassing academic, vocational and life skills education;" and community engagement and collaboration, which includes "involving parents, community members and stakeholders," among others.
Like Tuchman, Beltran filed to run in May. She's since raised $2,200, according to campaign records.
While Santos has not yet filed to run, the youngest serving board member who first won her seat in 2020, has already hinted at her intentions to do so.
In February, the governor's team released a list of more than a dozen school board members across Florida — including Santos — whose seats he plans to target in the next school elections. At the time, those involved in the discussions told the Herald those included were selected because of their voting record.
Others, however, suggested Santos was viewed as the easiest target for a governor trying to further expand his reach over education in the state.
Santos at the time declined to speculate on why she was targeted by the governor. But, she said, "If anyone wants to challenge my results, I have never shied away from a healthy debate. I look forward to a healthy election cycle."