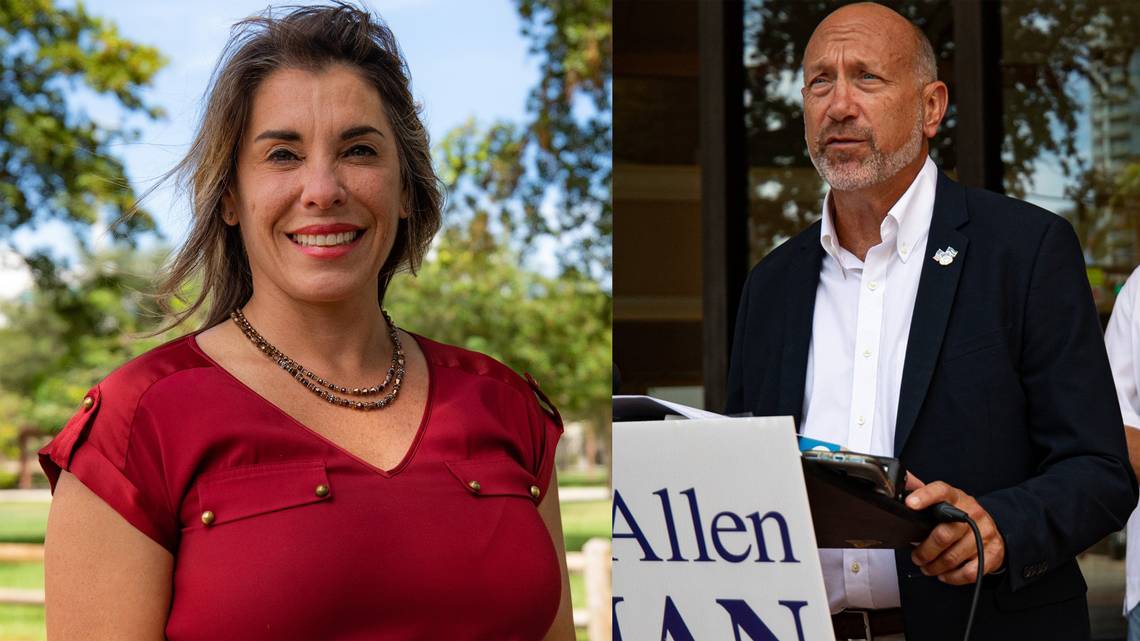 DeSantis-suspended Broward school board member, challenger fight for votes in November runoff
Miami Herald | By Jimena Tavel | August 29, 2022
The next chapter of the contentious relationship between the state's Republican Gov. Ron DeSantis and the school board of Broward County, the Florida county with the most registered Democratic Party voters, revolves around one central question: Could and would the governor suspend a school board member twice?
The answer to that became critical Monday for two candidates facing each other in a Nov. 8 runoff election for the School Board's District 8 at-large seat: incumbent Donna Korn, who has sat on the board since 2012, has been the board chair twice and whom DeSantis suspended on Friday, and challenger Allen Zeman.
In addition to Korn, DeSantis also suspended on Friday three other Broward School Board members — Board Chair Laurie Rich Levinson, Board Vice Chair Patricia Good and longtime board member Ann Murray. He named four men — Torey Alston, Manuel "Nandy" A. Serrano, Ryan Reiter and Kevin Tynan — with ties to the Republican Party to replace them. The suspended board members were all women.
In announcing the suspensions, DeSantis cited a grand jury report that chronicled what it said was "incompetent management" and "neglect of duty" by the board and former Broward Schools Superintendent Robert Runcie over the cost overruns of a $1 billion school-safety program.
On Monday, Zeman, 58, called a press conference outside the Broward County Government Center in Fort Lauderdale to urge voters to elect him. That way, he said, they won't need to worry whether DeSantis will suspend Korn again if she wins and replace her with one of his allies.
"I'm pleased with the support and the momentum my campaign has received. It's time for ethical leadership on our school board, and I strongly believe that Broward County voters should choose the next school board member, not Ron DeSantis," said Zeman, the CEO of CHCI, a data analytics company focused on workforce issues.
Korn, 51, dismissed the possibility that DeSantis would suspend her again if voters elected her in November.
"I'm not concerned about it," she told the Herald on Monday. She is a managing director at Cushman & Wakefield, the real estate brokerage firm.
Because none of the four candidates in the Aug. 23 primary election crossed the 50 percent threshold, the top two finishers — Korn, who garnered 30.55 percent of the vote, and Zeman, with 29.87 percent — advanced to the November runoff.
In February 2019, DeSantis asked the state's Supreme Court to impanel the grand jury and task its 18 members to investigate school safety, including the Broward school district's response to the Feb. 14, 2018, Marjory Stoneman Douglas High School mass shooting, which left 14 students and 3 three faculty members dead at the Parkland high school.
At the time, DeSantis said families affected by the tragedy asked him to suspend Runcie or school board members over what they said was a lack of urgency in securing the schools. DeSantis said he couldn't suspend Runcie because state law only allowed him to suspend an elected official, not someone hired by a school board. He also said he felt he couldn't suspend board members, noting the district held elections in November 2018, during which school safety was discussed as a key issue.
Korn recalled those remarks Monday, arguing they proved DeSantis would respect the democratic process.
"He actually stated emphatically that he didn't feel like it was appropriate or that it was his authority at the time to do so based on the fact that there had just recently been a reelection. The governor said that these were individuals who had just recently been elected and elected with all of that information in front of voters," Korn said about DeSantis. "The governor actually said that he was looking to, in essence, uphold the voice of the voters. He wasn't looking to overturn that. That's why he went with the path of the grand jury."
"I think the governor will stay true to what he did in the past, which was to let the voters' voices be heard, and I believe that he will let the constitution prevail in this case, which is for the voters to be able to make that decision," she added.
COULD DESANTIS SUSPEND SCHOOL BOARD MEMBER AGAIN?
A Florida election law expert told the Herald on Monday that it would be legal under the state's constitution for DeSantis to suspend Korn again because of the grand jury findings.
"I believe that the governor would have the ability to go ahead and suspend this Broward school board member again for the same reason that he suspended her the first time. That's my opinion," said Robert Fernandez, a Miami election law attorney.
A suspended elected official remains under suspension unless they quit or challenge the suspension. If they challenge it, the state's Senate may remove them from office or reinstate them, Fernandez said. But if they run for reelection while suspended, the governor could suspend them again upon winning.
He pointed to a previous instance when former Gov. Charlie Crist suspended City of Miami Commissioner Michelle Spence-Jones twice.
Spence-Jones first ran and won the city of Miami's District 5 seat in 2005. She ran for a second term in November 2009, but when she won, Crist, then a Republican, immediately suspended her from office and called for a new election. The state had charged her with grand theft, accusing her of redirecting $50,000 in Miami-Dade County funds to a family business in 2005.
Spence-Jones ran again in the special election in January 2010 and won. Once again, Crist suspended her from office. (Crist, now a Democrat, is running against DeSantis in the November gubernatorial election.)
Spence-Jones fought the second suspension in court but lost. In October 2010, prosecutors brought forward a new bribery charge, accusing her of soliciting a $25,000 donation from Miami developer Armando Codina pending a commission vote on an issue affecting a downtown Miami development project.
A jury acquitted Spence-Jones of the bribery charge in March 2011. State prosecutors dropped the grand theft charge in August 2011, according to Herald archives.
Asked Monday in an email if DeSantis would suspend Korn if she were to win the Nov. 8 runoff, DeSantis' press secretary Bryan Griffin wouldn't comment.
"We have no other announcements to make at this time regarding potential further action," Griffin wrote in an email to the Herald.
POLITICAL DOCUMENT OR DAMNING REPORT?
As Zeman delivered his stump speech Monday, Lori Alhadeff, the District 4 representative on the Broward School Board; Rich Walker, the mayor of Parkland; and Lori Parrish, a former Broward County School Board member, flanked and endorsed him.
Alhadeff, who lost her 14-year-old daughter Alyssa to gunfire during the Stoneman Douglas shooting, said Monday she supports Zeman because he will prioritize school safety. She said the grand jury report influenced her decision to side with Zeman.
"I think the grand jury says enough," said Alhadeff, whom voters overwhelmingly reelected last Tuesday.
"She needs to be held accountable," she said of Korn.
Korn discounted the grand jury report as a political attack that lacks credibility, calling her suspension an injustice.
"There's a lot of hurt in this community. I think it's unfortunate, though, that that hurt has then fallen on the shoulders of board members who have actually fulfilled the roles in which they were elected for," Korn said. "I look forward to the voters really, truly looking at the merits of my record."
'TERRIFIED' OF DESANTIS' ALLIES
Although the press release for Zeman's campaign event announced that Steve Geller, the Broward County commissioner for District 5, would attend, he couldn't be there because of scheduling conflicts, he said.
Geller, who has held multiple elected offices in Broward since 1988, including state senator and Broward County mayor, said Monday he doesn't think DeSantis should have suspended the four School Board members.
"There's an old saying that a grand jury would indict a ham sandwich, because they only get one side of the information," he told the Herald. "And it was clear to me that Gov. DeSantis got exactly what he instructed them to do."
Geller said he thinks DeSantis would suspend Korn again if she were to win and fears her replacement could come from the far-right side the political spectrum. Therefore, although he doesn't know Zeman well, he endorsed him over Korn.
"I don't know much about Allen, but I'm assuming that if he's elected by voters of Broward County, he will be better than somebody that Gov. DeSantis would appoint for a full four-year term," Geller told the Herald. "If you look at the people that Gov. DeSantis backed for school board, they should scare you."
In the Miami-Dade School Board election last Tuesday, two DeSantis-backed candidates — Roberto Alonso and Monica Colucci — won with Colucci beating longtime incumbent Marta Pérez in a tight race. Alonso won an open seat.
Both Alonso and Colucci received campaign contributions from Moms for Liberty, a DeSantis-aligned parents' organization funded by the Publix heiress who gave $650,000 to three organizations instrumental in the Jan. 6 rally Trump held before the riots at the Capitol, according to a Washington Post investigation.
"He may not have elected radicals for a few weeks. But if you give him the chance to appoint somebody for four years, I'm terrified of whom he will appoint," Geller said.
Herald staffers Ana Ceballos, Monika Leal and David Smiley contributed to this report.