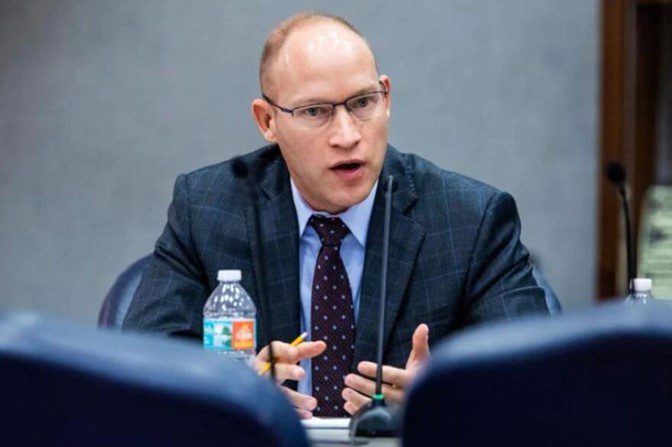 A move for partisan Florida school board races takes a step forward
WJCT News | By Ryan Dailey – News Service of Florida | February 16, 2023
A Florida House panel on Tuesday took a first step toward shifting to partisan school-board elections and backed a proposal that would limit school-board members to eight years in office instead of the current 12.
The Republican-controlled House Choice & Innovation Subcommittee voted 13-5 along party lines to support putting a proposed constitutional amendment (HJR 31) on the 2024 ballot about changing to partisan school-board races. If the proposal is ultimately approved by the Legislature and voters, school-board candidates could run with party affiliations starting in 2026.
The state Constitution currently requires school-board races to be nonpartisan. But Rep. Spencer Roach, a North Fort Myers Republican who is sponsoring the proposed change, said adding partisan labels is a move toward "transparency on the ballot."
"This is not about, at least for me, advancing the cause of one political party over another. But for me it's about transparency, and I simply believe that we have an obligation to give voters as much information about a candidate as possible, and let them make a decision about vetting a candidate," Roach said.
Some Democrats, however, pointed to an intensified focus on school-board politics in recent years. Rep. Angie Nixon, D-Jacksonville called for "freedom away from party politics" when it comes to school boards.
"I believe this bill is not about transparency at all. This bill is about making our school-board elections and our school boards more contentious, more like D.C., which y'all (Republicans) honestly always try to oppose," Nixon said.
School-board elections last year drew heavy attention, in part driven by contentious issues such as mask requirements during the coronavirus pandemic. Gov. Ron DeSantis took the rare step of endorsing a slate of conservative school-board candidates. Many of those candidates went on to win and, in some cases, flipped boards to conservative majorities.
Marianne Arbulu of the League of Women Voters echoed some Democrats in saying the measure would bring "divisiveness" to school boards. But Arbulu, a former school-board member and school superintendent, also pointed to a potential impact on voters without party affiliations.
"While the bill does not appear to burden local governance or school boards, either logistically or financially, it excludes NPA (no party affiliation) voters — those unable to vote in most primary elections. It reduces the number of people able to vote for a candidate of their choice if there's not an NPA primary," Arbulu said.
Roach pushed back on criticism that the proposal would inject partisanship into school-board races and said the measure would help voters who want to vote for nonpartisan candidates.
"I would tell folks, if they truly want to vote for nonpartisan candidates, those candidates in Florida who are NPAs that don't have a philosophical association with either of the two major parties and they (voters) viewed them as sort of purist NPAs — right now in Florida, the law prevents you from doing that, because you don't know who that candidate is," Roach told The News Service of Florida in an interview.
"If you truly support nonpartisan candidates running and getting elected to school boards, you should support this bill," Roach said. "Because this is the only way you'll know who they are."
Sen. Joe Gruters, a Sarasota Republican who is chairman of the Republican Party of Florida, has filed an identical proposal (SJR 94) in the Senate.
The House Choice & Innovation panel also gave the go-ahead Tuesday to a measure that would shave four years off of term limits for school-board members. Lawmakers last year passed a measure that imposed 12-year limits, and DeSantis already has backed the idea of shortening terms to eight years.
The panel approved the term-limits measure in a 14-4 vote along almost-straight party lines, with Rep. Kevin Chambliss, D-Homestead, the only Democrat who voted for the measure.
Rep. Alex Rizo, a Hialeah Republican who is sponsoring the bill, argued that shortening school-board terms would have multiple benefits.
"Number one, it would foster regular open-seat elections. Number two, encourage independence by the school board, as term limits will regularly sever relationships that grow between special interests and incumbent board members," Rizo said.
Rizo also said shorter terms would encourage new candidates to run for office, introducing "new faces and fresh ideas."
But Chris Doolin, who represents the Small School District Council Consortium, said the proposal would usher in a "restrictive regulation" that "reduces the candidate pool."
"This bill imposes an unnecessary government regulation. This bill does not support maximum choice," Doolin said.