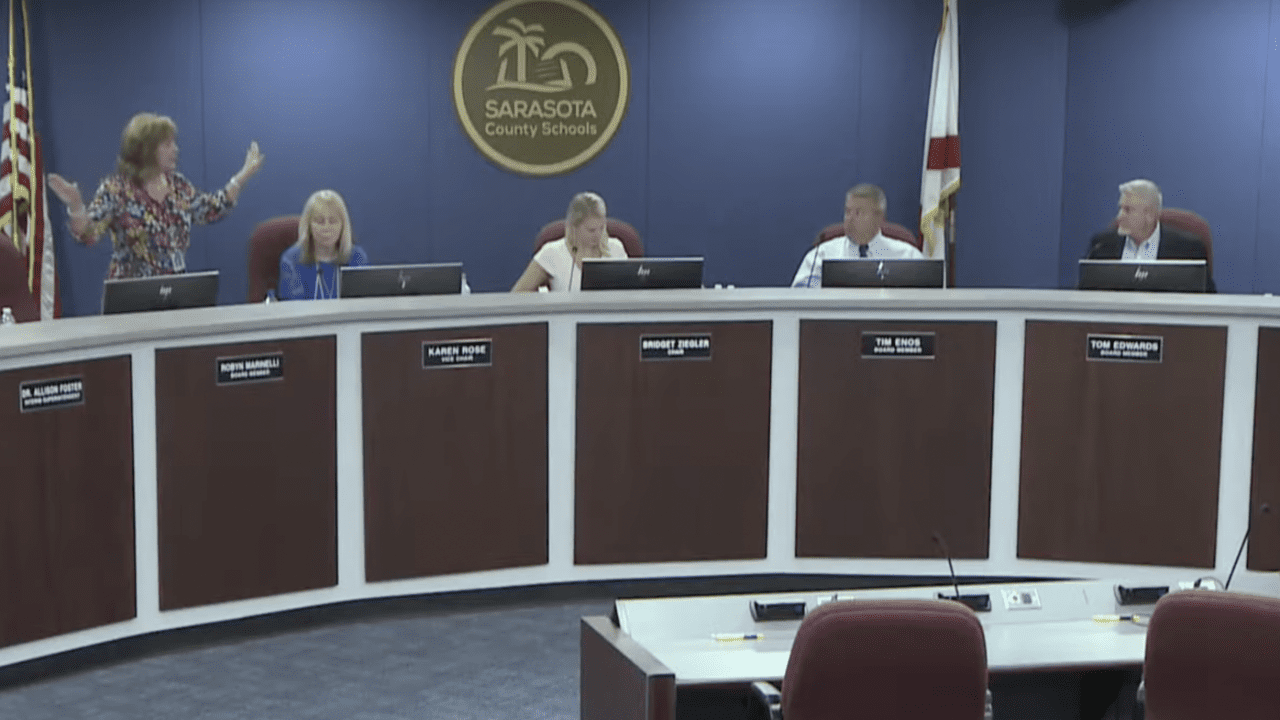 Accusations of lies, 'wildly inappropriate' comments return to Sarasota County School Board
Sarasota County School Board members spar over harassment policy
Your Sun | By Chris Porter | June 6, 2023
SARASOTA — A Sarasota County School Board workshop veered into a culture-wars argument Tuesday.
Board member Tom Edwards said the district was attempting an "erasure of students" with proposed changes to the district's equity and discrimination policies.
Eventually, it led to two board members walking out, accusing Edwards of bullying them with his comments.
Board members Robin Marinelli and Vice Chair Karen Rose both got up and left the dais near the end of the session, saying Edwards was using the meeting as a political platform.
Edwards and board Chair Bridget Ziegler had earlier exchanged unpleasantries, with Edwards accusing Ziegler of lying to him and the public at a previous board meeting. Ziegler responded, saying Edwards was "wildly inappropriate" with his accusation.
The exchanges came near the end of the nearly four-hour session that covered changes to the district's $1.4 billion budget; plans to bolster the pre-K program; how to best allocate federal coronavirus funding before it cuts off, and an easy-for-kids-and-parents infographic for the district's dress code policy.
The mood changed when the conversation turned to proposed changes in the school district's policies on equity and harassment and discrimination policies.
The district's current policy states, "it is the policy of this District to prohibit any form of discrimination and harassment based on an individual's race, color, religion, ethnic or national origin, age, disability, veteran or military status, marital status, pregnancy, sex, gender, gender identity or expression, or sexual orientation."
Those classifications are repeated in several policy documents.
At a previous meeting, Ziegler had asked the district's attorney, Patrick Duggan, to bring them up for board discussion for possible changes.
Duggan said the district's current policies and guidelines had been written "a few years ago" and there have been changes in Florida law in during the last two legislative sessions, referring to Gov. Ron DeSantis' "Anti-Woke" legislation for public schools.
Duggan said the district has to consider state laws, rules from the state Department of Education, as well as federal requirements.
"Sometimes, those things can be somewhat inconsistent with one another," he said.
As for the district's policies, they lined up with best practices and "are generally fine," Duggan said. "My suggestion is to modify, not to scrap."
Ziegler said in her reading of the policies and the new state laws, it would be her preference to change them to align with the federal Title IX law, which governs equality in education, specifically institutions receiving federal funding.
Title IX states: "No person in the United States shall, on the basis of sex, be excluded from participation in, be denied the benefits of, or be subjected to discrimination under any education program or activity receiving Federal financial assistance," according to the U.S. Department of Education website.
"I think our bullying and harassment policies apply to everybody, whether you're a protected class or not," Ziegler said. "I would like to strike any reference to the gender-diverse guidelines, which is not relevant anymore in our school district as a matter of law."
Edwards responded, speaking out against the changes.
"I think what I'm seeing is a push for … an erasure of students, LBGTQ+, transgender," Edwards said.
Board member Robyn Marinelli said the district's policies need to be aligned with the new laws. She said took offense to Edwards saying board members were "erasing people."
She accused Edwards of playing politics and using the workshop as a "platform" to generate public comment at the upcoming board meeting.
"I don't appreciate it. It has to stop," she said.
Edwards spoke again, saying he hadn't bullied anyone.
"I didn't accuse anyone here of erasing," he said.
Marinelli responded with her microphone off, then stood up and and walked from the dais, followed by Karen Rose, who spoke directly to Edwards.
"You have been bullying people on this board since you got on it, including me," Rose said as she stood to leave.
Board member Tim Enos then asked that the meeting be adjourned, saying "nothing positive" could come out of continuing.
"Frankly, these are polarizing topics," Duggan said, suggesting the board "keep it simple and straightforward" and based on state law.
The discussion was brought up by several members of the public who spoke at the later School Board meeting Tuesday, most admonishing all of the board members for their behavior.
"You are about to select a new superintendent," said Rhana Bazzini. "Let's hope if they were watching today, they have not pulled their applications."