AP psychology-alternative courses could still earn Florida students college credit
Treasure Coast Newspapers | Colleen Wixon and Finch Walker | September 5, 2023
Despite the on- and off-again controversy surrounding AP Psychology mere days before many of Florida's school districts began the school year, one thing is certain: High school students can still earn college credit regardless of the option offered by their district.
Public state universities such as Florida State University, University of Central Florida and the University of Florida, said they would continue offering college credit to students successful in either the Advanced Placement Psychology, International Baccalaureate Psychology or the Cambridge AICE psychology courses. Students whose districts offered another alternative — the AP Seminar with a Focus on Psychology — also could earn college credit.
Florida Tech, a private university on the Space Coast, will continue to accept AP Psychology — including the modified Florida version some districts are using, said Adam Lowenstein, a spokesperson for the school. The school also accepts Cambridge and IB psychology courses.
"The changes in how AP Psychology is being taught to Florida students whose districts are opting to continue offering the course but with omissions of some content will not have an impact on the college credit Florida students can receive," Lowenstein said.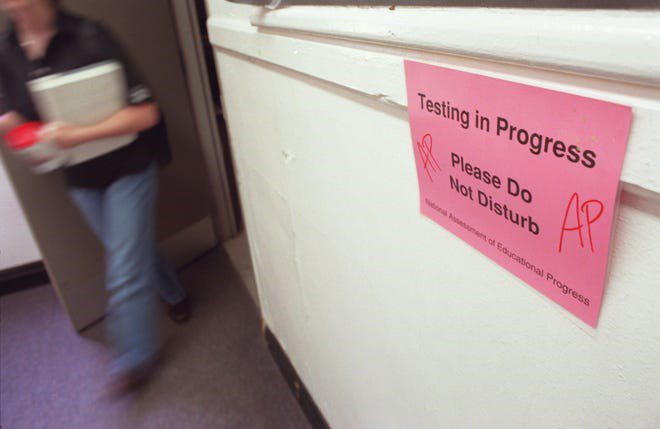 5/97–Carrie Rosema/staff–A student finishes an Advanced Placement test at Douglas Anderson School of the Arts. Carrie Rosema/Florida Times-Union
State and community colleges continue to offer another alternative — dual enrollment, allowing secondary students to take a college-level course as part of their high school schedule. Students who pass the course can receive college credit for an equivalent course. Some state colleges, such as Indian River State College on the Treasure Coast, teach dual enrollment courses onsite at local high schools. IRSC warned parents on its website that the dual enrollment psychology course syllabus would be offered without modification to its content.
"Parents should review the course syllabus before enrolling their student to determine if the content is age-appropriate," the IRSC website says.
Eastern Florida State College, which offers dual enrollment to Brevard students and four-year degrees to students from around the state, will be unaffected by the changes to how some districts are teaching the psychology course, said John Glisch, associate vice president of communications at the school.
"The college will continue to award credit based on the (Articulation Coordinating Committee) recommendations which have not been changed at this point in time," he said. "If they are changed, EFSC would follow the new guidelines."
Confusion about whether school districts could offer Advanced Placement Psychology began this summer, when state officials implied teaching the course and its inclusion of lessons regarding gender and sexuality could violate state laws. Districts unwilling to take chances pulled the elective course, offering instead alternative programs or a modified course omitting the lessons.
The College Board, which administers the course and exam, said Aug. 3 in a statement that students taking a modified AP Psychology course might be ineligible to receive college credit. The College Board advised Florida districts to cancel the course unless it could be offered without modification.
On Aug. 4, Education Commissioner Manny Diaz Jr. sent a memorandum to the state's 67 school district superintendents, assuring them the AP Psychology course could legally be taught in its entirety.
Some districts, such as Palm Beach Public Schools, reinstated the course to students. At least 11 public school districts are now offering the course.
For some school districts, the message came too late to reverse course.
On the Treasure Coast, Indian River County schools chose to offer the AP Seminar with a focus on psychology, while St. Lucie County schools offers AICE Psychology and IB Psychology.
"This will afford students the opportunity to engage in AP coursework, while also being able to sit for an AP exam," said Indian River County schools Spokeswoman Cristen Maddux in a statement. "At the current time, there is still a high level of uncertainty as to whether the College Board will authorize the previous course in Florida or release the exam for Florida students. Using the option we have selected eliminates any potential pitfalls or challenges with the teacher staying in compliance with State Board Rules."
Florida Virtual School — open to all state students — also decided to offer an alternative course instead of AP Psychology, eliminating an online option for Florida students whose districts decided against offering the AP course.
"With even the smallest bit of uncertainty around the College Board's AP Psychology course late this summer, we felt that our ability to provide other viable alternatives, such as Cambridge AICE or dual enrollment, could support our students well and provide a seamless learning experience for our 2023-24 enrollees," said Florida Virtual School spokeswoman Hailey Fitch.
For the most part, a passing score on the AP, Cambridge or IB course exams can earn students three college credits in an introductory psychology course. Higher scores can earn additional college credit.
It's important to understand that students only receive college credit if they achieve a certain score on the exam, said UCF spokesperson Mark Schleub. The criteria for college credit is set by the Florida Department of Education, not individual state colleges, universities or departments, he said.
"Credit is not given just because they took the class, and the psychology department is not involved in the process. In fact, no department is involved in any of the credit-by-exam processes related to their subject."