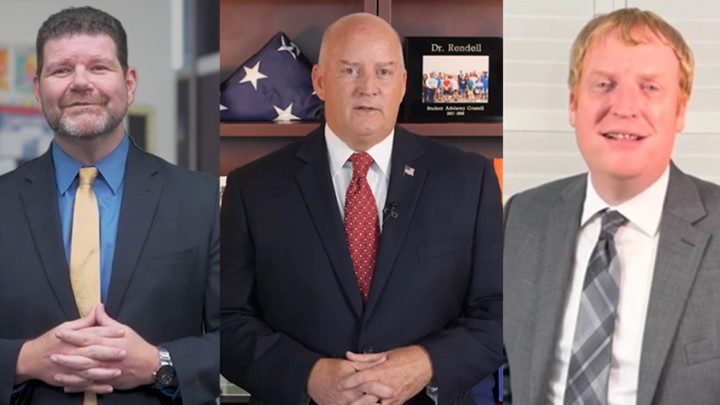 Beyond their resumes: What we learned about the 3 Superintendent finalists
Florida Today | Finch Walker and Eric Rogers | April 27, 2023
The three finalists all have a background in Florida and will be interviewed Thursday.
The Brevard County School Board is racing to decide which of three remaining finalists will be its new superintendent heading into next school year.
As the board gears up for its final decision next week, its choices include two current or former Florida superintendents with strong track records — as well as some baggage — and a relatively unknown longtime schools administrator who would be stepping into the role for the first time.
A fourth candidate, Hernando County Superintendent John Stratton, withdrew from consideration Tuesday after a public outcry over his handling of a Hernando teacher who allegedly made threatening comments about students, in an incident which made national news.
Still up for consideration are Mark Rendell, a candidate from Brevard who was previously superintendent for Indian River County Schools; Scott Schneider, chief of schools for Duval County; and Jason Wysong, a deputy superintendent in Seminole County since 2021.
The search comes amid an unprecedented leadership crisis for Brevard schools following the November ousting of former Superintendent Mark Mullins, the subsequent retirement of two high-ranking cabinet members and a public falling out between the school board and Interim Superintendent Robert Schiller last month that landed Schiller on indefinite leave.
The incident only added to perceptions of dysfunction in a district that has drawn recent headlines for its chaotic school board meetings, deteriorating relations among a deeply divided school board and polarizing political debates, driven by conservative pro-parent groups like Moms for Liberty.
Moms for Liberty and its offshoots have also been involved in the superintendent search, marshaling groundswell opposition to Stratton and lobbying for Rendell, the favored candidate for Moms for Liberty-backed School Board member Gene Trent. Trent worked under Rendell at Cocoa Beach Jr./Sr. High School, where Rendell is the principal.
Here is a closer look at the candidates for the new Brevard Public Schools superintendent.
Mark Rendell
Rendell is the only candidate with history in Brevard County. He began as a teacher for BPS in 1993 and was later an assistant principal before becoming principal at Titusville High School in 2001, according to his resume.
He left Brevard in 2006 but returned in 2019 as principal for Cocoa Beach Jr./Sr. High, where he currently works. In between, Rendell did a brief stint at a high school in North Carolina and served as a principal and then an assistant and deputy superintendent in St. Lucie County.
From 2015 to 2019, Rendell was superintendent for Indian River County schools. Graduation rates jumped by double digits under Rendell, including a 23-percentage point increase among Black students, according to data from the Florida Department of Education.
The district under Rendell saw increases in some test scores, including a 7-percentage point increase in reading scores for grade 3 students, but pass rates in most categories remained relatively unchanged, state data shows. Indian River dropped from an A-rated district to a B during his first year, where it stayed until his departure.
He claimed big gains in enrollment in advanced placement and career and technical education courses on his resume, among other accomplishments.
Rendell left Indian River amid some controversy after board members couldn't agree whether to renew his contract. Although his overall performance reviews were strong, some board members raised concerns about student and staff discipline issues, the district's work environment and its finances.
The district was left without a chief financial officer for months after it's then-CFO was placed on administrative leave and later resigned in 2018, during an investigation into $2.3 million that was diverted into various district accounts without Rendell's knowledge.
Rendell told FLORIDA TODAY he launched an investigation into the district's finances immediately after learning about the budget mismatch in July 2018. The district was ultimately able to locate and restore the diverted funds, which he said ended up in district salary accounts and were never lost or stolen.
A review by the Florida Association of District School Superintendents the year after Rendell's departure also identified issues in the district's human resources department that it said contributed to problems handling discipline and employee misconduct.
The school board chair at the time – a vocal critic of Rendell's – blamed the problems on Rendell's decision to eliminate the assistant superintendent of HR position in 2017.
Issues handling student disciplinary issues were isolated to particular schools, which were dealt with, in some cases by replacing administrative staff, Rendell said.
He disputed complaints over poor working conditions, pointing to the district's award in 2018 for Best Place to Work in Indian River County by CareerSource Research Coast, a workforce development nonprofit based in Port St. Lucie, and to improvements in teacher retention rates during his tenure.
"I don't think that's been fairly characterized at all," Rendell said of the complaints. "If people thought there was a morale problem, I don't know how we won that award."
Rendell said his decision to leave Indian River was not unlike that of former Brevard Superintendent Mark Mullins: it had become clear his vision and that of the incoming school board – which included three first-time board members critical of his leadership – didn't align, he said.
"The new board members in particular started questioning decisions and direction and things like that, which is fine. That's their job. I could just see that the relationship wasn't going to be effective moving forward," he said.
While he said he never intended to seek to become Brevard schools chief — he was happy to remain at Cocoa Beach if he's not selected, he said — Rendell said he was compelled to apply because of the district's recent problems and leadership instabilities.
"I'm having a bit of trouble standing on the sidelines when I think maybe I can make a difference," he said.
He said his top priority for the district would be to address retention and staffing problems among teachers, bus drivers and other support staff, and to rehab the district's ailing public image.
He acknowledged his support among various conservative pro-parent groups, including Moms for Liberty, and applauded community engagement in the superintendent search from both sides of the aisle.
His biggest supporter on the school board during his time in Indian River was Moms for Liberty co-founder Tiffany Justice.
But he said while the support was "nice," it wouldn't impact his decisions as superintendent.
"I know who I owe my allegiance to, and that's the students in the classroom. I'm always going to be representing them and I'm always going to be focused on them and what's best for them," Rendell said.
Scott Schneider
Scott Schneider, a Florida native, has worked for Duval County Public Schools since 2011, serving in various capacities including principal of a high school and region superintendent, according to his resume. Since 2021, he has held the position of chief of schools for the district.
Duval County Public Schools has maintained a B grade for seven years straight. During the 2020-2021 year, data was not released due to the COVID-19 pandemic, but the Florida Times-Union calculated the grade would have remained a B.
The latest data from the Florida Department of Education, released in July of last year, showed that 24 schools increased by at least one letter grade between the 2018-2019 school year and the 2021-2022 school year. However, 18 schools received D's, and four received F's. Ten of these schools were charter schools.
Schneider was drawn to the Space Coast after vacationing here and said he believes his skill set of working with a large district will translate well to Brevard Public Schools.
Like Rendell, Schneider said one of his first orders of business were he to receive the title of superintendent would be to address teacher recruitment and retention, he told FLORIDA TODAY.
"I think that that addresses so many concerns, such as academic performance for students, looking at what type of curriculum to bring in, really all of that revolves around having the best teachers in the classroom," he said. "I think the way we do that is to give our teachers and all employees for that matter a voice, and make sure that they know they're heard and valued."
He added that addressing discipline within the schools would also be a top priority through reviewing the code of conduct and involving the community in implementing solutions.
In 2021, the Southern Poverty Law Center sued Schneider and Duval County Public Schools on behalf of Amy Donofrio, a Jacksonville teacher who had been removed from her classroom at Riverside High School — formerly Robert E. Lee High School — after she refused to take down a Black Lives Matter flag.
The lawsuit sought to reinstate Donofrio to her position and requested a court order banning school policies that prevent educators from exercising their First Amendment rights. The lawsuit went on to claim Schnieder, a former principal at the high school, engaged in "relentless retaliation" and infringed on Donofrio's right to free speech.
The lawsuit was settled in Aug. 2021, with the school district paying $300,000 to Donofrio and her attorneys. As part of the settlement, Donofrio was forbidden to apply for reemployment within Duval Schools, the Florida Times-Union reported.
Though Schneider did not comment directly on the lawsuit, he said if a similar situation were to arise in Brevard Public Schools, it would be important to review board policy.
"(We would) review board policy, ensuring that our employees are aware of board policy, and then going from there," he said. "I think that's first and foremost, because all things, all expectations need to be transparent amongst employees, and then at that point in time, then we would take further initiatives to ensure that all employees were following board policies."
Jason Wysong
Jason Wysong has worked for the Seminole County Public School district for about 16 years, working in areas such as executive director of instructional excellence and system equity; executive director of education pathways and strategic partnerships; coordinator for the Race to the Top, differentiated accountability and response to interventions; and more. Since 2021, he has served as the deputy superintendent for the district.
Wysong views Brevard as a district that has had a history of strong academics, which is what drew him to the position.
If he gets the superintendent job, his first goal is to become familiar with the community, he said.
"The immediate priority is getting to know the community and the people who are working there every day as well as students and families, and from there really assessing, 'what do people believe are the strengths and the needs?'" he said. "And then you kind of build your roadmap out from there."
In doing so, he said he would hope to find out how teachers feel about their jobs and the standards set for them, and make changes from there.
"(I'd be) making sure they have what they need so that students are learning — that's always the priority, regardless of all the other things going on," he said.
Seminole County Public Schools has consistently received an A grade from the Florida Department of Education since at least 2010, save for 2016, when it received a B grade, and in 2021, when many districts opted not to receive a grade due to COVID-19.
The district had a graduation rate of 93.0% in the 2021-2022 school year, according to the Department of Education, a slight dip from the previous two years. However, it was an increase from the pre-pandemic years, with a graduation rate of 92.8% reported in the 2018-2019 school year.
Wysong has contributed to the career and technical education opportunities available to students during his time with the district, increasing the number of career and professional education academies at nine high schools from 19 in 2012-2013 to 57 in 2019-2020, according to his resume. With this change, the number of industry certifications earned by high school students increased from 581 in 2011-2012 to 3,976 in 2018-2019. He also launched and scaled digital tool certificate courses at 12 middle schools, with the number of certificates earned by middle schoolers increasing from 140 in 2014-2015 to 9,855 in 2018-2019, according to his resume.
Seminole County's district is "highly visible," he said, with board members and the superintendent available to the public. It's a quality he would want to bring to Brevard.
"The superintendent needs to be visible and accessible to all parts of the community," he said, adding that in Seminole County, the board and superintendent attend events and are "listening to both what people are happy with and what needs they see and then responding from there."
Interviews will begin at 9 a.m. Thursday at a school board meeting. FLORIDA TODAY will be covering the meeting live. Watch online for our live coverage.