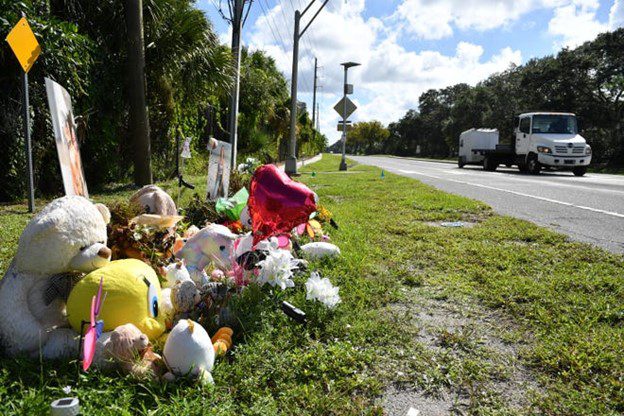 Bloodied bikes, scarred kids: What is Sarasota doing to prevent school zone accidents?
Sarasota Herald-Tribune | By Stefania Lugli | October 17, 2022
A one-inch scar cuts across Deter Hudson's left leg, serving as a permanent reminder of when he was hit by a car in 2010 as an 8th grader riding his bicycle to Pine View School.
It happened on the corner of Bay Street and Old Venice Road, a T-shaped intersection with thick foliage on the southwestern corner that is notorious for heavy school traffic and just blocks away from busy US 41.
Twelve years after Hudson's accident, 13-year-old Lilly Glaubach died after a hit-and-run at the same intersection.
"I definitely did have some feelings when I saw (her accident) on Twitter," Hudson said in an interview with the Herald-Tribune, describing the moment he found out as shocking and somber.
"I remember being in the room with my fiancé and my mom. I said, 'Hey Mom, remember where I got hit on my bike a decade ago? Another student just got hit at that same intersection," he said. "My mom was pissed. I was surprised."
Glaubach's tragic death was not the first time a child was struck while bicycling near local school safety zones. Roman Miller, 9, was hit and killed in 2019. Benjamin Nicholson, then 15, was struck and severely injured in 2017.
Families and supporters of victims worry that Sarasota county lags when prioritizing safety initiatives near public schools – pointing towards a lack of traffic calming initiatives, such as 3-way stops, crossing guards, and the county's lack of official statistics documenting crashes within school zones. They are calling for more to be done.
"I have been hounding the council, commissioners, school board, department of transportation, and bicycle safety people for change since my son's accident," said Darrell Nicholson, a local bicycle safety advocate. "I was like, 'Look. you're going to have another accident. How much is a kid's life worth?'"
Four kids, two deaths
Glaubach was bicycling home across a crosswalk on Aug. 16 when a dark silver sedan slammed into her. The driver fled the scene but was eventually caught and charged with two felonies.
Hudson's incident was in 2010. He was riding west to east to turn onto the sidewalk because he was uncomfortable riding the road that, at the time, lacked a bike lane.
Hudson was lucky. He sustained only minor injuries, tended to by concerned mothers who witnessed the collision and called an ambulance. The driver stayed on the scene and received a ticket when officers responded.
"I wasn't seriously injured," Hudson said. "It was a good enough reason to get out of school for a day."
"We saw the backpack on the ground and the bike covered in blood…our worst fears were realized." 

SCOTT WOLFINGER, A TEACHER AT PINE VIEW SCHOOL, WHO WITNESSED LILLY GLAUBACH'S FATAL BIKING ACCIDENT IN AUGUST. SINCE THEN, HE'S BEEN ADVOCATING FOR TRAFFIC SAFETY IMPROVEMENTS.
Benjamin Nicholson was 15 years old when he was hit by a car in August 2017, suffering injuries severe enough to necessitate an airlift to All Children's Hospital, where he underwent emergency surgery to insert a steel rod to rebuild his femur.
According to reports from the Florida Highway Patrol, Nicholson was bicycling southbound on Old Venice Road approaching East Bay Street when he proceeded to cross into the northbound lane of Old Venice, colliding with a vehicle.
Nicholson was deemed at fault for the accident.
"He crossed where there was no crosswalk … because there literally was none," said Darrell Nicholson, Ben's father.
"It was early, just getting light, cars were stopped on Old Venice going into the school from Bay Street, in fact, traffic was backed up around the corner onto Bay Street toward 41," Nicholson said in a text message to the Herald-Tribune. "He was crossing Old Venice between stopped cars trying to get to the sidewalk."
For 9-year-old Roman Miller, a routine route on his bicycle to school turned fatal due to a careless driver.
Miller, then in third grade, was riding his bike to Brentwood Elementary School on a Monday morning in 2019 when a Chevy pickup hit and dragged the boy several feet. The driver was stopped at a stop sign but continued forward, claiming to not see Miller cycling behind his older sister.
At the time, there were traffic cameras in the area and bicyclists had the right-of-way. The driver had a history of driving citations.
"Of all the things government is responsible for doing, making sure that our kids get safely to school should be at the top of the list," Sarasota County Commissioner Christian Ziegler wrote after Miller's death. "It's one of those rare issues that cost is secondary to goal."
Families and supporters seek change
Since his son's accident, Nicholson has become a local activist for bicycling safety, creating the Osprey Bicycle Safety Coalition to raise awareness and encourage traffic calming strategies.
"Another Pine View student was seriously injured a few hundred yards from the site of son Ben's terrible bicycle accident – again at the start of the school year," Nicholson wrote in an Aug. 19 Facebook post.
Scott Wolfinger, a teacher at Pine View School, started a petition after Glaubach's fatal collision in the hopes of adding a traffic light or additional stop signs. He was driving his son and a friend home from class when they witnessed Glaubach being rushed into an ambulance.
"We saw the backpack on the ground and the bike covered in blood. It was incredibly distressing," Wolfinger said. "We were very worried it was a student and found out our worst fears were realized."
Wolfinger said he's seen cars struggling to turn eastward into Bay Street due to bushes growing sporadically on the southwestern corner.
"I was talking with my Holocaust class about how bad the intersection was," Wolfinger said. "And you know, I was starting to say the words somebody should do something about this. And we just kind of looked at each other – the students – and I'm like, let's just start a petition. So I sat down and typed it up."
As of Sept. 21, the petition had more than 5,300 signatures. Wolfinger said its growth has spurred ongoing conversations between him and public officials.
"I didn't know Lilly. I don't know her family," Wolfinger said. "I'm a concerned teacher, and I don't want to see any more kids get hurt. The vehicles on that road don't follow the speed limit. They're in a hurry to get to the interstate."
"The county could do a number of different things with the intersection. Traffic-calming light, a light that only stops traffic during school entrance or exit hours. More stop signs. I just want to see them put some resources into addressing this."
More safety measures coming? 
Patrick Lui, the Sarasota County Public Works bicycle, pedestrian, and trails coordinator, said a team of planners examine crash reports and discuss appropriate countermeasures needed, coordinating any engineering or educational outreach after increased attention for an accident like Glaubach's.
The county also coordinates with local bike clubs and Friends of the Legacy Trail to promote "bike rodeos" to provide safety items such as helmets, lights, or bells to student bikers, he said.
Lui did not mention the county's Traffic Advisory Council in his responses — the committee that is supposed to advise the county on traffic, parking, and safety regulations.
The council should meet four times a year, according to its governing page. However, the third meeting – initially scheduled for Sept. 12, just two weeks after Lilly Glaubach's death – was canceled due to a "lack of agenda items," according to Public Works administrative specialist Marija Majkic.
According to Lui, the county does not keep track of the number of crashes that happen within school zones.
The Sarasota County School District similarly has no idea how many students walk to school. The district doesn't keep track.
You're going to have another accident. How much is a kid's life worth?

DARRELL NICHOLSON ADDRESSING SARASOTA PUBLIC OFFICIALS ABOUT MAKING CHANGES IN SCHOOL SAFETY ZONES. HIS SON, BEN, WAS SEVERELY INJURED AFTER A BICYCLING ACCIDENT NEAR PINE VIEW SCHOOL IN 2017.
Lui said in an email the county allocated $160,000 in the fiscal year 2023 to begin tracking the requested information and has applied for a $500,000 Safe Street 4 All federal grant for the project.
Nationally, just more than one in ten students walk or bike to school, according to a 2017 National Household Travel Survey. Two reasons why parents surveyed don't encourage walking: long distances and hazardous traffic.
No specific data exists on a local level about accidents occurring during active school zone hours. However, the National Highway Traffic Safety Administration recorded 45 total fatalities in accidents involving people on their bikes in Sarasota County from the years 2009 through 2020. Three involved minors.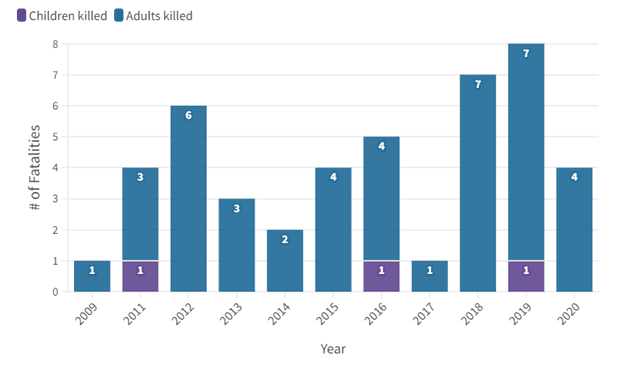 Nicholson expressed his frustration with what he deems a lack of empathy from the county in the years since his son's accident.
"They weren't going to do anything initially (about the lack of traffic calming measures near Old Venice Road) because they wanted to repave that road, and they're like 'We got to invest all this money in this sidewalk,'" he said. "It's crazy."
'Shouldn't a safe route to school be a priority?'
In the Florida Department of Transportation's standards for school zones, a traffic engineer can determine whether movement restrictions are justified, such as prohibiting right-on-red turns.
FDOT's explanation as to why reduced speed limits for school zones are necessary: children have difficulties with seeing and evaluating traffic conditions due to limited peripheral vision and visual acuity, lower heights, and premature judgment from a lack of experience.
Some can evaluate an incident like 15-year-old Ben's as a teen's one-off reckless biking, but according to the state, the rule of thumb for designing these school zones is knowing that kids lack the ability to predict harm on the same level as adults.
Nicholson said that brings into question the efficiency of programs like the county's bike rodeos handing out helmets and lights when kids are biking in a world dependent on adults paying attention to the road.
"There are so many challenges to making a pedestrian-friendly community," Nicholson said. "Accidents happen. We can't prevent every one. It seems like (Glaubach's) driver was speeding and driving recklessly. Traffic calming would have helped."
Wolfinger agreed.
"Lilly was hurt because the driver was incredibly negligent and reckless. That's unquestioned. However, the intersection could be improved to keep it safer for everyone," he said.
Nicholson, an avid cyclist, pointed to the $65 million approved by voters into extending the bicycle Legacy Trail through the county.
"I think it's great for the community. I love the Legacy Trail, it's very popular and commissioners can claim it as one of their platform things. I think it's nice to make Sarasota an attractive place and to provide recreation."
"But shouldn't a safe route to school be a priority over those sorts of things?"