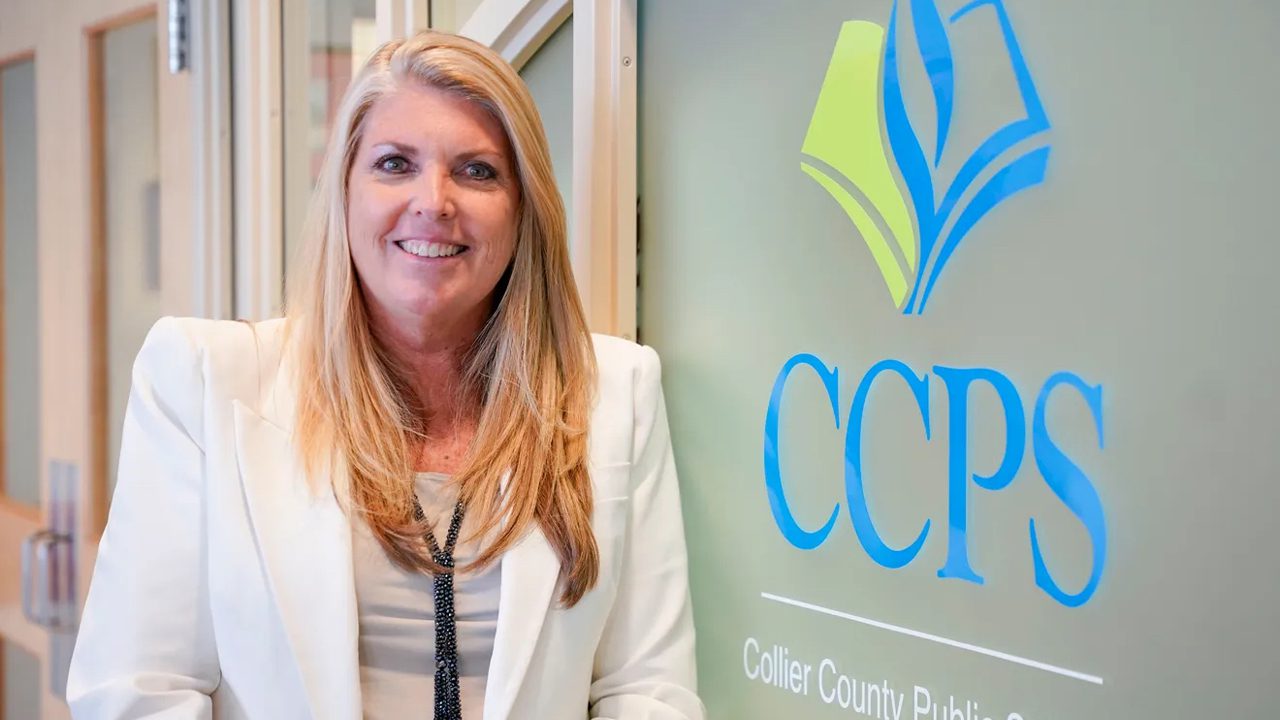 Board votes, 3-2: Ricciardelli is new superintendent of Collier Schools. What we know
Naples Daily News | By Nikki Ross | May 3, 2023
Leslie Ricciardelli is the next superintendent for Collier County Schools.
The school board voted, 3-2, in favor of Ricciardelli, choosing her over finalist Charles Van Zant Jr. late Wednesday night.
"Throughout this process, I have heard from hundreds of people: old classmates, former co-workers and current employees, former and current students and parents, and I could not be more grateful for their support of Collier County Public Schools and of me," Ricciardelli said in an emailed statement Thursday. "To our School Board members, thank you for seeing beyond the politics, for putting students and staff at the center of your decision, and for giving me and our amazing team of educators this opportunity to move forward inspiring students to achieve academic excellence. I am humbled, honored, and excited to continue our work."
The decision came after less than an hour of deliberation and roughly 106 public comments that took nearly five hours to get through. Ultimately the school board decided to appoint Ricciardelli as their 20th superintendent.
"For people who said they're tired of the status quo, it hasn't been the status quo here if you've been paying attention the last five months," said chair Kelly Litcher. "The community is going to have to trust me in this instance."
Litcher along with board members Stephanie Lucarelli and Erick Carter voted for Ricciardelli. Tim Moshier and Jerry Rutherford were opposed.
"I would like to combine the two of them but we can't," Rutherford said. "I can work with anyone that will work with me."
Board member Stephanie Lucarelli said there were 640 emails sent to the board members in support of Riccardelli, 340 of which were from parents of students enrolled in the school district. The board received 220 emails of support for Van Zant with just five from parents, according to Lucarelli who said she was not sure if any of those parents had kids in Collier Schools.
"Dr. Ricciardelli has proceeded to impress me with swift actions that she was bold enough to take right out of the gate," Lucarelli said. "She knows our community, she knows our partners, she knows our staff. But most importantly, she knows our students."
Almost every seat in the board room was filled during the meeting. The board took their first recess at 6:46 p.m.
Supporters of Ricciardelli were decked out in pink, a symbolic move speakers said showed unity, hope, values, future, change and support of children's education. Supporters of Van Zant donned orange stickers.
During public comment speakers were cheered, booed, called names and interrupted. Board members and the two finalists were verbally attacked, criticized, accused but also supported and endorsed.
"Dr. Ricciardelli, education is not what she does, it's who she is," Carter said. "We need a leader that can attract people to this industry. I don't think Mr. Van Zant can step in and take over an education position."
Here's what we know:
How did we get here?
A total of 45 applications were received for the position. The board then narrowed those applicants down to four finalists. Leslie Ricciardelli and Charles Van Zant Jr. were chosen as the final two candidates.
Ricciardelli took over as interim superintendent in December after former superintendent Kamela Patton, who was set to retire at the end of the 2022-23 school year, signed a mutual transition agreement with the school board.
Ricciardelli's previous experience
Former interim superintendent of the Collier County School District
March 2022-December 2022 deputy superintendent of the Collier County School District
2021-2022 school leadership and performance officer for the Collier County School District
2020-2021 assistant superintendent of school leadership for the Collier County School District
2015-2020 executive director of teacher and learning for the Collier County School District
She has also been a principal, assistant principal, dean of attendance and discipline as well as an ESE specialist
What's next?
The Collier County School Board will discuss the contract terms and start date for the new superintendent during the school board meeting on May 9. This will allow for the contract negotiation process to begin.
When will Ricciardelli take over the position?
That will be decided at the May 9 meeting.