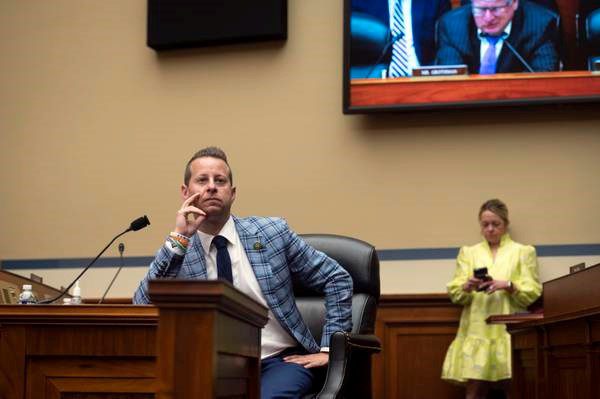 'Dead kids can't read.' Jared Moskowitz and Marjorie Taylor Greene have fiery exchange on guns in schools.
South Florida Sun-Sentinel | By Anthony Man | March 29, 2023
U.S. Rep. Jared Moskowitz, the Democrat who graduated from and represents Marjory Stoneman Douglas High School, delivered a passionate critique of Republican policies on Wednesday, mocking them for trivial oversight and ignoring gun violence in schools.
He ended up in a fiery back and forth with U.S. Rep. Marjorie Taylor Greene of Georgia, one of the most prominent Republicans in Congress.
The back and forth came two days after a shooter killed three students and three adults in a school in Nashville, Tenn. Moskowitz minimized a line often used by gun rights advocates — and on Wednesday by Greene — that it takes a good guy with a gun to stop a bad guy with a gun.
"Did the good guys with the gun stop six people from getting murdered? No, but you know what? AR-15s. You ever seen what those bullets do to children? You know why you don't hunt with an AR-15 with a deer? Because there's nothing left. And there's nothing left of these kids when people go into school and murder them while they're trying to read," Moskowitz said, aiming his comments at Republicans. "You guys are worried about banning books. Dead kids can't read."
Their skirmish erupted during a House Oversight Committee hearing. Oversight Committee hearings are often used by the majority party to score political points, and Republicans who control the House called Wednesday's session about Washington, D.C.
Committee Chairman James Comer, R-Ky., said the District of Columbia is plagued with rising crime. He said property crime is up 28% and homicides up 37% since 2019.
When it was Moskowitz's turn, he mocked what the majority was doing. He initially, and sarcastically, said he wanted to "thank the majority for finding the time" for the hearing.
"Do you think parents in this country, as they're putting their young kids into pajamas at night and are tucking them into bed, you think they're worried about public urination in Washington, D.C.? Or do you think they're worried about sending their kid to school and their kid not coming home?"
Moskowitz said it would be far more important to hold a hearing on gun violence in schools. "Mass murder in schools is crime. That's crime," he declared. "You want to talk about 1,300 cars being stolen? 550 people have been murdered in school. Who cares about the cars? What about the kids? No hearing for them."
Greene suggested school violence could be curbed by arming more people in schools.
"When I was in 11th grade and Joe Biden made our schools gun-free school zones, one of the students in my school brought three guns to school and our entire school went on lockdown because he was the only person with a gun. There was no good guy with a gun to protect us kids at school. You want to know why the shooter is dead in Nashville? The trans shooter? You want to know why? Because the good guy with a gun killed that woman," Greene said. Her linking of what happened and her school and Biden isn't accurate.
Greene has brought up the situation in her high school before, and the major news outlet in Georgia, the Atlanta Journal-Constitution, has reported that she "appeared to be referencing a September 1990 standoff at South Forsyth County High School when an armed student held hostages he had gathered from two classrooms."
The Gun-Free School Zones Act of 1990 was signed into law by President Geroge H.W. Bush on Nov. 29, 1990. Though Biden was in the Senate at the time, it became law after the incident at her school.
Moskowitz responded that "you know there are six people that are dead in that school, including three children, because you guys got rid of the assault weapons ban. Because you guys made it easy for people who don't deserve to have weapons who are mentally incapable of having weapons of war being able to buy those weapons and go into schools."
Moskowitz, who represents Broward and Palm Beach counties, has been heavily involved in the gun violence issue since the Feb. 14, 2018, Stoneman Douglas massacre, in which 17 people were killed and 17 injured.
He represented northwest Broward in the state House of Representatives at the time and rushed back home from Tallahassee and spent the night with family members as they learned what had happened to their loved ones at the school. He later led legislative colleagues to tour the school so they could see the scene of the carnage as they considered changes in state gun laws.
Greene is known for her unconventional views, and has become a favorite of the MAGA base of the Republican Party that came to prominence under former President Donald Trump.
She has previously suggested that the massacres at Stoneman Douglas and Sandy Sandy Hook Elementary in Newtown, Conn., might have somehow been staged as "false flag" events to build support for gun control.
In 2021, video surfaced of her following Stoneman Douglas survivor David Hogg near the U.S. Capitol, harassing him and trying to goad him into responding. That incident took place before she was elected to Congress. In another video, she said Hogg was an "idiot" who was trained "like a dog."
She has also in the past made antisemitic and Islamophobic statements, supported a comment suggesting a "bullet to the head" of House Speaker Nancy Pelosi and killing other national leaders and FBI agents, released a picture showing herself holding an assault rifle next to the pictures of three progressive members of the House and theorized that Jewish laser beams from space were responsible for sparking one of the worst wildfires in California history.