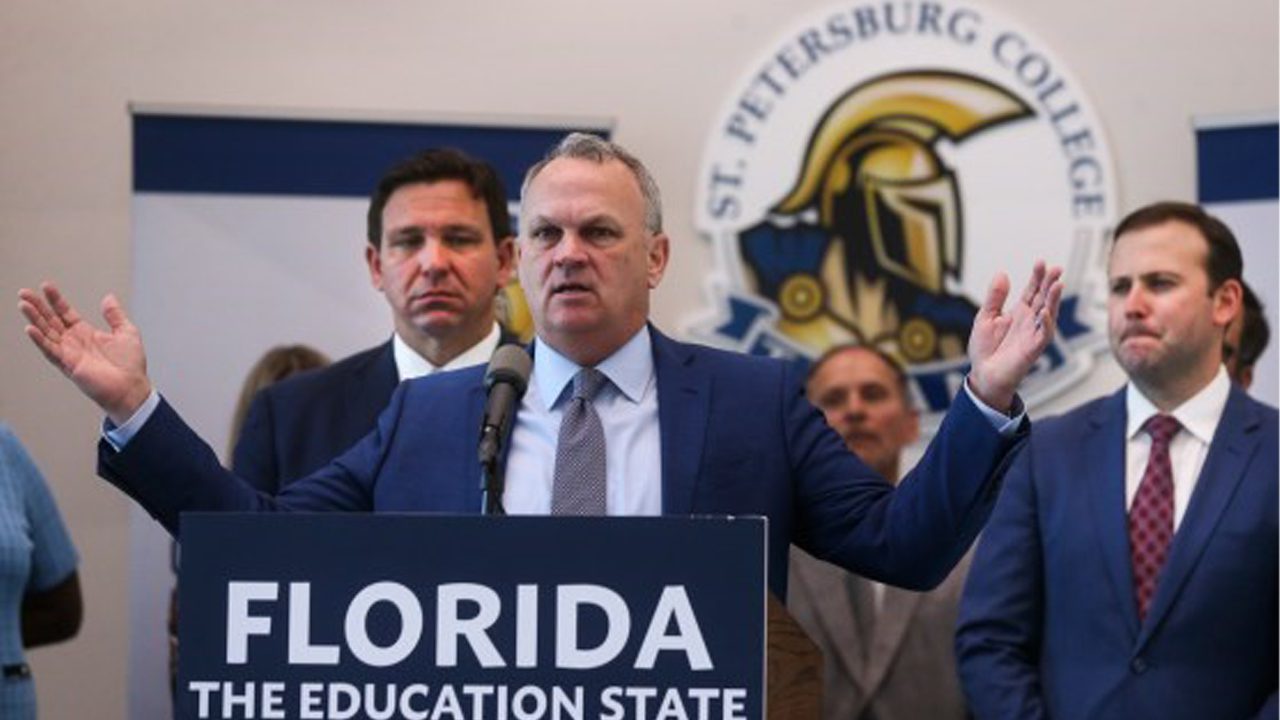 DeSantis' office pledged to investigate bid-rigging case. It didn't get far.
Orlando Sentinel | By Lawrence Mower | September 27, 2023
TALLAHASSEE — After Gov. Ron DeSantis' education department was accused of steering a multimillion-dollar contract to a politically connected consultant, his administration said the state's chief inspector general would do a "holistic" review of the 2021 bid process.
That review never delved very deep, according to the results, contained in 124 pages of records received from the governor's office in response to a public records request.
DeSantis' chief inspector general, Melinda Miguel, never interviewed anyone involved in the scandal, the records show. Her office instead referred the case back to the Department of Education's inspector general, who produced no reports and pulled no records.
A federal grand jury out of Gainesville is now investigating the bid-rigging allegations.
The state's review was requested by state Rep. Allison Tant, D-Tallahassee, after the Times/Herald reported last year how the Department of Education, led by former Florida House Speaker Richard Corcoran, tried to steer an estimated $4 million contract to MGT Consulting, led by former GOP lawmaker and Corcoran business partner Trey Traviesa.
Corcoran is now interim president of New College of Florida, a public liberal arts school in Sarasota County that DeSantis and political appointees are trying to turn into a beacon of conservatism.
The contract was to be paid for by federal coronavirus relief dollars and was to help the struggling Jefferson County School District, a rural, majority-Black school district near Tallahassee.
State law forbids agencies from giving contracts to companies with an "unfair competitive advantage," but records and interviews showed that:
On Nov. 1, 2021, a week before the state asked for bids, officials with the Department of Education held a meeting with Traviesa and Jefferson County school leaders to discuss MGT's consulting deal.
When education officials drafted the request for proposals, it was based on a draft agreement that MGT had already drawn up.
On the first day of the competitive bidding, Jefferson County school Superintendent Eydie Tricquet told the county's school board that she was told MGT would receive the contract.
Jefferson County school officials fought against the contract, and it was ultimately not awarded after two top education officials created a separate company and submitted their own bid. (The department's inspector general investigated that competing bid, but not the apparent bid-rigging.)
On Monday, Tant said it didn't appear that state officials wanted to get to the bottom of what happened.
"The public, my Jefferson County community, is owed an answer on that," Tant added. "It shouldn't take a federal investigation to get an answer to that."
DeSantis' office didn't return emails requesting comment.
Records show how the Department of Education's inspector general responded to Tant's complaint and to a second complaint filed by writer and former Polk County School Board member Billy Townsend, who both raised concerns based on the Times/Herald's report.
Tant suggested that investigators speak with Tricquet, school principal Jackie Pons and anyone else who was at the Nov. 1 meeting with school officials and Traviesa.
Records show that Department of Education Inspector General Mike Blackburn emailed Tricquet and Pons, writing that they were both "identified as a potential complainant with information related to misconduct by a Department of Education employee."
Tricquet said Tuesday that she called the inspector general's office and spoke with someone whose name she couldn't recall. But the person didn't seem eager to speak with her, she said.
"They said, 'Do you need to come in and talk to us?'" Tricquet recalled. "It wasn't, 'We would like to talk to you.'"
She said she never learned what the inspector general's office was investigating, so never met with them.
"It was like, 'OK, if you want to talk to us, you can,'" she recalled them saying. "It was very odd."
Pons never spoke to the inspector general, Tricquet said.
That appears to be where the state's investigation began and ended, according to records. Investigators noted repeatedly that neither Tant nor Townsend had "direct knowledge" of what happened.
In one meeting of investigators, Blackburn noted that the Nov. 1, 2021, meeting happened prior to the procurement, but he couldn't proceed without the help of Tricquet or Pons.
"The (Department of Education's Office of Inspector General) does not know the purpose of the meeting or who attended without corroboration from Tricquet or Pons," records state.
The Times/Herald was able to confirm the existence of the meeting and some of its attendees, which included an official with MGT, through the Nov. 1 visitor logs for the Department of Education's headquarters in Tallahassee.
In June last year, the inspectors general wrote to Tant that they were closing out their review.
"We have reviewed the information you provided and attempted to interview the contacts you suggested," they wrote. "At this point, this office has determined that no further investigation is warranted at this time."
Last year, DeSantis spokesperson Taryn Fenske said Miguel would take a "holistic approach" to reviewing whether the state tried to steer the contract to MGT.
"The record shows that Taryn Fenske clearly lied on behalf of the governor when she said there would be an 'all of the above' investigation," Townsend said in a text message. "There has been a 'none of the above' investigation, which is obviously why federal authorities have been forced to step in."