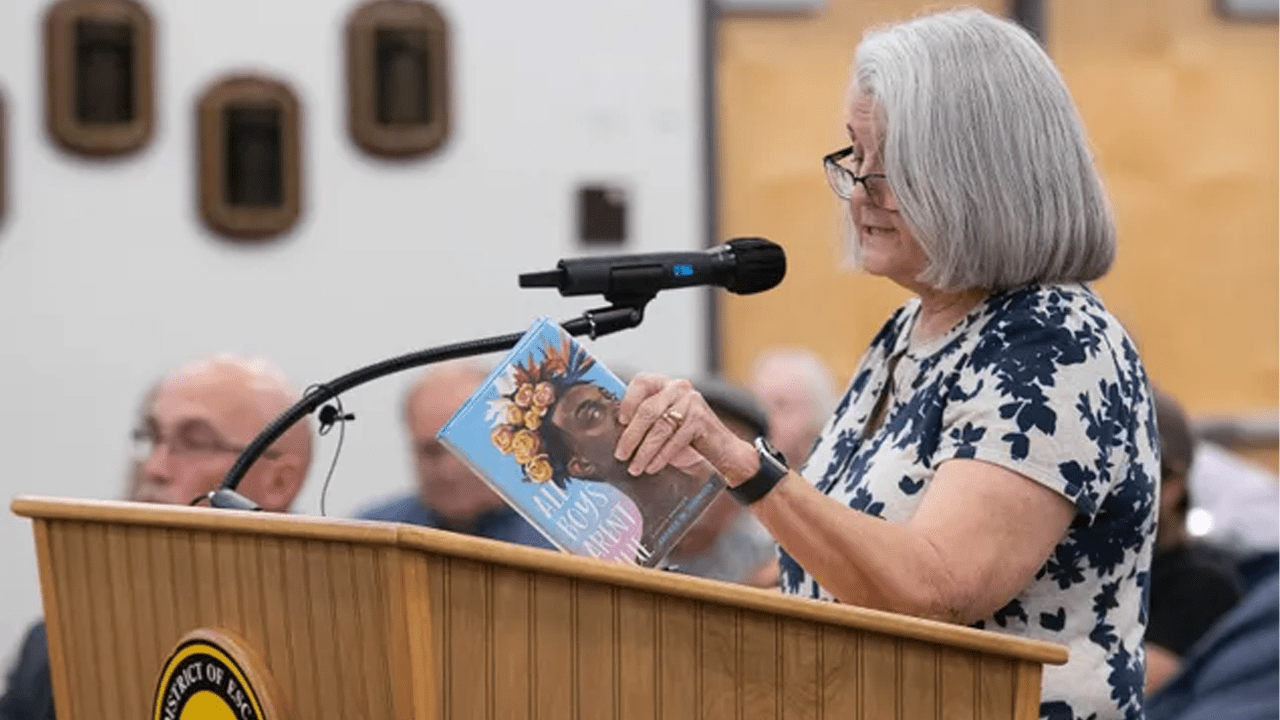 Florida county removes LGBTQ books from schools: 'These characters and themes cannot exist'
Tallahassee Democrat | By Douglas Soule | September 28, 2023
A Southwest Florida school district has removed books with LGBTQ characters and themes from its elementary and middle school libraries.
A training document saying as much has been circulating on social media for weeks, obtained by advocacy group Florida Freedom to Read through a public records request to Charlotte County Public Schools.
But a story published Tuesday morning by accountability journalism newsletter Popular Information has led to an explosion of attention to the Gulf Coast county, with state and national figures blasting the news.
"This is exactly what we said would happen when they passed the 'Don't Say Gay' laws," said Florida Democratic Party Chair Nikki Fried in a press release.
"The guidance from Charlotte County superintendent is enraging and it should lay to rest the myth that book bans are about anything other than efforts to suppress LGBTQ+ books and books uplifting marginalized voices," said Kasey Meehan, director of PEN America's Freedom to Read project, in a Wednesday statement. "Legislation from Florida and guidance from Florida's Department of Education opened the door for extreme forms of censorship, like we are seeing in Charlotte."
Yet, this all comes several weeks after PEN America brought attention to legal filings from state Attorney General Ashley Moody that said the Parental Rights in Education Act, dubbed "Don't Say Gay" by critics, doesn't apply to school library books.
So the confusion about and widely-varying interpretations of Gov. Ron DeSantis' new education laws continues to reign. And the Florida Department of Education, yet again, did not respond to questions from the USA TODAY NETWORK-Florida seeking clarity.
The training document
The training document in question, dated July 24, says it comes from a "follow-up conversation" with Charlotte County Public Schools Superintendent Mark Vianello and school board attorney Michael McKinley.
Claudette Smith, the district's public information officer, emphasized in an email that it was "created by a staff member as a summary or recap of the conversation that they had with [the pair]."
"The statements in blue are not direct quotes and our assumptions or summarizations that the staff member took from that conversation, and then drafted this document," Smith said.
A question in bold read: "Are we removing books from any school or media center, Prek-12, if a character has, for example, two mothers or because there is a gay best friend or a main character is gay?" The response in blue: "Yes."
"These characters and themes cannot exist," read the blue text in another section.
The Charlotte County Public Schools training document obtained by the Florida Freedom to Read Project through a public records request. Florida Freedom To Rread
The USA TODAY NETWORK-Florida sent the district a list of questions that were largely ignored. A question about what books were removed was referred to its public records process.
But Smith said books with LGBTQ characters and themes are being kept in high school libraries, backpedaling on the July document.
"In high school library media centers (grades 9-12), books with these themes are not to be used for instruction unless the instruction is age-appropriate or developmentally appropriate for students in accordance with state standards," she wrote.
That's not the case for the lower grade levels.
"In compliance with state law and state board rule, we do not make books available in media centers that serve Kindergarten through 8th grade classrooms," Smith said. "This would be considered 'classroom instruction' and such instruction and/or availability of these themes is prohibited for these students."
In a separate email, Smith said, "Mr. Vianello stands firm on providing an inclusive and celebratory environment for all students while adhering to all State Statutes and has not ordered a purge of all books with characters and themes you are questioning contrary to statutes we are obligated to abide by."
'Don't Say Gay' confusion as attorney general says law doesn't apply to library books
Gov. Ron DeSantis and the Republican lawmakers have passed multiple laws in recent years triggering a surge of book restrictions and removals across the state.
They've created wildly-varying interpretations by confused school districts on what books should be removed from their shelves.
One of those laws isn't even about school books, apparently. The Parental Rights in Education Act, or "Don't Say Gay," was first signed into law in 2022 and expanded this year. It prohibits classroom instruction on sexual orientation and gender identity.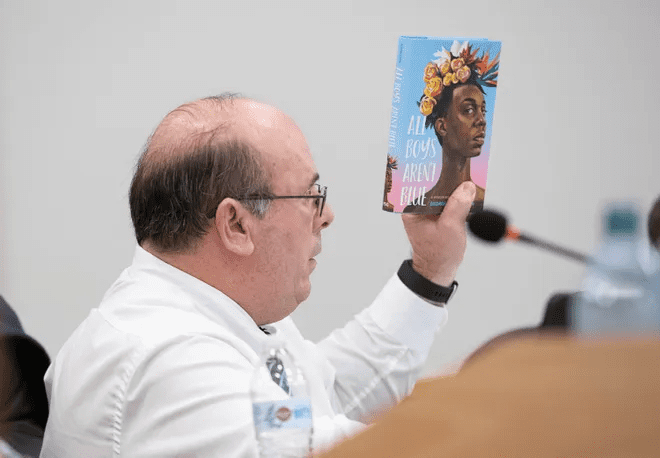 Kevin Adams makes a statement before voting whether or not to ban the book "All Boys Aren't Blue" at the School District of Escambia County meeting in Pensacola on Monday, Feb. 20, 2023. The board voted 5-0 to ban the book from all Escambia schools. Gregg Pachkowski / gregg@pnj.com
Various school districts have taken that to mean certain books with LGBTQ characters and themes should be removed from school and classroom libraries.
Books removed by some districts citing the law include "And Tango Makes Three," a children's picture book about two male penguins who forge a family together.
But, Attorney General Moody, in legal filings, has said that's incorrect.
"The State has consistently maintained before two federal courts (three, including this one) that HB 1557's plain language restricts only 'classroom instruction' and 'does not even arguably restrict library books,' wrote Moody in an August motion to throw out a lawsuit filed because of a "And Tango Makes Three" removal in Lake County schools.
Moody's office did not respond to a media request for this story.
Listening to Moody, Lake County's school district put the book back on its shelves.
The Palm Beach County School District, at least, changed its book policies after PEN America and other book access advocacy groups brought attention to Moody's legal filings.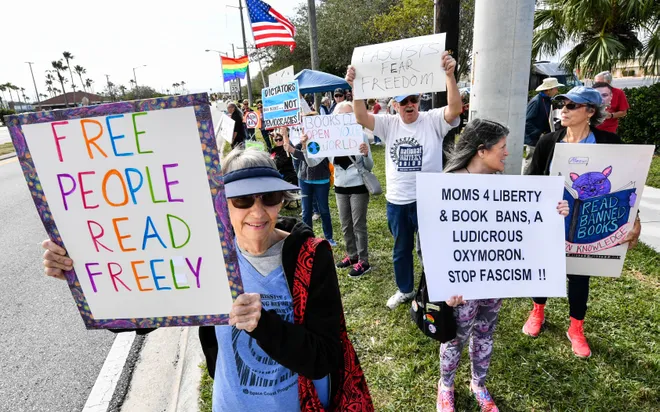 Dozens of people gathered along Babcock St. at Bulldog Blvd in Melbourne, FL to protest against the banning of books Saturday, January 28, 2023. Craig Bailey/FLORIDA TODAY via USA TODAY NETWORK
Craig Bailey/Florida Today
But not every school district has followed suit.
For example, Escambia County's school district, which is also being sued, still has "And Tango Makes Three" listed as "removed" on a website list. District spokesperson Cody Strother declined to confirm that, citing the litigation.
Meanwhile, Pen America and other groups are urging Florida Education Commissioner Manny Diaz Jr. and his department to pass guidance on to Florida's 67 counties.
That kind of message would be a lot harder to miss than individual filings in lengthy lawsuits, said PEN America's Meehan.
"There has been a lot of confusion from districts in Florida on what this legislation covers," Meehan said. "While districts and many others have been really asking the Florida Department of Ed to provide guidance, that guidance has been lacking."