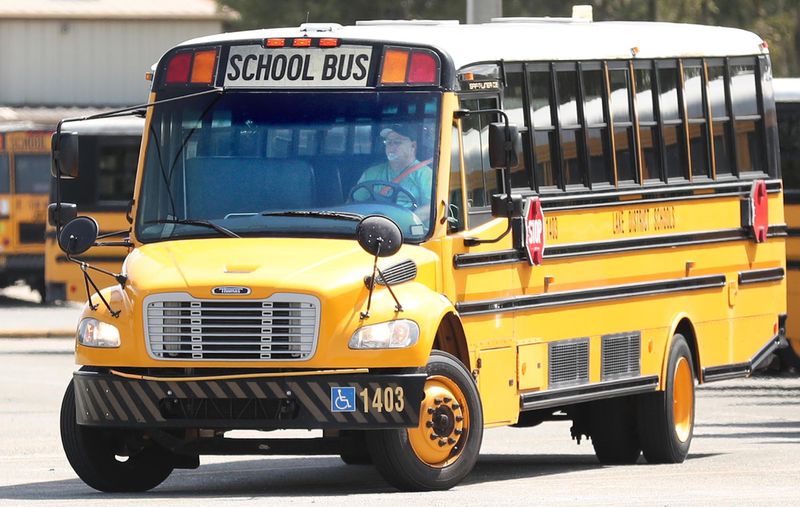 Driver shortage: Crowded school buses run late as districts offer bonuses, seek new hires
Orlando Sentinel | By Leslie Postal | September 16, 2021
New school bus drivers can earn a $3,500 signing bonus from Orange County Public Schools this fall, an offer made as Central Florida's largest school district seeks to fill empty positions amidst a statewide bus driver shortage.
The Orange school district wants to hire 100 drivers, but most of its neighbors need more drivers, too, as do districts from South Florida to Tampa Bay to the Panhandle.
"Hiring bus drivers right now is like trying to find a pot of gold," lamented Arby Creach, director of transportation services for the Osceola County school district.
Hiring school bus drivers has been tough for years. But the COVID-19 pandemic exacerbated the challenge. The health crisis prompted an increased demand for home deliveries, which pushed private companies to hire more drivers, creating more competition for school district transportation departments.
The virus also made driving a bus full of children seem like a potential health risk to some would-be employees, administrators said, and prompted some veteran drivers to retire early.
"This year, it's been the most challenging year," said Julie Murphy, transportation director for the Seminole County school district. "People are nervous about it."
Seminole schools started the school year down about 30 drivers and a month later still has about that many openings.
Without enough drivers, school districts combined some routes and instructed some drivers to do multiple runs to a school, going back and forth into neighborhoods to get everyone a ride. For some students and parents that's meant late buses and crowded buses — with three students to a seat instead of the preferred two. And often a lot of frustration.
"There's been many tears in my house," said Brandee Gaar, a west Orange mother of three.
Her 12-year-old daughter's bus to SunRidge Middle School has been the most problematic of the three. It did not show up on two mornings, sometimes arrives early but most often late — once not until an hour after the school's first bell.
Gaar said she and her husband both work from home so when the bus didn't show up they drove their daughter to school, picking up friends' children who also were waiting at bus stops. But not all parents have that flexibility, she noted, so some students are just stranded if the bus is a no show.
The Gaars' bus stop is at the end of their driveway but on a road where drivers often speed. To keep their children safe, they wait outside with them, and with their middle schooler that is sometimes a 40-minute chunk of their morning. The bus should arrive at 8:53 a.m., Gaar said, but has come as early as 8:40 a.m. and as late as 10:30 a.m.
"We're just standing out here," she said. "It's just a waste of everyone's time."
Gaar understands the school district's predicament. "I know no one wants to be a bus driver," she said.
But some solution is needed, she added. "It can't be that our children are standing on the side of the road."
School administrators said school bus driver wages never compared well to the private sector. The Orange school district's starting bus driver pay, for example, is $13.24 an hour. Employees with the commercial driver's license needed to operate buses and trucks on average earn more than $19 an hour in Florida, and their salaries are even higher in Central Florida, according to ZipRecruiter.com.
In the past, school districts lured in potential drivers by paying for the training needed to earn a commercial driver's license, which can cost $3,000, and by offering better benefits, including health insurance and retirement plans.
Eliezer Carrasquillo was hired as a bus driver in Osceola in 2007 and is now a department trainer but most days ends up driving a bus because of the driver shortage.
"It's a good job," he said, with security, benefits, no bus driving skills needed to start and the fun of working with children.
"We're driving a big yellow bus. We're carrying kids, and those are my kids. I feel very satisfied when I take them home," Carrasquillo said.
But those benefits, real and intangible, do not seem to appeal to as many workers these days, said Creach, his boss.
"Today's work force isn't looking down the road," he said. "The district is in a tough spot."
Osceola schools held a job fair for would-be bus drivers the first week of classes. It was "very disappointing at best," Creach wrote in an email.
The district landed four or five potential candidates and needed up to 40.
The Orange school district hosted job fairs Friday and Monday, attracting about 45 people total, and plans one for Sept. 20, hoping its new signing bonus will lure in more drivers.
The bus driver shortage isn't just a Florida problem but has hit school systems across the country. School districts from Georgia to Maryland to Maine offered signing bonuses, too.
"There's a big demand for those drivers," said Roberto Pacheco, the Orange district's chief operations officer. "Just like we're looking for them, every other employer in the county is looking for them."
Melissa Byrd, an Orange County School Board member, pressed her district at a recent board meeting to keep searching for solutions.
"I'm still just really, really concerned about the routes that have bus drivers having to go back a second or third time to pick up kids. I'm really worried about the drivers, about their stress level," Byrd said. "And I'm really worried about kids standing out there unsupervised at bus stops waiting for the bus."