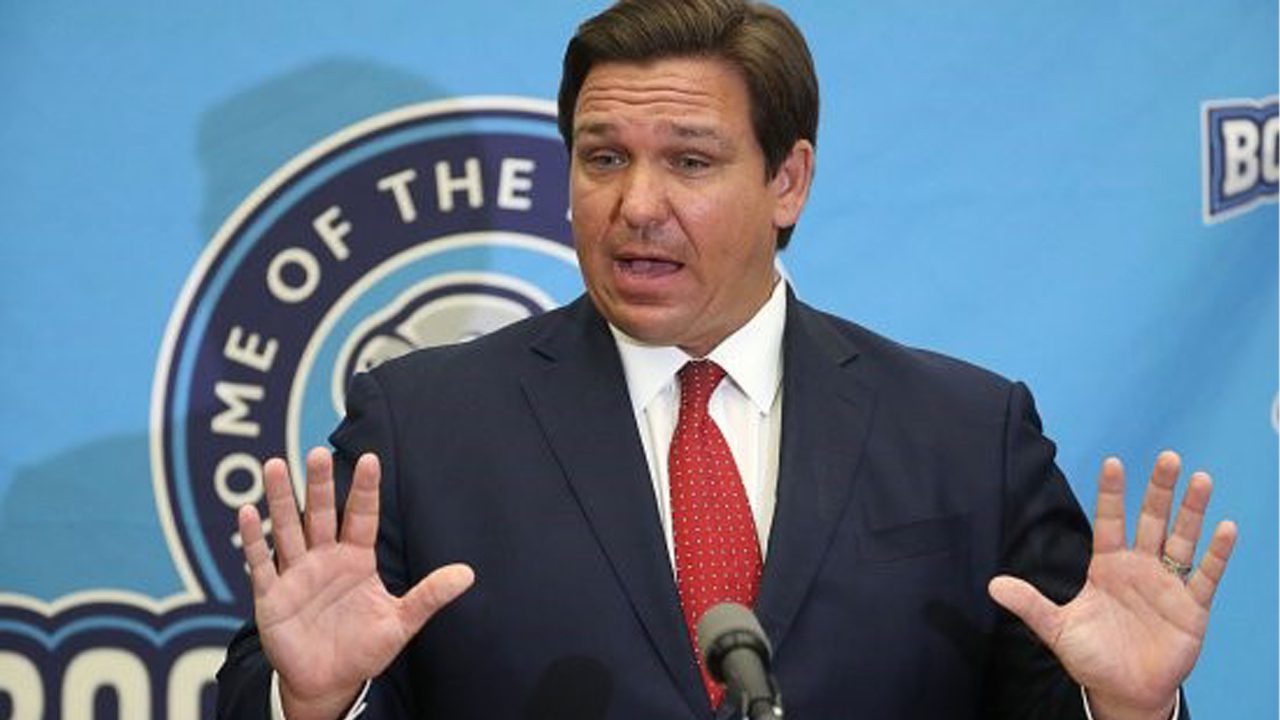 Federal grant pays $126K salary of Florida official who pushes DeSantis education agenda
Orlando Sentinel | By Leslie Postal | September 15, 2023
A new Florida Department of Education employee who's reaching out to conservative school board members makes $126,000 a year, a salary funded by a federal grant designed to boost "well-rounded educational opportunities," health and safety and effective use of technology.
Terry Stoops was tapped in April to head the department's new office of Academically Successful and Resilient Districts. Most of his contacts during his first months on the job were to school board members who'd been endorsed by Gov. Ron DeSantis and representatives of conservative groups, his emails and calendar show.
In April, for example, he met several school board members at a "Learn Right" summit in Sarasota spearheaded by a founder of Moms for Liberty, the conservative group launched in Florida and focused on schools.
He emailed more than a dozen school board members endorsed by the governor in the 2022 election cycle and others who had the backing of Moms for Liberty, including Alicia Farrant, elected to the Orange County School Board in November.
And in May, Stoops met with the Herzog Foundation; its goal is "Advancing Christian Education."
The education department did not respond to several requests for information about Stoops' role or how his work meshed with the purpose of the federal grant. In an email, spokeswoman Cassie Palelis only said Stoops was a contract employee "offering day-to-day guidance and best practices" to school board members and superintendents.
After this story published online Friday, Education Commissioner Manny Diaz responded on X, formerly Twitter, with "Cry More!"
The U.S. Department of Education did not respond to a request for comment on Florida's use of the federal funds.
DeSantis, who is running for president, told Fox News in June that if elected he would try to abolish the federal education department and other agencies. If Congress would not approve doing that, "I'm going to use those agencies to push back against woke ideology and against the leftism we see creeping into all institutions of American life," he said in that interview on June 28.
"Keeping politics out of the classroom will be very difficult if we cannot keep partisan politics off our school boards and out of our Department of Education," wrote Sue Woltanski, a Monroe County School Board member, in a blog post about Stoops.
In an interview, Woltanski said she has not been contacted by Stoops nor has she heard others on the Monroe school board — which she described as "old-fashioned" and "apolitical" — mention they'd been either. But if Stoops' goal is to help Florida school boards, then his help needs to be widespread, she said.
"I believe he should be coming and giving all of us the information," she said, not just to "school board members who signed onto to fulfill the DeSantis education agenda."
Stoops' office is paid for with federal grant money sent to Florida through the federal Elementary and Secondary Education Act, according to the University of South Florida, which provides some "business and fiscal services" to the state education department, including the "acquisition" of staff for the new office of Academically Successful and Resilient Districts.
Six positions in all
Stoops earns $126,000, and two other employees in his office get salaries of $86,000 and $78,000, respectively, said Althea Johnson, a USF spokesperson, in an email. Three other positions in Stoops' office are to be filled, too. The education department is responsible for selecting the job candidates, conducting interviews and deciding who to hire, Johnson wrote.
Florida received nearly $69 million from the federal Title IV, Part A grant program for the 2022-23 school year, according to data from the U.S. education department.
Ninety-five percent of the money was slated for school districts, but states could use the balance for statewide activities. All the money was to go toward initiatives that support "well-rounded educational opportunities," improve "conditions for student learning" by focusing on health and safety and boost the "effective use of technology" as a way to improve academic performance, the department's website shows.
Stoops, who started his job April 4, could not be reached for comment.
In emails to board members, he wrote that he was "focused exclusively on serving school board members," though the April and May emails and calendars show no interest in board members who did not share conservative political views. The Orlando Sentinel in early August made a public records request for any additional emails and calendars for Stoops but has not received them.
Stoops also met with people who were not school board members but seemed to share his political views. For example, he attended a virtual meeting about American Birthright, a blueprint for how to teach students social studies that embraces "the ideals of conservative Americans."
Stoops, who spent nearly two decades in North Carolina mostly working on education policy for the conservative John Locke Foundation, was on the executive committee that helped devise American Birthright, which was released last year.
Fighting 'woke agenda'
DeSantis made education a key part of his gubernatorial race last year, and in a move unprecedented in modern Florida politics inserted himself into local, and non-partisan, school board races. The governor surveyed candidates and endorsed those who promised to advance his agenda and combat "the woke agenda from infiltrating public schools."
Since taking office, DeSantis has signed new laws that limit discussions on race, sex, sexual orientation and gender identity in public schools. That has prompted schools to pull books from classrooms and libraries fearful their content violates the legislation.
Megan Wright, who defeated Misty Belford — then chair of the Brevard County School Board — in last year's election, met Stoops at the conservative summit in Sarasota and later had a follow-up meeting with him, according to his calendar, obtained by the Florida Freedom to Read Project through a public records request and shared with the Sentinel.
Wright, who had endorsements from DeSantis and Moms for Liberty, called Stoops' office "a huge blessing" and said she likes that she has someone in Tallahassee she can call with questions.
"It's helpful to have a resource in the department of education," she said.
Jacqueline Rosario, an Indian River School Board member re-elected in 2022 with DeSantis' endorsement, agreed. "I think it's fantastic," she said. "It's a great opportunity for all board members."
Rosario also met Stoops at the Leadership Institute's "Learn Right" gathering in Sarasota.
Bridget Ziegler, a Sarasota County School Board member and Moms for Liberty founder, is a national director for the institute. The summit drew Sen. Rick Scott, Lt. Gov. Jeanette Nunez and other GOP leaders as well as hundreds of school board members who were told it was a chance to "reclaim your school board" and meet with "other like-minded individuals who share your commitment to conservative values."
In late April, Stoops met with Jordan Adams, a former Hilldale College employee who has started an education consulting business and last year was asked to weigh in on whether math textbooks proposed for Florida classrooms contained critical race theory. Hillsdale, a conservative Christian school in Michigan, has strong ties to the DeSantis administration.
'What's right for kids'
Tyler Brandeburg is a Lake County School Board member who was appointed by DeSantis to fill a seat left open after a board member resigned last summer. He then won re-election in November.
He was contacted by Stoops and set up an online meeting, though Stoops had a conflict, so Brandeburg met with his deputy. In the meeting, the official offered help but provided few specifics, he said.
"I haven't heard from any of them since then," Brandeburg said.
DeSantis' decision to appoint him to the board was "helpful and appreciated," but Brandeburg said he and other Lake board members aren't very interested in political debates.
They'd prefer, he added, a quieter focus on "doing what's right for kids."