Fired Indian River Superintendent now front-runner to lead Brevard Public Schools; vote is tomorrow
The Space Coast Rocket | By Robert Burns | December 12, 2022
Last week, after ousting Brevard Schools Superintendent Dr. Mullins, the newly elected school board opened up applications for an interim superintendent, who may also apply for the permanent position at a later date. The deadline to apply ended Friday at 3pm. A total of 12 applicants applied for the job, 2 applying after the deadline, but are still being considered. 

The Board will discuss candidates during a 2pm workshop, and again during the regularly scheduled board meeting at 5:30pm tomorrow. Of the 12 applicants, only one application came from someone currently within Brevard Public Schools. Dr. Mark Rendell, the current Principal at Cocoa Beach Jr Sr School, was one of the first to apply, which has drawn concerns not just from those within Brevard, but neighboring Indian River County as well. It is the same school that newly elected School Board Member Gene Trent worked.

Dr. Rendall began his tenure as Superintendent of Indian River County Schools in July of 2015. In 2019, he began seeking employment elsewhere after he consistently received extremely low scoring annual evaluations of 1-3 (scale of 5) from most board members except Justice who rated him nearly perfect in all categories. A ranking of 3 is "satisfactory."
Many comments noting trouble in the areas of follow through of student discipline and 'culture and climate'. One of the most critical comments in his evaluation is his handling of discipline, and students and staff not feeling safe. These are the exact concerns Brevard Public Schools just held a 7 hour meeting to discuss, making national headlines. A key concern from the meeting was a lack of teacher's writing referrals for disruptive students. Coincidently, Dr. Rendall actually encouraged not writing referrals in his district, and to handle discipline only in the classroom. Keep in mind, Dr. Mullins, who Brevard just ousted had an average rating of 4.7 in this year's evaluation.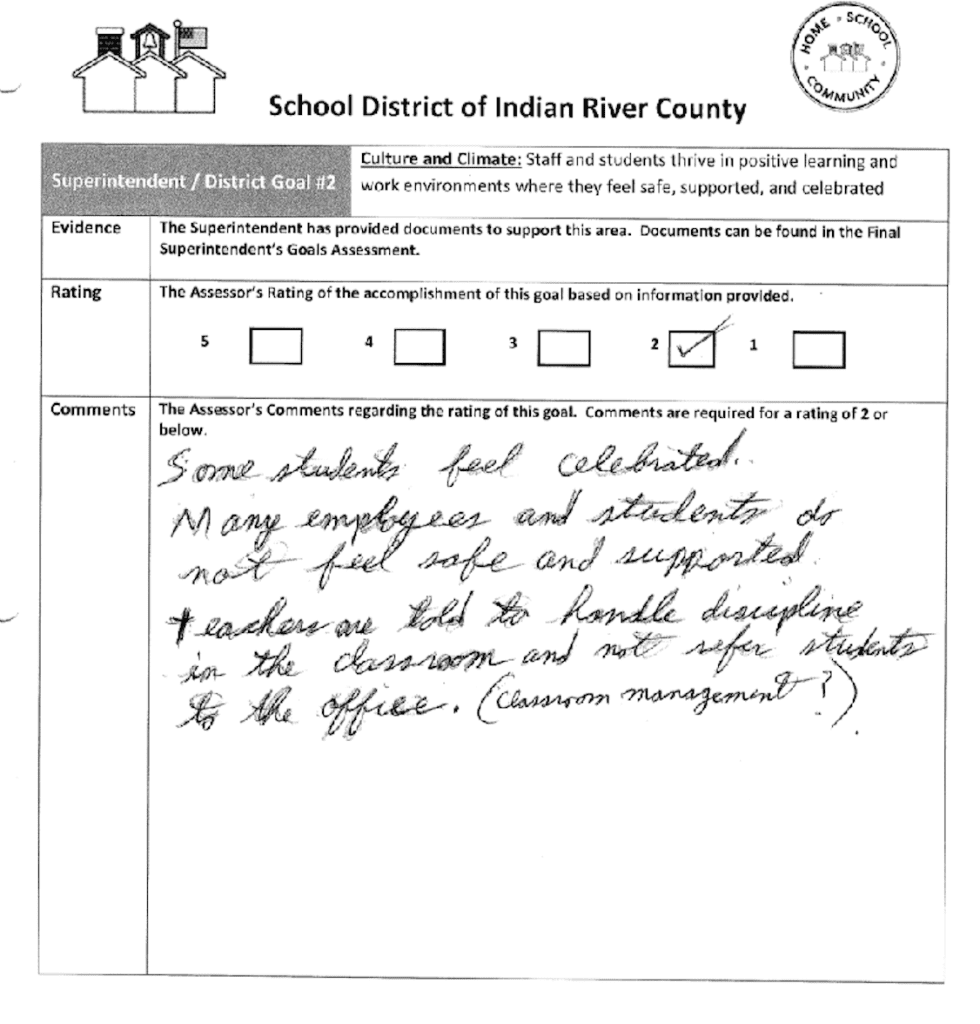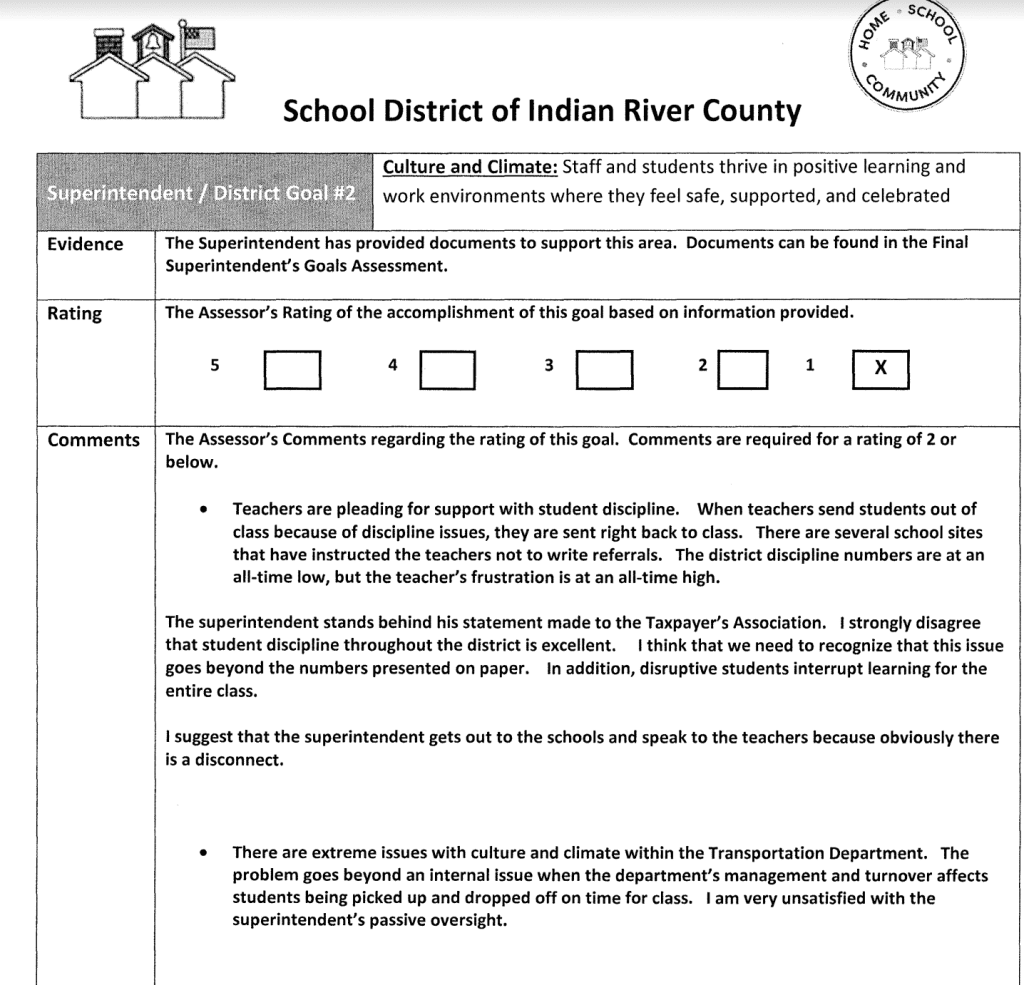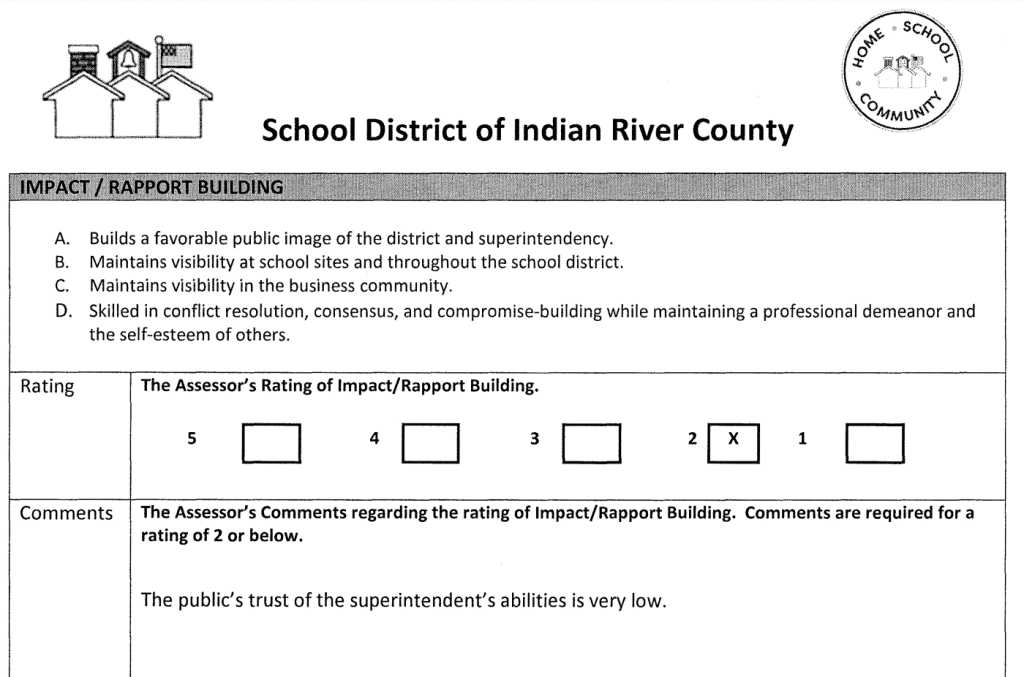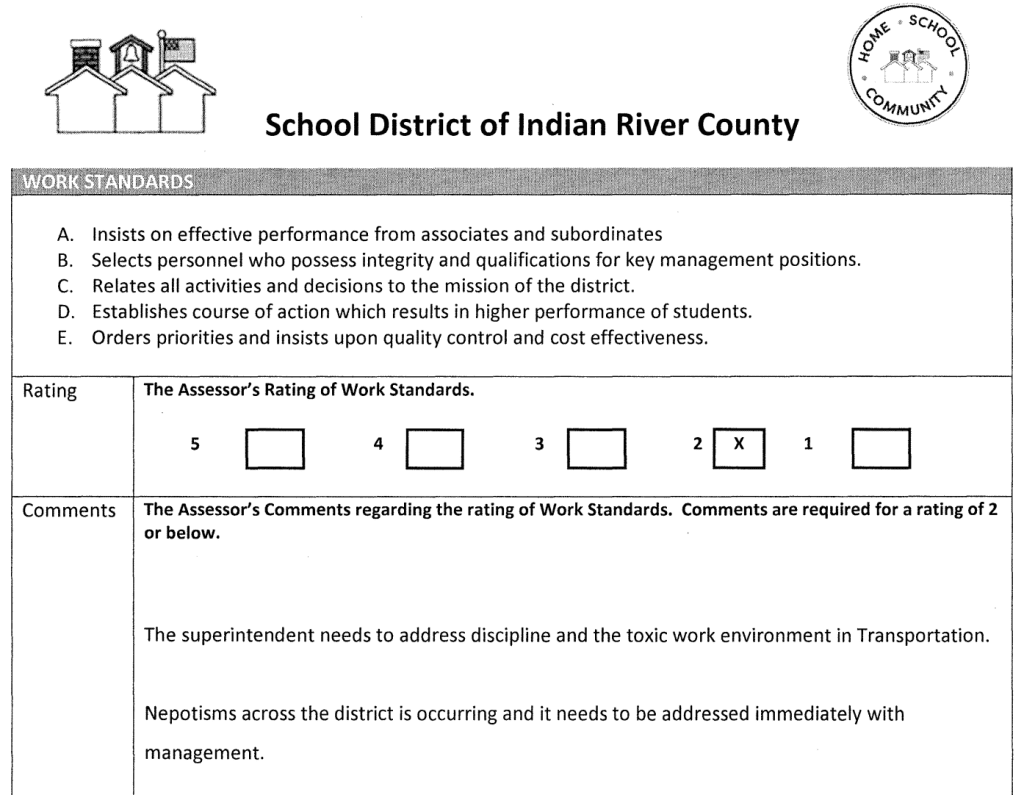 Newspapers at the time referenced numerous scandals including $2.3 million in missing funds along with eliminating the Chief Financial Officer position completely, an extramarital affair with Board Member Tiffany Justice, and mismanagement of employees as additional concerns. Before the annual evaluation of 2019, he applied for, was offered, and accepted a job here in Brevard as Cocoa Beach Jr Sr's Principal, a pay cut, from $163,000 as superintendent to $96,516. When he notified the board that he applied for another job in March that year, the board moved discussions to whether or not terminated his contract as he is only required to give 30 days notice if he quits. Out of nowhere, Tiffany Justice recommended extending his contract for 2 more years. Rendall told the board he had no plans to resign.

Indian River's school district serves about 17,000 students and 2,000 staff, and a budget of $300 million compared to Brevard's approximately 75,000 students and 9,000 staff, and a budget of over $1 billion. A much larger job by all measures. Former Board Member Tina Descovich (the other co-founder of Moms for Liberty) and current School Board Chair Matt Susin both voted in favor of Dr. Rendall's hiring. Unknown to Brevard administration however, was the fact that Dr. Rendell was concurrently seeking a $62,545 severance package to resign from Indian River County through his attorney. As part of the agreement, he also insisted that the board not share any "disparaging comments" about him. The Indian River School Board denied his offer. He would have essentially been "double dipping" if the severance was approved.
The day before his appointment was to be approved in Brevard for principalship, then current Indian River School Board Member Tiffany Justice called for an illegal emergency meeting to reconsider Dr. Rendall's severance package at a reduced rate of $40,000. Tiffany Justice was accused of acting as Rendall's agent, as opposed to his boss. She also pushed that should he leave, he not receive an outgoing evaluation. The board rejected the agreement which was presented by Rendall's personal attorney. Rendall then gave the board only 30 days notice of his decision to resign to avoid being fired.
Dr. Rendall said during an interview on a local radio station in Vero, he had "made it to the mountaintop" of public education by rising to the level of superintendent, but he wanted to return to the principal's office because he missed being on campus and interacting with students. WTTB-AM's "Local News Magazine with Bob Soos,"
"The further I've gotten away from the classroom," he said, "the less-rewarding the positions have been." Now he's applying to move as far from the classroom as possible for over double his current salary.
Indian River School Board Chair Zorc said, "His self-manufactured lack of district leadership is hindering our board responsibilities," adding, "He has definitely created an atmosphere of confusion in our meetings, intentionally or unintentionally."
Dr. Rendell included a copy of his resume' with his application for the interim position. You can view it here.
mark-rendell

When Dr. Rendall created his new Twitter account for his new job as principal, the first person to congratulate him was Tiffany Justice.
So excited to see all of the amazing opportunities you make happen for the students of Cocoa Beach Junior-Senior High! Lucky @BrevardSchools!

— Tiffany Justice (@4TiffanyJustice) June 7, 2019
A lawsuit filed by a Vero Beach newspaper revealed text messages between Tiffany Justice and Indian River Sheriff Eric Flowers where she convinced him to launch a criminal investigation to see who was behind an anonymous Twitter account that outed her extramarital relationship with Dr. Rendell. Once the person behind the account was found to be a school employee, Dr. Rendell had her suspended for 5 months.
The results of the investigation ended with no criminal charges according to the State Attorney's letter regarding the matter. Brevard County now appears to be building similarities of the relationships between the Indian River Sheriff's office and their School Board, with our own. It should also be noted that even after taking the new job in 2019, Dr. Rendell never moved from Vero Beach and still commutes from there to Cocoa Beach every day for work.
There's much more to dive into with this one applicant alone, and we will within the next 24 hours; including allegations School Board Chair Matt Susin made about Tiffany Justice's sexual advances towards him at a State conference. However, there are 11 other candidates to go through as well. School Board members were asked today to rank each candidate 1-12 after only having the applications for a couple of days.
They will be voting on who to forward through the process at tomorrow's workshop meeting at 2pm and possibly making a final decision that same evening at the regularly scheduled school board meeting. It's not clear how, if at all, members have been able to go through so many applications in such a short amount of time to make an informed decision on such an important decision.
The public will be permitted to speak at both meetings.
You can see all 12 applicants and their resume's here.
A list of their names is included below in the agenda.