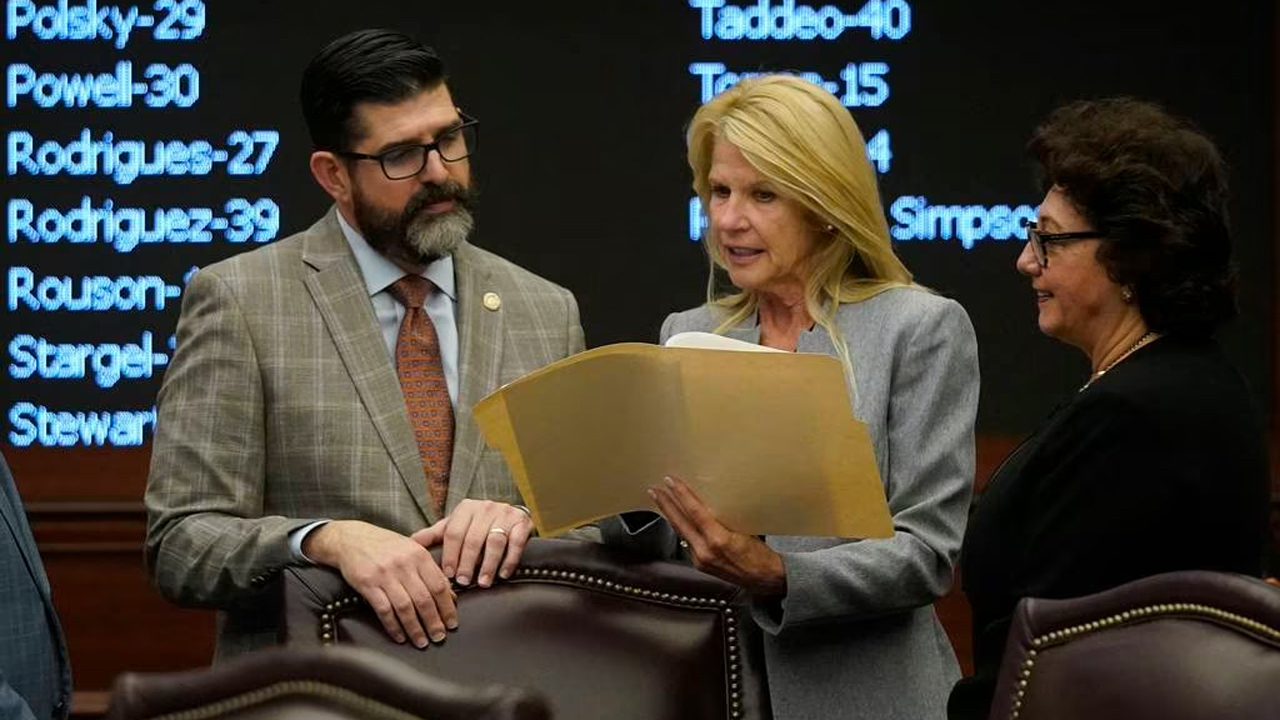 Florida rule would expand so-called 'don't say gay' to 12th grade
South Florida Sun-Sentinel | By Leslie Postal | March 21, 2023
The DeSantis administration next month could effectively bar all public school teachers from providing classroom instruction on sexual orientation or gender identity, a move that would expand Florida's controversial 2022 law and go even further than the legislation Republican lawmakers are pushing in Tallahassee this spring.
A proposed State Board of Education rule, scheduled for a vote next month, says teachers in grades 4 to 12 "shall not intentionally provide classroom instruction" on either topic, expanding the prohibition in last year's law that critics dubbed "don't say gay." Teachers who violate the rule could face suspension or revocation of their teaching licenses.
Equality Florida, the state's largest LGBTQ advocacy group, views the suggested rule as part of "larger, disturbing trend" where Florida's Republican leaders seek to use "every lever of government to censor conversations about LGBTQ people," said Brandon Wolf, the group's spokesman.
The goal, he said, seems to be to paint LGBTQ people as "wrong," Wolf said, "or that we should be written out of society."
The Florida Department of Education, overseen in part by the State Board, did not respond to emailed questions about the proposed rule, slated to be voted on April 19.
Education Commissioner Manny Diaz, the department's top administrator, signed off on it, documents show.
The seven-member board is made up of appointees of Gov. Ron DeSantis or former GOP Gov. Rick Scott. The board officially hired Diaz, a former Republican lawmaker from Miami-Dade County, but he was picked for the job by DeSantis last spring.
The law passed by the Legislature and signed by DeSantis last year — officially titled the Parental Rights in Education law — bars instruction on sexual orientation or gender identity in kindergarten through third grade, a move supporters say upholds the rights of parents to decide when and how to introduce sensitive topics with their children.
GOP lawmakers this year want to expand that prohibition so that it applies to pre-kindergarten through eighth-grade classes, and they also want to prohibit school employees from referring to students by pronouns other than those that match their sex at birth.
"Parents have the right and God-given responsibility to guide their children's upbringing," said Sen. Clay Yarborough, R-Jacksonville, and sponsor of the Senate legislation (SB 1320), during a committee hearing Monday.
"They should not have to worry their students are receiving classroom instruction on topics and materials parents feel are not age-appropriate," he said.
During last year's debate about the law — which prompted protest rallies at schools and lawsuits — critics said primary grade teachers never provided classroom lessons on sexual orientation and gender identity. They argued the law's real aim was to make all topics related to LGBTQ people off limits on campus.
Since its passage, the Miami-Dade County School Board rejected recognizing October as LGBTQ history month, the Orange County school district told K-3 teachers to take down any rainbow flag "safe space" stickers in their classrooms, and districts across the state removed books from their campuses.
The Lake County school district, for example, earlier this school year cited the law when it yanked "And Tango Makes Three," a picture book based on a true story of two male penguins in the Central Park Zoo who, given a fertilized egg, incubated it and then fed and protected the chick when she hatched.
Sen. Shevrin Jones, D-West Park, urged his colleagues to vote down the new legislation saying it was about the "banning of books, muzzling of teachers and forcing students back into the closet."
The legislation spoke to parents' rights, Jones said, but ignored the rights of parents of LGBTQ students. "Is it fair for all children? Is it fair for all parents? The answer is no."
Yarborough disagreed. "I reject the notion that it is targeting a single group of folks," he said.
The law is needed, he said, because the education department has found "shocking and deeply troubling" books in public schools, volumes that have "no place in elementary and middle school curriculum."
Yarborough was referencing information about 175 books removed from public schools that was released by DeSantis' office earlier this month. But almost all were library books, most of them on shelves in high schools, and as such they were not part of a curriculum or classroom lessons as the lawmaker suggested. Critics also said the sexually explicit content did not make the books pornographic, as state leaders charged, nor necessarily inappropriate for teenagers to read on their own.
Rep. Erin Grall, R-Vero Beach, said schools, and society, were "pushing these adult themes down to children" and should instead "get back to the basics" and make sure students made academic gains.
The Senate bill passed 9-3 along party lines, with all Republicans in favor and all Democrats opposed. The House bill (HB 1223) got a similarly favorable vote on March 14.
The proposed State Board rule would modify the "principles of professional conduct" for Florida's public school teachers to include the prohibition against instruction on sexual orientation or gender identity in grades 4 to 12 unless those lessons were part of a class required under Florida's academic standards or part of a health course that parents can opt out their children from attending. The rule would also prohibit such instruction in pre-K classes.
In October, the State Board approved a similar rule modification for teachers who taught K-3 classes, saying they could not provide instruction in sexual orientation or gender identity and if they did, the state could move to take action against their licenses.
Dozens of people spoke against the rule then, saying it unfairly attacked gay and transgender people by suggesting they aim to sexualize children and would make it hard for teachers who want to be accepting of students who live in families with same-sex parents.
Wolf said Equality Florida will speak against the proposed rule when the board meets next month. "It's our duty to fight back," he said.
This would not be the first time the DeSantis administration pushed its agenda through State Board rule. In 2021, DeSantis urged the board to adopt a rule banning the teaching of critical race theory in public schools, which it did in June of that year.
The Florida Legislature adopted what DeSantis called the "stop woke" act last year to make that prohibition part of state law in 2022.