Harry Potter among books that have been challenged in Palm Beach County Schools
Palm Beach Post | By Katherine Kokal | September 5, 2023
News of "Florida book bans" has spread across the country, but even challenges to books in Palm Beach County are rare.
Between July 1, 2022 and July 13, one book was formally challenged in Palm Beach County Schools and five were informally challenged through complaints to individual schools, according to school district records.
A book is permanently removed only if a formal challenge is submitted to the school's principal, it's reviewed by the superintendent, it's heard in a public meeting and then approved by the school board.
In July, the school board heard its only formal challenge of the year, which failed. Barry Silver, a rabbi and parent of a 2023 Olympic High graduate, challenged the Bible being available for checkout at the Boca Raton school.
Silver said the book contained "misogyny, violence, sexual conduct, rape, incest, animal cruelty, abuse, anti-semitism, anti-science and indoctrination."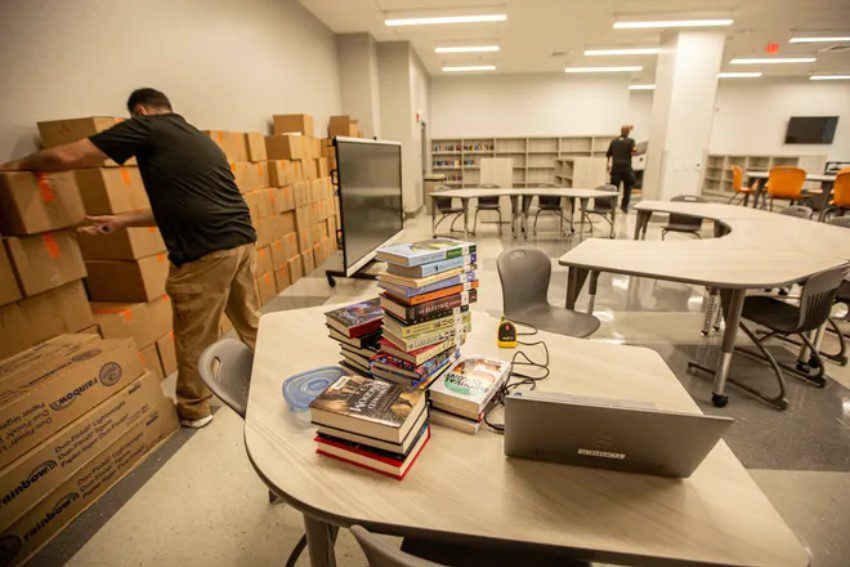 School personnel unpack books in the multimedia room of the new West Boynton Beach Middle School. BILL INGRAM/THE PALM BEACH POST
His objection was denied four times: first by the school's material review committee, then by the school's principal, then by Superintendent Mike Burke, and finally by the school board following the public hearing held July 19.
"We have not banned any books in Palm Beach County," board member Karen Brill said at the hearing. "One parent or one group of parents should not be making decisions for all parents."
Here's what to know about the books that have been informally challenged:
Which books have been informally challenged in Palm Beach County?
Outside the formal challenge process, parents and community members have submitted informal complaints to schools about certain books.
Complaints of this type can prompt a review by the school's material review committee.
The books that were informally objected to were:
All Are Welcome, a children's picture book about a day in a diverse classroom written by Alexandra Penfold, was challenged at Loxahatchee Groves Elementary.
The Unicorn and the Brave Princess, a children's picture book about a princess written by Claire Phillip, was challenged at Binks Forest Elementary.
Beyond the Grave, a book about paranormal phenomena and ghosts written by Judith Herbst, was challenged at Marsh Pointe Elementary
Brave New World, a dystopian novel about a society that revolves around science and efficiency written by Aldous Huxley, was challenged at Suncoast High.
Harry Potter and the Sorcerer's Stone, a fantasy novel about young wizards by J.K. Rowling, was challenged at Jerry Thomas Elementary.
All the books that were informally challenged remain on library shelves.
One, Beyond the Grave, was reviewed by school staff and moved to the "intermediate" shelf for fourth and fifth grade students, according to school district records.
School district records show that all the complaints were filed by parents, although the records do not say where the parents' children attended school.