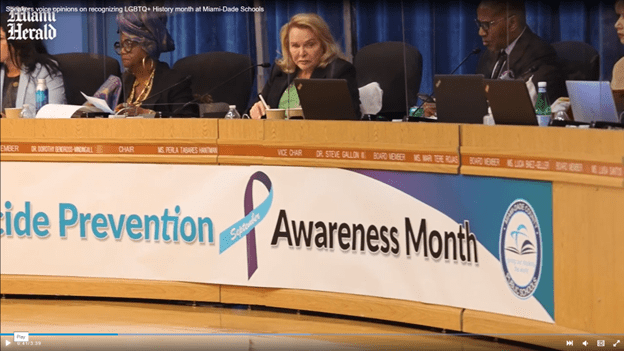 Here are Miami-Dade School Board members who flipped their votes and rejected LGBTQ month
Miami Herald | By Joan Chrissos | September 8, 2022
Last year, the Miami-Dade School Board voted 7-1 to recognize October as Lesbian, Gay, Bisexual, Transgender and Queer (LGBTQ) History Month.
It was a symbolic gesture, one aligning with the national recognition in October and one that followed other School Board designations in the schools, including Black History Month, Hispanic Heritage Month and Women's History Month.
On Wednesday evening, after a hours-long contentious debate where angry parents, teachers and students decried student indoctrination on one side or likened the School Board to Nazis ostracizing gay and lesbian people on the other, the School Board voted 8-1 to reject the LGBTQ month designation in the district's nearly 400 public schools.
Nearly the entire nine-member board switched their vote from one year to the next, except for board member Lucia Baez-Geller, who proffered the item last year. This year's proposal also included a provision to teach 12th-grade civics students about two Supreme Court landmark decisions — Obergefell v. Hodges in 2015 (recognizing same-sex marriage) and Bostock v. Clayton County in 2020 (finding an employer can't fire someone for being gay or transgender).
Baez-Geller reiterated throughout Wednesday's meeting that 12th-graders could opt out of the two lessons.
Despite that, the board overwhelmingly flipped their vote.
Here's who voted for and against the measures on Wednesday, and last year:
VOTED AGAINST LGBTQ MONTH, TEACHING CIVICS LESSON TO 12TH-GRADERS
Board Chair Perla Tabares Hantman
Board Vice Chair Steve Gallon III
Board Member Dorothy Bendross-Mindingall
Board Member Christi Fraga
Board Member Lubby Navarro
Board Member Marta Pérez
Board Member Mari Tere Rojas
Board Member Luisa Santos
VOTED FOR LGBTQ MONTH, TEACHING 12TH-GRADERS ABOUT SUPREME COURT DECISIONS
Board Member Lucia Baez-Geller
VOTE FLIPPERS
Last year, all of the board members except Fraga voted for the LGBTQ month designation, as the item passed 7-1. Navarro was absent during last year's vote.
There were no changes in the board members between last year's vote and Wednesday's vote.
The new board members who were elected on Aug. 23 — Roberto Alonso and Monica Colucci — have not been sworn in yet. Their terms will begin on Nov. 22, 2022.
Alonso will replace Tabares Hantman, who did not run for reelection after serving on the board since 1996; Colucci defeated Pérez, who has been on the board since 1998.